University of Pennsylvania [UPenn].
U.S. Military Academy [West Point].
U.S. Air Force Academy. 
These are three of the colleges that football defensive end and co-captain senior Connor Irons considered offers from to pursue his athletic ambitions. 
"It's always been a dream of mine [to play college football]," said Irons, who also received offers from Georgetown, Columbia and Brown. "So it's kind of surreal that I have the ability to play [in college next season]."
With a total of six schools extending their programs to the athlete his junior year via call or in-person after watching his games, he said the most difficult part of the decision was settling on which offer to take. 
Two of these schools, however, happened to be military service ones, which Irons said he wasn't originally considering – ironically.
"I had never looked into any sort of service school before I got offered by them," the athlete said. "Before then, I didn't picture myself going into one of those [schools]." 
But after unofficially touring the Colorado campus multiple times, with the last time being in July, and meeting potential teammates he would be playing with during his first college season, Irons said he made the decision to commit to the Air Force Academy. 
"I think the reason I chose Air Force was because I really liked the area a lot, and my family especially loved it," said the senior, who received a full-ride scholarship from Air Force and will play on its team as a defensive end. "The campus and facilities are great, and on top of all of that, the coaches are very enthusiastic about what they do."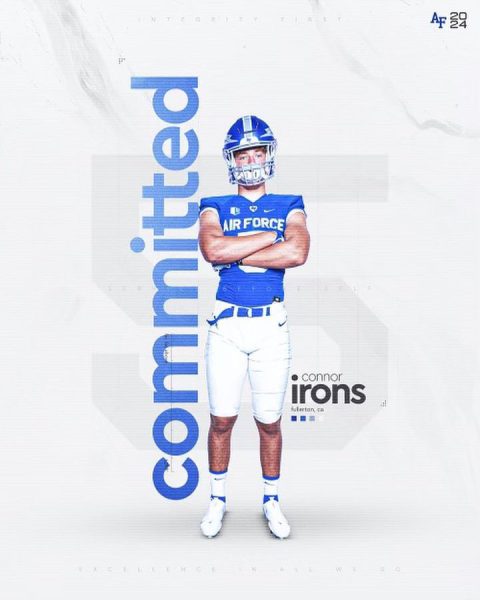 Once he made his decision, Irons said he started his application process to enroll in the school in August for its regular decision deadline on Feb. 3, 2024, similar to the usual college admissions process. 
Military schools' criteria are similar to that of most private or public universities with the exception of a congressional letter of recommendation. To fulfill that requirement, Irons had to ask a local congressional representative to write a letter of recommendation for him.
Once accepted, the student-athlete will be offered the opportunity to live in barracks, similar to that of dorms, as he will be moving out of state. As with any armed forces college, Irons will also be required to complete five years of service for the military. 
COMING FROM A FOOTBALL FAMILY
In pursuing football as a sport, Irons has followed the footsteps of his father and older brother, Carson, both of whom played on the team at Sunny Hills High School.
He said he first joined Fullerton Pop-Warner in the seventh grade, but his hopes for recruitment during his high school years were not guaranteed. 
Nevertheless, his coach and teammates noticed his value on the roster.
Lancer football head coach David Wilde said he made the decision to name Irons a co-captain of the team along with defensive end junior Caleb Chikosi in hopes of bringing the players closer and ending the season on a better note than the previous year's 4-8 record. 
"He's a leader on the field and in the classroom," said Wilde, who was also Irons' Advanced Placement U.S. History teacher in his junior year. "He's also big physically, which is intimidating to the other team when he walks out as a captain, and he's 6 feet, 6 inches [tall], so that's important."
Chikosi, who has connected with Irons through their time working with the team on and off the field together, said the seniors work ethic represents the team well as a whole and deserved to be noticed through his signing to the Academy.
"I'm proud of Connor for his commitment to [the Air Force Academy]," he said. "It's a big school and I know he is going to do great there."
Senior and defensive end Larry Alvarez has worked with Irons since the start of his freshman year, developing a close, brotherly bond and working together during and outside of practices. 
"He's a good guy to be around," Alvarez said. "He's definitely a mood changer, and I think of him as like a brother to me."
Now in his third year playing for Princeton University's football team, Irons' 20-year-old brother said watching his younger sibling's development over the years proves to be one of his favorite activities. 
"I'm unbelievably proud of him," Carson Irons said. "He is by far the hardest worker I know, both in the classroom and on the field, and he deserves every ounce of success that comes to him.
"It was really special watching him go through the recruiting process and see his hard work pay off through multiple Division 1 offers." 
Connor Irons said his brother and dad are not only his biggest supporters, but also his biggest inspirations who first got him interested in sports. 
"I have definitely looked up to my dad and brother my whole life and really wanted to follow in their footsteps," he said. 
TIME BEYOND THE SH FIELD
Connor Irons said his sophomore homecoming game against Troy High School remains his most notable football experience.
"At the end of the game, we were all tired from a close game," he said. "So it felt really good to finish that night off with a win."
His role models driving him to enter such a competitive level of sports has not come without its adversities, most recently being the tear of his shoulder, which resulted in a surgery his junior year as well as a six-month resting period. 
Now that the senior is fully recovered, he wants to put in his full effort into this season before making the transition to sports at the university level, hoping to play professionally beyond his college days.
"I want to win big with my team," Irons said before the last game of the season Friday, Oct. 27, against Troy. "Hopefully, [we] will win a CIF championship because it's not over yet, but also have a good, fun season because it will be the last time I play high school football."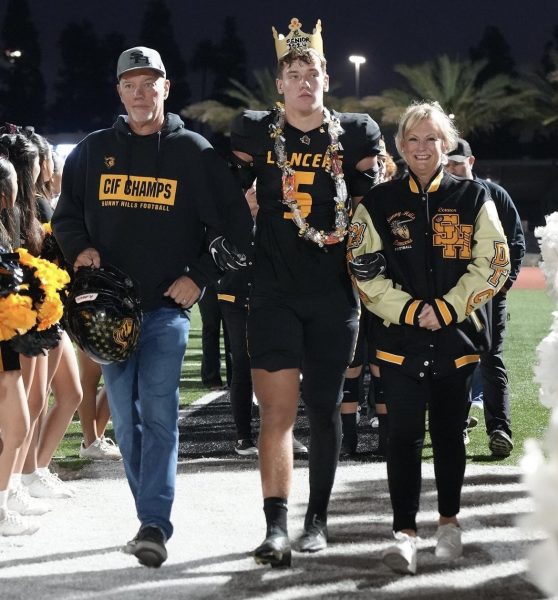 Next fall, the Air Force commit said he will have to complete the military school's fall football camp, which entails an eight-hour day of skills training on the campus. 
However, this is not a surprise for the player who considers football his full-time job and hopes to develop better time management skills to maintain a healthy study-sports balance. 
"I'm looking forward to it; I enjoy playing football," he said. "I might get tired at some point, but I won't get tired of playing the sport ever." 
Through the inspiration of his mentors, Irons said he began to focus his athletic career from including baseball and basketball, which he had played his whole life up until freshman year to solely spend his energy on football, eventually leading him to experience life-altering moments. 
Once he starts at the Air Force Academy, he said he plans to major in cybersecurity or systems engineering.
"A lot of people think that when I say [I'm entering the] service, it means I'm going to fight in a different country," Irons said. "But I'm probably going to be some sort of engineer [hopefully] based somewhere in the United States."