The Associated Student Body [ASB] will turn back the clock in the quad with a 1920s Great Gatsby-themed homecoming dance on Saturday, Sept. 30.
"We loved the elegant Roaring '20s aesthetic and thought it would be a great theme for homecoming," said junior Elaine Chung, one of the ASB's social committee members. "We hope that we can sell lots of tickets, and our students to have a great, fun and well-organized homecoming dance."
Students are not required to dress in line with the theme in honor of the F. Scott Fitzgerald novel, but Chung said the ASB encourages event-goers to do so.
For the first time during David Fenstermaker's tenure as ASB adviser, the gala will offer full-service food catered by Placentia-based Mi Casita since so many tickets have been sold already; upon entry, each student will receive one food ticket at no additional cost, which can be used to obtain tacos and quesadillas, limited to three items combined, organizers said.
The ticket also provides a singular beverage, but water is unlimited.
Fenstermaker said Mexican food was chosen because it was easy and affordable.
Like last year, the event will also include an arcade in the library and a photo booth and air hockey tables in the quad, he said. 
Senior Katelyn Marin, who recently got asked to homecoming by her best friend, said she likes the theme because of its relevance among students.
"I'm really happy with the theme this year since a lot of the seniors read The Great Gatsby last year, [and] I feel like we could really correlate with this year's theme," said Marin, who appreciated the addition of catered food but had reservations about the number of people the ASB would have to account for to feed. "I am excited for this year's homecoming, especially since it's my last one."
Additionally, for the first time in 10 years, the ASB has brought back an old tradition of selling customizable homecoming asking posters to students for $10 each, Fenstermaker said. One such poster reads, "It's my goal to kick it with you at hoco," written in marker.
"The customizable homecoming proposal poster was made up for those who just needed a little help with their posters," Chung said. "[We] decided to bring it back just in case those who needed a premade poster."
Freshman Khang Sunwoo said he found out about the ASB's selling posters through his friend and paid for one.
"My poster said, 'Let's Go in Style to Hoco,' representing Taylor Swift's album, which is my friend's favorite singer," Sunwoo said. "They did an amazing job on the poster, and I think this is a great way to [help] fund the school."
Tickets were first made available for sale on Wednesday, Sept. 13, and the price for one ticket increased $5 every few days. Students can purchase tickets on the Sunny Hills webstore for $45 with an ASB Gold Card and $50 without; they will not be sold at the door.
With senior Katie Ortega getting crowned homecoming queen during halftime of the Friday, Sept. 29, football game against Sonora High School at Buena Park High School stadium, Ortega and the other five members of the court will also be introduced at the dance.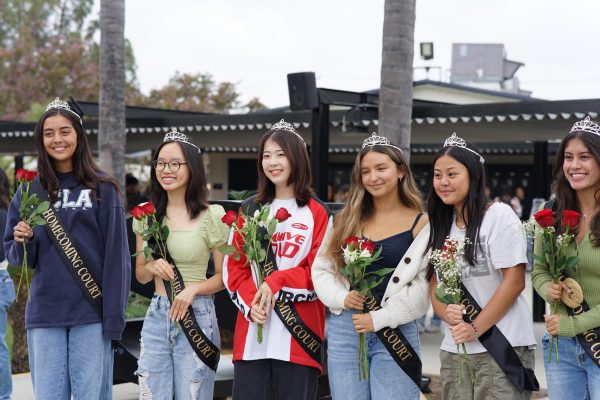 BOY CROWNED HOMECOMING PRINCESS
Another first surrounding homecoming events was that sophomore Kevin Hur won the title of princess for his class on Thursday, Sep. 21, against five other femaile candidates. The idea of adding underclassmen and a junior to be elected by their peers to serve as princesses has been around since before the COVID-19 pandemic.
"Honestly, running as a boy for princess was really fun because all my friends supported me, and it was just a fun time seeing people react to me running," Hur said. "Being the first guy to win princess makes me really proud, and I want other guys to run in the future if that's what they want to do."
Hur said assistant principal Heather Bradley told him he was not the first guy to ever run for princess, as a male in the 1970s also tried for the title but failed. 
The sophomore said he didn't know whether the outcome would be favorable to him.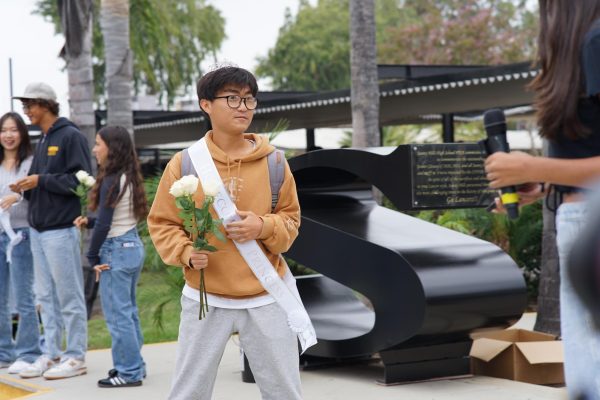 "I run for a lot of other positions, and in every election, I'm never confident that I'm gonna win," said Hur, also an ASB member. "I think overconfidence met by disappointment is one of the worst feelings, and I try to avoid that, so for this election, I never was confident that I was winning."
Hur said for his senior year, he hopes more guys would run for homecoming princess, hoping for it to become a normalized thing.
Hur's friend, sophomore Elly Sweeny, said although she did not vote for him she was rooting for him.
"I think it's good that he won even though the other candidates were great, but guys also have the opportunity," Sweeny said. "I think for sure guys should be able to run.
"I know some people were mad he won because of his gender, but I'm really proud of him."