The first sport in the 2023-2024 school year to kick off the Freeway League season went to cross country.
The Lancers and Lady Lancers competed against the other five schools in the league with the former placing fourth and the latter third. The Warriors from Troy High School took first place for both groups.
Senior Esther Kim, the captain for the Lady Lancers, finished with the fastest time at just over 21 minutes in the three-mile event at Ralph B. Clark Park in Buena Park on Wednesday, Sept. 6. 
But despite that time, Kim was shy of placing in the Top 10, coming in 11th out of 42 runners.
"I didn't do as well as I wanted to because I was around two minutes off my personal record," said the four-year runner, adding the team's placement was the highest she's seen.
As this season's new captain, Kim said she tried a new running strategy with her teammates by pairing the players into partners to run and finish together. 
"We would score points together as we finished together," she said. "It's better for two players to run and finish together in the leaderboard as opposed to if the faster runner came in first and then next much later." 
Boys and girls cross country head coach Jacob Holloway praised his runners.
"I'm really happy with the results," Holloway said. "I thought everyone performed to their level of expectation, and some even exceeded that."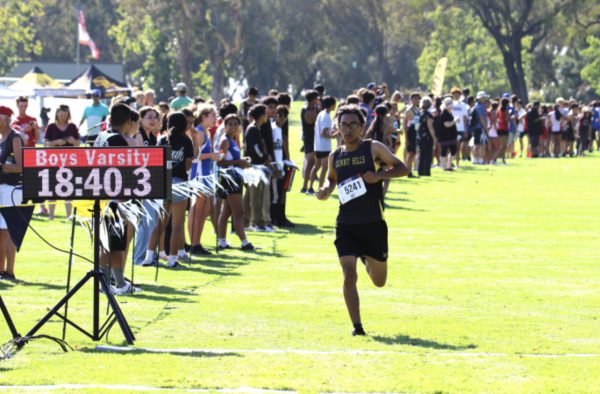 Even though his runners fell short of dominating athletes from the other schools, he was satisfied with the results.
"It was a lot of runners' first race ever, and they seemed prepared, and they ran well with good times," the coach said. "The returners led the way in terms of showing what to do, and many of them also had good times." 
Despite falling behind three other schools in the end, the bright spot for the Lancers was senior Silas Procaccini, who finished fifth with a time of 16 minutes and 25.6 seconds. 
Procaccini said he still has room for improvement for the next meet.
"I thought I could take the lead with a mile to go, but I ended up burning myself out," he said. "I went away with my personal record, and I'll take that for now, but I'm not satisfied quite yet." 
For their upcoming events, Holloway said he hopes to see his runners control their pace better to cut down on their finishing times.
"[The runners] start the race very fast, but the second mile is a little bit tougher, and they slow down quite a bit," he said. "I'd like to see them have a more balanced approach to the race by being more consistent with their pace from mile one to mile two." 
The cross country teams will compete Friday, Sept. 15, at Irvine's Great Park at 5 p.m. in the Woodbridge Invitational.
Meanwhile, the runners will compete in their next Freeway League meet Oct. 4 at 2 p.m. at Ralph B. Clark Park.