While neighboring campuses like California State University, Fullerton [CSUF], and Fullerton College shut down Monday, Aug. 21, out of "an abundance of caution," the Fullerton Joint Union High School District [FJUHSD] opted to keep its classroom doors open in the aftermath of Tropical Storm Hilary.
"We are pleased to inform you that district staff has spent today and this evening assessing our facilities, and thankfully there has been minimal impact to our sites," according to an email sent by FJUHSD superintendent Steve McLaughlin to staff and students' families at 8:50 p.m. on Sunday, Aug. 20. "Therefore, we will be open for our regular school day tomorrow."
The message advised school community members to stay alert for any overnight changes. 
"Given the nature of unpredictable weather events, we still encourage everyone to remain cautious and vigilant," McLaughlin wrote in his email. 
The FJUHSD issued another statement at 6:42 a.m. on Monday, Aug. 21, confirming that schools will proceed as normal. Principal Craig Weinreich said the decision was made between the superintendent's office and principals of each school as campuses sustained "little to no impact." 
"Our district just did a great job communicating with [school administrators]," Weinreich said. "[District personnel] monitored the campuses all through the weekend, especially on Sunday, to make sure everything was safe and everything was good."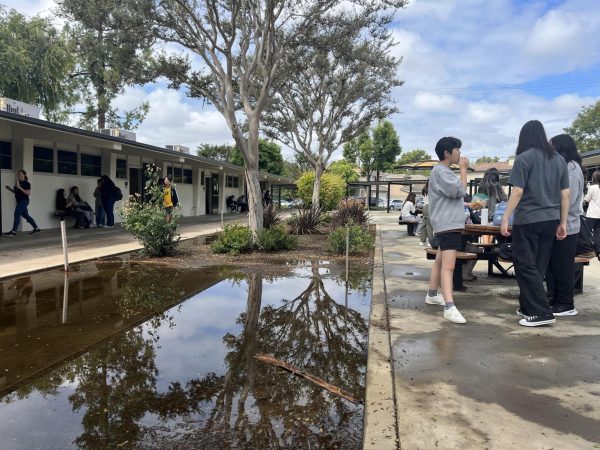 Announcements followed several from other institutions that offered a more severe assessment of the storm's impact. Before crossing over to California as a tropical storm, Hilary started as a Category 4 hurricane making landfall in Mexico's northern Baja California peninsula late Sunday, Aug. 20, morning. The first tropical storm to hit Southern California since 1939 prompted national weather service and law enforcement officials to announce warnings of flash flooding, debris flow and power outages.
By Sunday, Aug. 20, afternoon, the superintendent from the Los Angeles Unified School District was the first in Southern California to declare schools to be closed on Monday, Aug. 21. According to the Orange County Register, officials from these other campuses issued their closure statements:
"As the safety and well-being of our students, staff and school community remain our top priority, we have made the difficult decision to close school sites in the Anaheim Union High School District on Monday," the district announced on its social media.

"Our schools will reopen on Tuesday, Aug. 22, 2023, and operate with our regular schedules," Anaheim Elementary School District said.  

"Out of an abundance of caution and in consideration of the multitude of families and employees who commute long distances to Santa Ana, the Mater Dei High School Leadership Team in collaboration with the Diocese of Orange has made the decision to close the Mater Dei High School campus tomorrow, Monday, Aug. 21," school president and principal said in their notice. 
Likewise, CSUF shut down all on-campus classes and activities for the day.
"… Cal State Fullerton will cancel in-person classes and activities, but online classes will continue as planned on Monday, Aug. 21," the university's campus update said. "While the campus remains open, staff should provide services remotely unless they have essential responsibilities that require them to be on campus."
Before these announcements from higher learning institutions, Fullerton School District officials had already posted an announcement that their junior high and elementary schools have not sustained any damages from the storm and will resume classes on Monday. 
It kind of had a little reminiscent feel of the COVID-19 era."
— assistant principal Peter Karavedas
SH REACT TO CLASSES REMAINING OPEN
Noemi Villalba, mother of two students at Sunny Hills, said she didn't expect the district to remain open.
"I thought that since Los Angeles county schools were closed today, Orange County school districts would've done the same," Villalba said. "My kids didn't go to school for other unforeseen reasons — besides that, I would've sent them to school, seeing that the weather got better earlier in the day."
Monday, Aug. 21's absences, including excused and unexcused, totaled "well over 100," which was double the average of last week's daily attendance — though it's unclear whether this was related to commuting hazards, assistant principal Peter Karavedas said. If parents inform the school of their students' absence because of storm-related issues, they will be excused. 
"It would make sense [that absences were higher] if people weren't sure if we're open or not, if students have a sibling in another district that stayed home or if the hurricane affected them differently — it kind of had a little reminiscent feel of the COVID-19 era," Karavedas said.
Junior David Tapia, who lives in the Buena Park area, was among those who decided to stay home on Monday, Aug. 21.
"Going into Monday, my dad still had lingering concerns after the storm," Tapia said. "My mom wasn't worried because she grew up in a pretty stormy place [Mérida, Yucatán in Mexico], but my dad got paranoid because of the warnings from the news. I also didn't have anyone to pick me up from school [on Monday] either, so combined with that, I just stayed home."
Despite warnings of Tropical Storm Hilary sweeping through the community and violent wind and rain arriving on Sunday, Aug. 20, sophomore Carlos Olds said he wasn't concerned about coming to school after seeing that his neighborhood wasn't heavily affected. 
"My family and I were very underwhelmed about the whole thing," Olds said. "One of our streets was flooded, but it wasn't that bad."
Hilary's aftermath did not prevent any SH teachers from making their way to campus on Monday, Aug. 21, Weinreich said.
Staff members like chemistry teacher Andrew Colomac said he agreed with the district's decision to resume classes. 
"I thought that everybody was kind of overreacting a little bit," Colomac said. "We've had way stronger winds just with regular storms, so I was totally fine and expected [school] to be open."
HILARY'S IMPACT OUTSIDE OF SUNNY HILLS
While SH buildings escaped storm damage, Hilary's wet and windy path through Fullerton caused a tall tree nearby the campus on Benchley street to collapse. The trail around the tree that had fallen was vacant as residents hunkered down on Sunday, Aug. 20.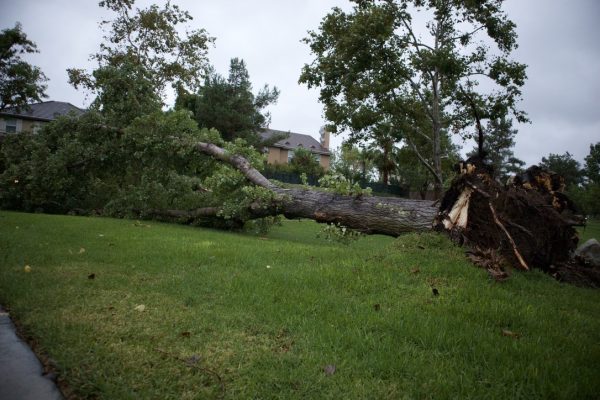 While it drizzled when students and parents made their way to school parking lots, the skies cleared up by second period. This allowed sports practices and the girls golf match against Walnut High School at Mountain Meadows Golf Course in Pomona at 3:30 p.m. to continue as normal as fields had dried up by the afternoon, school officials said. 
"We were part of a historic event, plus an earthquake [about 100 miles away in Ojai] — one day [Sunday] made for a very eventful day," Weinreich said. "I'm just glad it seems like everybody was safe and everybody was good and made it through."