Cracking the Top 5.
That's what The Accolade staff succeeded in doing for a second time under the guidance of adviser Tommy Li at a national convention Best of Show contest.
During a Saturday, April 22, awards ceremony sponsored by the National Scholastic Press Association [NSPA] in San Francisco, the school newspaper's Nov. 18 issue with a cover titled, "READY FOR THE AI REVOLUTION?" came in fourth place for publications with a high school enrollment of 1,800 or more students.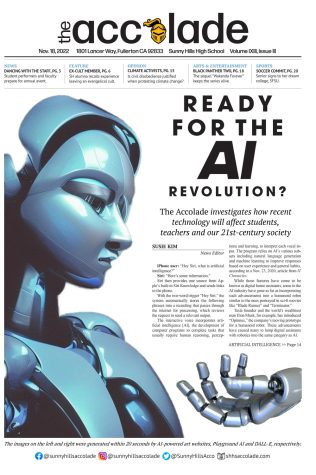 Newspapers from California schools, in fact, dominated the competition with eight of the top nine placements; The Dispatch from James Bowie High School in Austin, Texas, placed second.
First place went to the Bear Witness from Branham High School in San Jose, while The Accolade was one of three publications from Southern California that placed among the nine spots awarded.
The other two were The Mirror from Van Nuys High School in Los Angeles County, which placed seventh, and the Falconer from Torrey Pines High School in San Diego County, which placed eighth.
"I was so surprised that we placed higher than The Mirror because that's an awesome program, and it won so many individual design awards at the convention, too," Li said. "We've been through a lot this school year as a staff, and so I hope the results from this contest will pave the way for more success in years to come."
The adviser, who returned to oversee the school's journalism program in the 2016-2017 school year after taking a break at the start of the 2008-2009 school year, said he decided not to share the Best of Show results with the staff until Monday, April 24, during class so that the whole staff can be there to hear the news.
"Upon hearing the news, I just felt an overwhelming sense of gratitude toward our staff," said editor-in-chief senior Kate Yang, who along with three other editors won a fifth-place certificate for the Best of Show's individual recognition in the Newspaper/Newsmagazine Design contest for the front cover of the Oct. 14 issue. "The placements we received are huge honors, and I am overjoyed."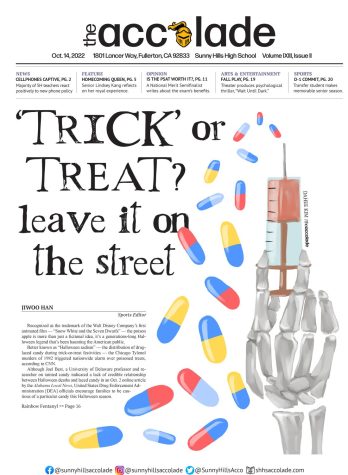 Co-feature editor senior Giselle Suastegui said she was pleased with the fourth-place Best of Show award, recalling the struggles that she and the staff overcame in the production of that issue.
"The November issue was really tedious and a learning experience," Suastegui said. "We grew from our mistakes, and so it was really refreshing and surprising to hear how high it placed."
NSPA officials never reveal how many total entries were submitted for Best of Show at their annual spring and fall national conventions; nor do they share who the judges are. 
"Typically smaller and distinct from the Pacemakers, the Best of Show awards do not signify a ranking of national excellence but rather overall excellence among the attendees and their entries," according to a statement from the NSPA website. "Convention attendance drives the number of entries and places awarded."
The last time The Accolade ended up in the Top 5 for Best of Show was during the 2021 spring NSPA convention, which ended up being a virtual one because of the COVID-19 pandemic.
"We placed third, and the category we competed in was different back then," Li said. "A few years ago, Best of Show categories were divided based on the number of pages a publication had. But since the 2021-2022 school year, the NSPA changed it based on the school size, which is similar to how it judges the online news website Best of Show entries.
"That makes it even much more challenging to place."
OTHER INDIVIDUAL AWARDS
Seven Accolade staffers also attended a national journalism convention for the first time. The event offered a keynote speaker on the first night and for the next two days various journalism sessions ranging from website building to photography tips to methods for improving feature writing. They also competed on Friday, April 21, in the on-the-spot Student Media Contest sponsored by the Journalism Education Association with five earning certificates and one a medal.
Managing editor junior Jaimie Chun was awarded a Superior certificate and medal in review writing; copy editors Seowon Han and Justin Pak, both sophomore, received an Excellent certificate — the former in editorial writing while the latter in news writing. Honorable mentions went to co-feature editor sophomore Alexxa Berumen (feature writing) and photographer junior Asaph Li (portrait photo).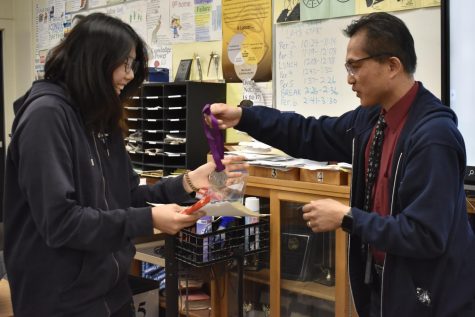 "We were unable to attend the awards ceremony on Saturday, April 22, because we had to go back on the road to head back home, but yearbook adviser Lindsay Safe was kind enough to be there to collect any awards we received," Li said. "So during one of our stops for passengers to use the restroom, I noticed a text message from Ms. Safe with pictures of the certificates and one medal that my staffers won.
"I then shared those results by texting the images to our group thread. That definitely made the second half of our drive home much more enjoyable."
Chun said she very grateful because her hard work had paid off in the review writing category, and she also enjoyed the overall experience of attending her first national journalism convention.
"I'm very honored to be recognized among all the amazing writers that were there," she said. "The whole convention itself was such a fun experience that coming home with an award was a great bonus."
Han said the contest allowed her to step out of her comfort zone.     
"I was a little nervous because it was my first time competing in the editorial writing category," she said. "I was really happy and surprised when I learned that my writing rated 'Excellent.'"
Advice from her fellow Accolade members also ended up being quite valuable for Han.
"I think the advice and tips from Mr. Li and other staffers who previously competed in the editorial category helped a lot, so I'm very thankful for that," she said.
Pak said he was shocked after finding out about his achievement in the news writing category.
"I thought I performed poorly after competing because the contest went quite different from how I expected, so I was really surprised when I found out I placed 'Excellent,'" he said.
Although he has participated in writeoffs before, this was Pak's first time attending a national convention, and he didn't know what to expect going into it.
"I was a little worried because although I've competed in the news category for other writeoffs before, I didn't know what to expect from the national one," he said. "I'm glad I ended up placing."  
Li was also surprised that so many staffers wanted to travel to attend the convention, especially since it was in the spring semester, a month before final exams in May.
"In the long run, I'm glad they were willing to come along for the ride," he said. "That's what matters beyond just winning awards. The trip brought many of us together as we were able to see each other in a different setting.
"I hope they'll be more interest attending conventions in the future."