SH GOES DUBBING: Video production students coordinate their first lip dub video in decades, fostering school spirit
It all started at 9:30 a.m. 
Students had a day off from school on Good Friday, April 7, while teachers came to campus for staff meetings and training.
Nevertheless, students from 32 on-campus clubs, athletic teams and academic programs gathered in the gym, as well as some teachers and staff members, to record a nine-minute music video capturing students lip-syncing to the melodies of a total of 34 songs, three of which are from Korea, India and Mexico. 
Regional Occupational Program [ROP] video production teacher Daniel Flores came up with the idea to produce a lip dub for Sunny Hills around January because he hoped to offer this opportunity to senior Grace Spero for her senior project. Spero, who is in Flores' third period Video Production class, immediately took charge and coordinated the event.
"Although Sunny Hills filmed a few lip dubs in the years past, the on-and-off tradition has been absent largely because of the COVID-19 pandemic," Flores said. "My first thought when starting this project was for Grace to make a video showcasing what we have to offer and have fun doing it." 
Spero viewed the project as an opportunity to showcase the work done in video production and the diverse school programs throughout this school year. 
"Mr. Flores was like, 'Let's do the lip dub video,' and then I was like, 'I'm all in,'" said Spero, who agreed to be the lip dub director. "It just skyrocketed from there." 
The final product will premiere at the Film Festival hosted by the video production class and then later released on YouTube, although the exact dates are unknown.
LIP DUB PLANNING TAKE ONE
At the onset of the project, Spero emailed athletic team coaches, club leaders and program directors, inviting them and a student representative to attend an informational meeting held on Wednesday, March 8, in Room 136. 
During the second meeting on Wednesday, March 29, four weeks before the filming day, Spero assigned a song that suited each group while each culture club personally chose an audio representing their country.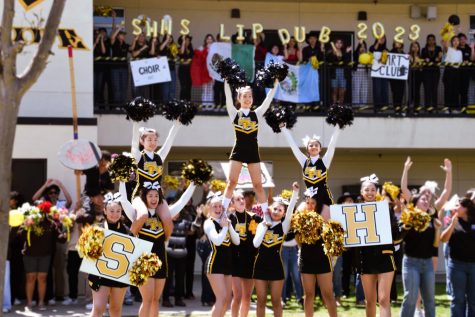 Every participating group also selected two representatives to be featured as the "singers" for that song segment and instructed the remaining students from the club to cheer with trophies and posters. 
Though this was Spero's first time organizing a lip dub, she received inspiration for the various scenes from watching other schools' videos. 
The planning process leading up to the shooting ran smoothly but on the day of, she realized people needed more directing and guidance. 
"One of the biggest struggles was getting people involved," the senior said. "The video production team just tried our best and went to talk to the teachers and different groups." 
Among the three cultural clubs participating in the lip dub, singers for the Indian Student Association seniors Krisi Patel and Henika Patel reflected on their once in a schooltime experience.
"I was very honored and excited to represent ISA," Krisi Patel said. "We had our moments where we were freaking out on formations, lyrics and choreography, but in the end I told everyone to have fun and live the moment." 
LIGHTS, CAMERA, SING!
Spero said her production crew of 11 arrived on campus on Friday, April 7, at 8 a.m. to start setting up the decorations they had gathered the night before. The participating groups were required to arrive at the gym by 10 a.m. for a brief hearing of what to expect during filming. 
Then from 10 a.m.-12:30 p.m., Spero designated set locations for the camera to film each of the 32 groups. Ranging from the Performance Art Center [PAC] to the quad, the path of the camera traversed the entirety of the campus.
Senior Kier Regoso held the camera with junior Melusine Tenkoff on the back of a golf cart, while Spero sat beside Regional Occupation Program auto tech teacher Jesse Munoz, who drove the cart around campus to their final destination. 
To kick off the two-hour day of filming, Dance Production [DP] performed a five-second routine to the 2007 Rihanna song, "Umbrella." Starting in front of the PAC wearing their black DP team dresses, the group danced its way down the stairs as they mouthed the words "You have my heart." 
Next came the choir students, who lip-synced to the song "Unwritten" by Natasha Bedingfield. 
The girls golf team proceeded to raise up several award plaques and the Associated Student Body [ASB] made its appearance with black and yellow Lancer gear. 
 "This was an enjoyable experience for me," said sophomore Kastuv Aryal, who participated as a member of the ASB. "I was happy to see that so many people came out, and even though it was tiring, I'm glad I did it."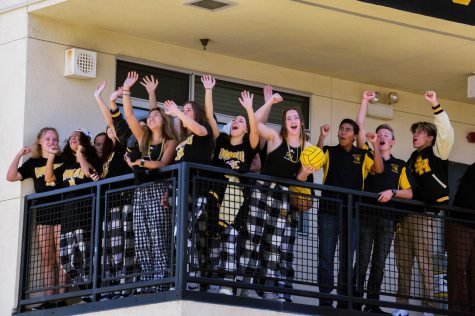 Junior Ian Slobodien agreed.
"It was a very hot day and after about two practice runs I knew it was going to be tiring," said Slobodien, who came as part of the Latinx club. "By the end, our whole group was excited to finally have finished." 
FROM THE EDITING FLOOR TO THE SCREENING ROOM
The shooting day ended at 1 p.m. with all 32 clubs running to the quad for the final overhead drone shot as the cheer squad stood holding their final pose with posters spelling the letters "S" and "H."
Spero said she plans on submitting the finished product to a North Orange County ROP competition, where it will compete against five other schools.
"I have full confidence in us, and I think we will get really far," the senior director said. 
Spero said the filming and editing of the two-minute video required the hands of 11 advanced video production students. Five students assisted the camera crew, and six ran background checks to ensure the singers stood in the designated areas. 
The team's synergy and the enthusiasm of all those who came out to participate in the project created a successful one-shot film in three takes. 
"[Spero] totally owned her role that day and everything that led up to it, so it took a lot of leadership and growth over the course of two months," Flores said. "It took a lot of time, energy and total dedication on her end to implement that whole entire production."
Aside from the goals of promoting school spirit, displaying the variety of programs on campus and entering the finished video in a competition, Spero said she hopes to see Sunny Hills make this an annual event.
"I hope it starts a tradition, and I hope it keeps getting better," the senior said. "It's our first video, so we don't really have much. But I think it's gonna be good, and I hope people love it."
Leave a Comment
Your donation will support the student journalists of Sunny Hills High School. Your contribution will allow us to purchase equipment and cover our annual website hosting costs.