A tiebreaker to determine first place that went against The Accolade's online work prevented the journalism program from sweeping the Orange County Journalism Education Association's  [OCJEA] Best of Show categories earlier this month.
The Accolade's Friday, Nov. 18 issue finished first for print in Division 1, beating four other newspapers in Orange County with staffs of 26 or more. In the second year for the Best of Show podcast, managing editor junior Jaimie Chun's Monday, Feb. 6 podcast about an Asian rights activist's origin story beat out submissions from Northwood and Portola high schools.
"Last year we placed second for the Best of Show print award [with Portola placing first], so I felt an immense sense of pressure to reclaim that first-place award," editor-in-chief senior Kate Yang said. "I am extremely pleased with the results and continue to thank our staff for the work they put in to achieve such a result."
Even though a majority of the editors polled wanted to submit the October issue that featured a special section on the dangers of fentanyl, Li said he submitted the November issue instead because overall the stories – including some from the beginning journalism class – were stronger in terms of the writing, and the page layouts also edged the previous month's issue.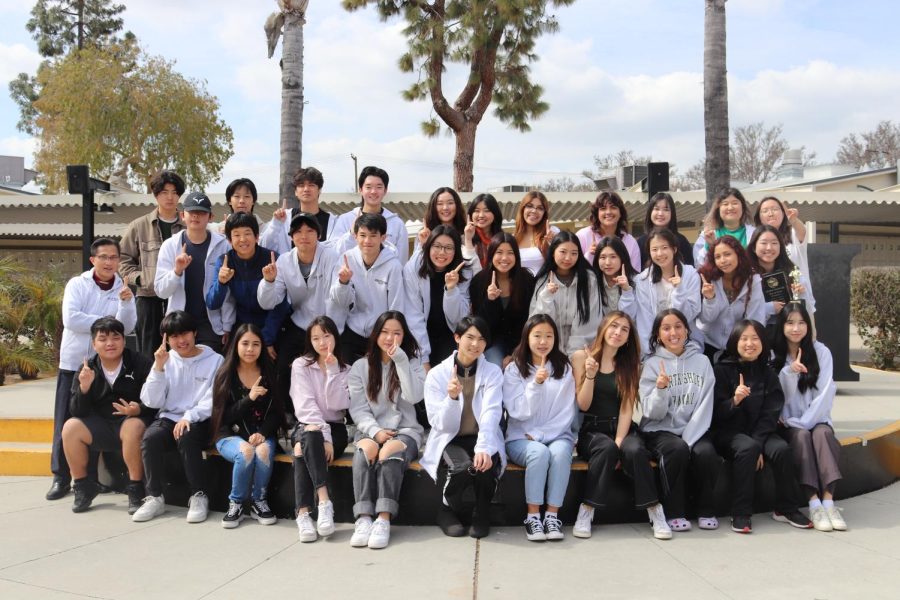 Based on a combined score from a judge who evaluated the issue's content and another who reviewed the newspaper's layout and design, the total of 92 points beat Fountain Valley High School's Baron News by the narrow margin of half a point. The Foothill Dragon Press from Foothill High School in Tustin placed third.
"The editorial about 'quiet quitting' is intriguing. What happens when students quiet quit?" wrote the judge for content, quality and style. "Sports covers the gamut – even paintball! (Cool story.)
"Entertainment focuses on a movie and a TV series. Ideally, it would be nice to have a campus story [in that section] as well. Excellent job, journalists."
This year, Portola High School's newspaper competed in Division 2 because its staff had 25 or less members. It came in second behind Woodbridge High School's magazine, Golden Arrow.
"We'll never know for sure whether we would have beaten Fountain Valley by a higher score or not had we submitted the October issue for judging," journalism adviser and English teacher Tommy Li said. "And we'll never know – at least for this year – how we would have done had Portola been in our division. All these programs are very strong and deserve a lot of credit for what they're doing with their publications.
"Nevertheless, just being able to bring back a plaque after missing out on getting any last year is reason to celebrate."
Placing in the Best of Show podcast category for the first time, Chun decided to interview Orange County Asian Americans Advancing Justice's chief executive officer Connie Chung Joe. The 14-minute, Feb. 6 episode titled, "Connie Chung Joe," drew praise from both judges for this category.
"I was really surprised when Mr. Li announced on Monday [in class] that the podcast got first place, and I got that plaque," Chun said. "I was reading through the [judges'] comments as well as criticisms, and I learned a lot from those comments."
The two judges who critiqued the podcast applauded its overall high quality while also giving criticism where it was needed.
"The entirety of the episode detailed wonderful information in a variety of topics that the listener could be intrigued by whether they are Asian American or not," wrote the first judge. "In terms of technicalities, at one point, there was random music in the middle that didn't make sense and the music was a little too abrupt and loud at points."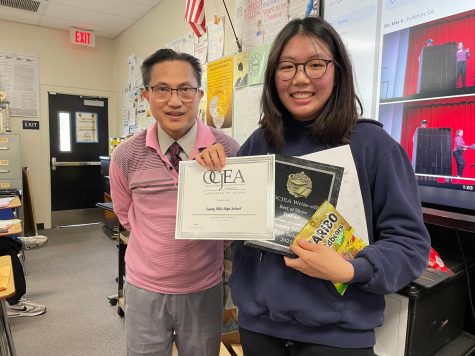 But the staff's online news website was unable to overtake the Portola Pilot from Portola High School, as the Irvine journalism program was announced during a Saturday, March 4, awards ceremony as the first-place winner for the second year in a row.
"Our online editor-in-chief Henry Lee has done an amazing job with our website this year, and I know it broke his heart when he found out that we were tied for first place with Portola after the first round of judging was completed," Li said. "But the judges' comments explaining why we lost the tiebreaker were valid, and we know what we need to do to reach this goal of winning it all next year."
Though Lee feels glad that The Accolade managed to place as high as last year, he still regrets the fact that the website lost in the ultimate tiebreaker.
"It was unfortunate that we lost in a tiebreaker," Lee said. "Given that we had the same score as Portola, I think we lost because of the frequency of posting, but we had late night the week of judging which could have contributed to that factor."
Li, who's also OCJEA president, read out loud the judges' statement during the awards ceremony before the winning school was announced.
"It was a tough call because both could easily have won," wrote the judge who evaluated the website's content. "Both included a variety of multimedia. Both had a good frequency of publishing. … Both are worthy of the award, but there had to be one winner.
"One had a greater presentation of content, which was cleaner in design and less overwhelming on the site. It was easier to find and navigate the information."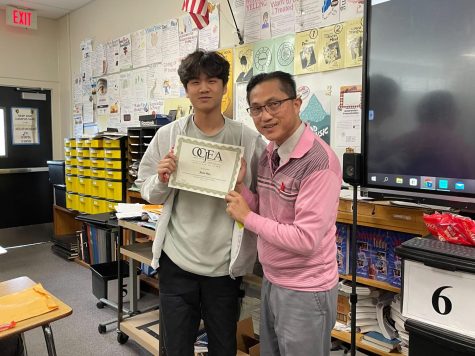 Among the 21 students who competed in individual categories at the competition before the awards ceremony, sports editor junior Jiwoo Han (fifth place sports), social media manager sophomore Faith Jung (seventh place news) and news editor junior Susie Kim (sixth place news) placed in the Top 10, allowing them to advance to the Southern California Journalism Education Association [SCJEA] writeoffs on Saturday, March 18, at Oxford Academy in Cypress.
"I wasn't too surprised when I got my ranking," Han said. "But at the same time, I felt like I could do much better, and I'm excited for what I could do this weekend at the state writeoffs."
The overall team performance fell short of placing in the Top 5 in the sweepstakes competition as a group representing Northwood High School earned the highest placements to win the perpetual trophy for first place.
Eleven other Accolade staff members plan on competing at the state level. 
"We were unable to win the sweepstakes category at the OCJEA competition, so I'm hopeful the staff will be able to rebound from this loss at the SCJEA competition," said Yang, who plans to compete again Saturday in the newspaper layout category, which she won a first-place trophy in at OCJEA's event. "The feeling of winning the Best of Show was gratifying for the entire staff, so hopefully this will motivate them to really go into the SCJEA [writeoffs] with everything they have."