It's futile in initiating change
"Run, don't walk to Target."
That was what influencers announced when the janky Stanley Cups came back in stock after being sold out after selling out in practically all stores.
Today, a social media influencer's nod of approval over a product signals the green light to the next "big thing" — and people absolutely rave over it.  
With thousands of content creators promoting the same products, netizens feel inclined to spend heedlessly just to follow our role models. 
Rejecting this culture of overconsumption, TikTokers conversely created a trend called "de-influencing" in which content creators focus on telling viewers what isn't worth buying, especially the overrated, cult-favorite products such as the Dyson Airwrap, Charlotte Tilbury Contour Wand and Dior Lip Glow Oil. 
The TikTok hashtag "#deinfluencing" garnered around 203 million views following the popularity of influencer Maddie Wells (@maddiebewells), who reportedly first used the term in 2020 to warn her followers about overhyped beauty products. 
But despite what TikTokers discuss in their de-influencing videos, we're still influenced. 
In her Wednesday, Jan. 25 video,  influencer Alyssa Stephanie (@alyssastephanie) slammed popular brands like Olaplex, Supergoop! and Charlotte Tilbury for their high price and low-quality products and followed up with alternatives that are "just as good" or "even better." 
"Here are all the things that I will de-influence you from buying," she said.
Being told not to buy a specific item doesn't change our relationship with beauty or consumption, especially when the next video we see tries to sell a "dupe" or a cheaper alternative. This not only continues to promote consumerism, but it also defeats the purpose of this trend by encouraging viewers to buy even more.
At its core, this movement strives to promote conscious and environmentally friendly habits. 
However, creators have taken the movement entirely out of context. Despite its positive origins, de-influencing fails to initiate tangible change, as seen from the flop of a similar 2017 trend, "anti-haul."
Instead, more influencers should consider promoting ways to solve the very root of over-consumption. Content creators like Tara Bellerose (@tarabellerose) should encourage consumers to finish up products they already own before purchasing items branded as "trendy." 
"If you have makeup like foundation or eyeshadow palettes and whatever else, use them until you've used them up," Bellerose said. "Do you really need a drawer full of the same eye palettes?"
Trends come and go, and the hype around de-influencing will likely fade within the next month. But this is a valuable time for creators to re-evaluate their marketing strategies and avoid hopping on the train just for the sake of it.
Though some may argue that this trend helps reduce overconsumption, the misuse of de-influencing does no more than produce the same effects as internet influencing.
So for now, save your money and don't run — just keep walking. 
Leave a Comment
Your donation will support the student journalists of Sunny Hills High School. Your contribution will allow us to purchase equipment and cover our annual website hosting costs.
About the Writer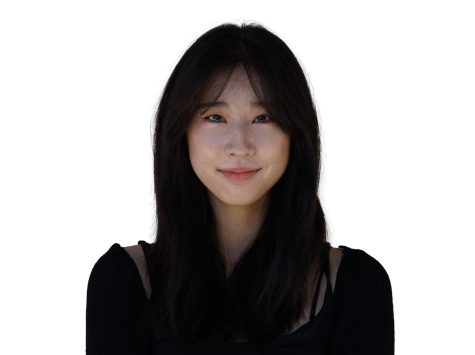 Stacy Kim, Staff Reporter
As a new staff reporter of The Accolade, junior Stacy Kim is eager to start her journey as a 2022-2023 staff member. Kim has written for The Accolade's cub issue in the past and hopes to enhance her writing skills by covering more stories throughout the year.
Besides being on staff, Kim participates in various clubs and organizations such as GENup and the California Association of School Councils. She also enjoys binging Korean dramas, taking naps and listening to music.