SH boys bring own brand of balance to gymnastics
According to USA Gymnastics, there are 69,797 female athletes who compete in the 11 USA Gymnastics' women's programs and just 12,072 male athletes who compete in the nine USA Gymnastics' men's programs.
That is a 140.289% difference between competitive female and male gymnasts.
In the Eric Will Gymnastic Center, the female gymnasts outnumber the male gymnasts by 33 athletes, yet for freshman Cailean Travis and senior Andrew Gonzalez, such a numerical disparity means nothing on the balance beam.
"I don't feel overlooked as a male gymnast," said Travis, who's been competing for the Eric Will club for seven years. "We practice regardless of whether there are more girls in the gym or not, and I feel that men's gymnastics deserves to be more popular than it currently is."
The freshman adopted the sport from his mother and step-sister Lisa Nesterova, who both practiced as recreational gymnasts in Russia before arriving in the United States.
"Gymnastics was a lot more strict in Russia mainly because the coaches were very strict," he said. "So, she expects good gymnastics especially because of where she grew up, and [her expectations] help me improve from my mistakes."
Gonzalez's origin story does not differ much from that of Travis. 
At ten years old, he began taking classes once a week following suit of his younger sister, who began learning the sport to strengthen her tumbling as a competitive cheerleader. At age 12, he left five years of playing club football with the Fullerton Bears to pursue gymnastics with a competitive team, per the request of his gymnast coaches at the time.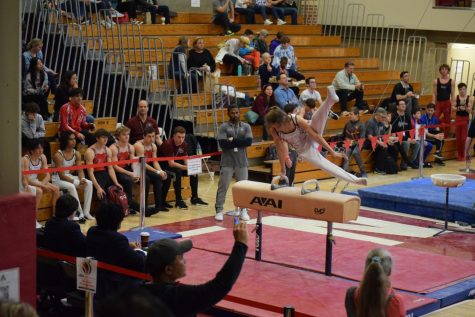 The two gymnasts now compete under coach Sameera Ekanayake at the Eric Will Gymnastic Center and practice every day from 5-8:30 p.m.
"The boys, around the age of Andrew and Cailean, get stronger and faster, and they begin liking the exercises more," said Ekanayake, who's been coaching Travis for six years and Gonzalez for five. "They are really motivated and I have seen how far they've come in their passion."
Ekanayake's players compete at least five times a year — their most recent meet being Jan. 28 – Jan. 29 at Stanford University against athletes nationwide. The two gymnasts did not receive placing medals, however, said they left with a greater drive. 
"The competition was a huge motivation boost, because I spoke with a freshman gymnast from Stanford University who competed for the USA team," Travis said. "Talking to him and watching his gymnastics just makes me want to achieve a high level of this sport."
Upon joining the competitive team, the senior received backlash from his middle school peers who viewed gymnastics as a feminine sport rather than a male sport, he said.
"At first, there was mild bullying with people in middle school sometimes saying things like 'Why don't you play a real sport?'," Gonzalez said. "For 12-year-old me, this could be pretty discouraging at times, but [the responses] weren't all bad [because] most people were interested and super supportive."
With the Stanford University competition being the boys' second in level nine, Ekanayake said he looks forward to seeing them flourish. 
"The boys handle the pressure very well, and they are new to the level 9 competitions," he said. "They are doing well performance-wise, and I'm excited to see where they will go and how they will improve."
Leave a Comment
Your donation will support the student journalists of Sunny Hills High School. Your contribution will allow us to purchase equipment and cover our annual website hosting costs.
About the Writer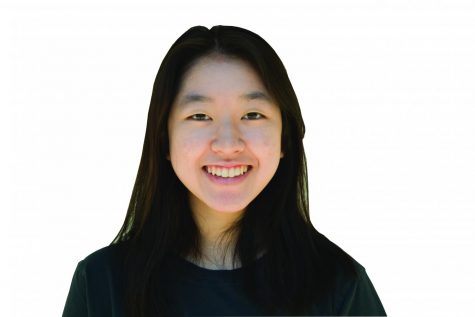 Kate Yang, Editor-in-Chief
Senior Kate Yang spent her junior year serving as web managing editor of
The Accolade
. This year, she returns as editor-in-chief and looks forward to working with her new staff and top editors. Yang joined
The Accolade
as a sophomore after taking the prerequisite class, Journalism 1, as a freshman. She has earned several Best of SNO awards for her stories beginning her sophomore year, some including the reopening of Sunny Hills amid the pandemic and the AP score dilemma following the first online administered exams. Outside of
The Accolade
, Yang runs several clubs and plays golf for the SH girls golf team. She is an International Baccalaureate student and a Link Crew leader this year. Yang hopes to see more students this year pick up physical copies of
The Accolade
as well as visit the online website.