Students who have been using the restrooms on campus since mid-January may have noticed some new decor.
Sprawled on doors and walls are vertical, rectangular-shaped stickers with the Lancer knight logo and black and gold school colors. All have messages like:
"YOU MATTER."
"KNOW THAT WE HERE AT SHHS CARE ABOUT YOU."
"HELP AND HOPE IS AVAILABLE."
"I was confused yet surprised how they were plastered all over the walls and stalls, but they do get the message across of reaching out for support, which is nice," junior Ariana Lopez said when she spotted the stickers last month.
 Sophomore Jharlize Makeilhy Estonactoc also had a similar initial reaction as Lopez.
"I feel like they are overselling the message because there are so many [stickers] in one spot," Estonactoc said. "It's just so much that I think that people don't really care about the message it's trying to send."
School officials said campus supervisors put up more than 60 stickers in restrooms – 39 total in the girls bathroom and 22 in the boys —  on Friday, Jan. 20, upon receiving them from the Fullerton Joint Union High School District [FJUHSD] mental wellness specialists earlier that week on Monday, Jan. 16. No stickers are in the gym or Performing Arts Center restrooms, but some are displayed in the all-gender restroom.
The 18-inch-by-7-inch and 12-inch-by-5-inch posters display two service lines that connect students to crisis counselors and the Suicide & Crisis Lifeline, along with a text number to reach Trevor counselors for the LGBTQ+ community.
Two QR codes direct students to receive substance abuse support and access the STOPit app, which allows anonymous submission of images, videos or text files to school officials for them to take action accordingly, according to the FJUHSD website. 
FJUHSD mental health coordinator Carlos Alcantara told journalism students in the district during a Friday, Jan. 20 Zoom news conference that the campaign stemmed from a Fullerton Union High School parent.
"[Principal Laura Rubio] from Fullerton Union High School [FUHS] reached out to myself and Allen [Whitten, the district's director of student services]," Alcantara said. "[She] shared that this was something that a parent brought up as their concern, and we just jumped right on it, and as a district, we saw great value in this idea."  
The parent of a FUHS student revealed that her son would often take time out of class and hang out in the bathroom when he was going through a crisis and inquired about a method to support her son, Alcantara said.
Alcantara said he recalled receiving photos from one of Sonora High School's counselors, Jackie Nia, of similar wellness posters located in the California State University, Fullerton, bathrooms and brought the idea to the FJUHSD.
"Mrs. Rubio and our wellness team got together and talked about what we can do," he said. "We recognize that when students are in a crisis, going to the bathroom is a space that they go to when they're on campus."
Alcantara said he hopes on providing links for students without a mobile device to scan the QR code and posters in different languages for non-English speakers.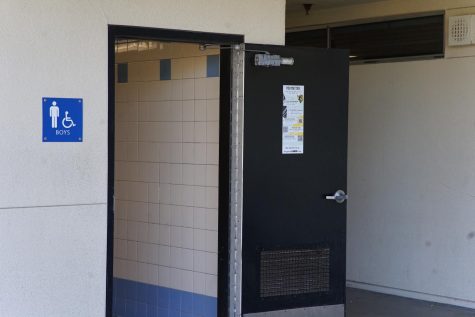 Without any explanation to the student body, some students have figured out on their own the value of this campaign.
"I felt like it's a good thing, and it's pretty helpful to the Sunny Hills community," junior David Yoo said. "If people need help because of mental stress or pressure, they might get more encouraged to reach out after seeing the posters.
"I think the placing of the stickers is pretty effective because it's really visible when you're in the restroom."