New auto shop teacher wants students to learn beyond just nuts, bolts of being a mechanic
This is the last in a series of profiles on full-time instructors hired at Sunny Hills during or before the fall semester last year. A part-time English teacher last semester now works full time this spring, so expect one more profile to be posted soon.
This story was updated Tuesday, March 28, with additional images and new information about the instructor and his collection of Matchbox/Hot Wheels cars.
"This isn't your grandpa's auto workshop."
When new Regional Occupation Program [ROP] auto shop teacher Jesse Munoz tells this to his students, he's trying to change the impression many might have of a mechanic who's constantly dealing with grime, nuts and bolts and broken down combustion engines.
"I want to teach the next generation that being a mechanic or technician has very little to do with grease, oil and smelling like gasoline," Munoz said.
In fact, the modern day mechanic has a lot more to do with 21st-century technology.
 "Most of our technicians have to work on very sophisticated vehicles – a Mercedes-Benz [for example] has multiple computers talking to each other,"  said Munoz, who teaches three ROP classes: Introduction to Auto Tech, Auto Tech and Advanced Auto Tech. "I think those things are really cool to me, and I just want to push it onto the next generation."
The instructor first taught similar courses at La Habra High School last year before the North Orange County ROP chose him to come to Sunny Hills during the 2022-2023 school year for his second year of teaching.
Another reason for getting reassigned here has to do with Munoz's interactions with SH principal Craig Weinreich, who at that time worked as an assistant principal at La Habra.
"He is a super positive, outgoing teacher that loves his subject and teaching kids about auto, and I think he is going to fit in really well with our students," said Weinreich, who reached out to Munoz to teach here once the position was open during the summer. "They're going to be able to learn a lot from him and take away skills and hopefully learn certifications that are going to be valuable down the road."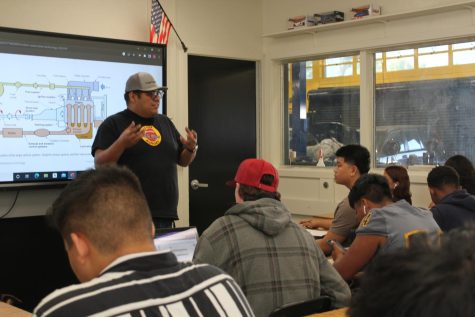 Despite his passion for helping his students see what a 21st-century auto shop looks like, Munoz started off with a different job interest in Texas, where he grew up.
After graduating from Sidney Lanier High School in the westside of San Antonio in 2001, he said he enrolled in San Antonio College, where he majored in graphic communication.
Upon completing his community college major in 2003 with an associate's degree, Munoz said he worked as a graphic artist for a marketing company in San Antonio for five years. He then worked for a print and advertising shop for another four years. 
In 2010, Munoz said he decided to switch careers, attending the Digital Media Academy at Stanford University to earn certification in web design and programming.
"The biggest reason I changed careers was because 2008 was a recession for America," he said. "Those in my industry found themselves struggling for good work, so instead of struggling, I just fell back on my hobby."
That hobby is taking care of cars, something that some of his students have appreciated about their first-year teacher.
"Mr. Munoz is a very great guy, and his teaching style is very funny because he has those moments where he talks about what happens with his car at his home and shows us videos," said sophomore Michelle Pacheco, who's in Munoz's fifth period Introduction to Auto Tech class.
Senior David Mahood said Munoz has become more than just an instructor.
"Mr. Munoz is not only a great teacher but a great mentor," Mahood said. "I was planning on manual swapping my car and wouldn't have done it if Mr. Munoz didn't encourage me to go for it. He knows a lot about cars and loves sharing it with his students."
Besides the auto industry certificates the auto tech teacher puts up on one wall of his classroom (from 2011-2014, he worked at Alamo Toyota in San Antonio as a parts and hybrid vehicle specialist; from 2014-2019, he worked at Taos, New Mexico, for Metric Motors as a general manager and hybrid and electronics specialist), an adjacent wall near his desk features a collection of Matchbox and Hot Wheels toy cars, all of which were given to him as gifts from his students this school year.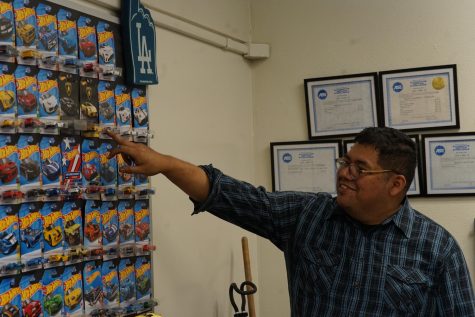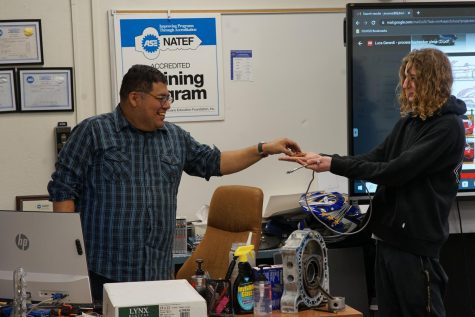 Along the top ledge above the windows leading to the auto shop area, he has also put up some larger, die-cast metal cars belong to him.
To this day, Munoz, who owns his own car repair shop called The Automotive Laboratory, credits his experience in high school for teaching him the importance of career options for students.
"I went to a high school that offered many vocational options as electives," said the teacher, who holds five industry certifications ranging from master tech to parts specialist to Toyota Hybrid and electric vehicle specialist. "It was the first door that was opened that led me down the path of a successful career.
"I owe a lot to those vocational teachers who taught me this valuable lesson – [that] there is a key that helps one grow both personally and professionally. [So] never stop learning, be open to new ideas and never be afraid to take risks."