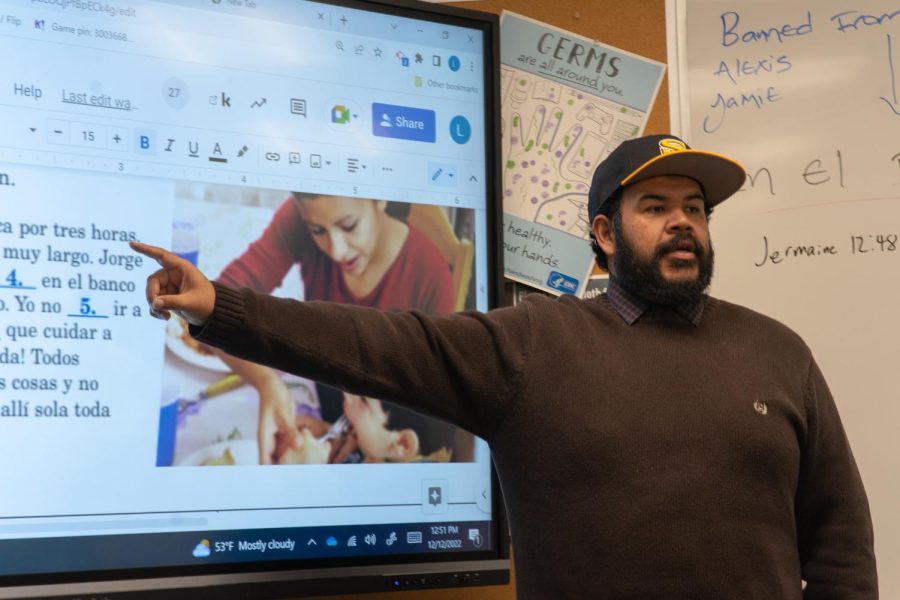 FROM ONE 'HILLS' TO ANOTHER: New Spanish teacher first taught at San Juan Hills High School in south Orange County before getting hired here
New Spanish teacher Luis Gomez found himself going through very distinct routines to support his wife and two sons 10 years ago.
In the mornings, he sat at his desk working on assignments related to his master's degree program in Spanish literature from the University of New Mexico. 
By night, Gomez said he worked night shifts in the juvenile justice system dealing with children and youths living in group homes – many of whom were either sex offenders, drug users or children who are diagnosed with autism.
"It was really rewarding work, and it really helped me with my classroom management skills as the children in group homes would very often try to hurt me, my co-workers or each other," he said. "After that a regular classroom did not feel as big of a challenge."
The goal was to spend time with them.
"Once I got there [to their group homes], it's like being with any normal kid," Gomez said. "We would play games, and you would show them what it's like to be with a normal adult."
Now as Sunny Hills' newest Spanish teacher – and last full-time hire of the fall semester – Gomez said he appreciates the change in his routine.
"I absolutely love Spanish; it is my first language," he said. "It is a part of my culture, and I love sharing it with others."
"
I absolutely love Spanish; it is my first language. It is a part of my culture, and I love sharing it with others."
— Spanish teacher Luis Gomez
The new teacher had grown up in southern Utah and graduated in 2001 from Payson High School in Payson, where he said he was involved in multiple activities such as basketball, student government, several clubs and choir.
Gomez said he first became interested in teaching Spanish through the Spanish literature classes he took in his college years.
But it took him a while – nearly a decade after high school – before he attended his first college class.
"My college experience was non-traditional because I didn't decide to go to college until I was married and had my first son," Gomez said. "I went to class during the day and worked at night to support my family." 
In fact, he said he made the decision to postpone his own educational journey to further his wife's academic endeavors.
"I was already married when I started college, undergrad and grad school," Gomez said. "I started college after I put my wife through school, so I worked while she went to school and received her [college] degree."
POST-HIGH SCHOOL EDUCATIONAL JOURNEY CROSSING THROUGH THREE STATES
The first college he attended was the University of Utah, where he graduated with a bachelor's degree in Spanish in 2013. Then three years later, he earned a master's degree in Spanish literature from the University of New Mexico, where he got his first experience being a Spanish teacher.
"Not only had I received a scholarship to cover tuition [for the master's program], I was also paid to teach undergrad Spanish classes while there," Gomez said. 
After he completed that master's program, he said he decided to uproot his family – he and his wife had their third son by then – to central California, where he started a doctorate program in second language acquisition at California State University, Chico, in the fall of 2016.
But that didn't turn out as well as he had hoped.
"I was a month into the program when the university let me know they would not fund my degree so I would have to pay for it," Gomez said. 
And that's how he ended up teaching in a high school environment for the first time.
"I had to figure out how to pay for my tuition at Chico State, so I looked for a job and was hired at a local high school to teach Spanish," the Spanish teacher said. "After that year of teaching high school, I decided to become a high school teacher."
That experience caused him to leave the doctorate program and instead enroll in an online school, National University, where he earned his second master's degree – this time in education – along with his teaching credential.
In the meantime, he found a new Spanish teaching position in California's Central Valley in a small rural school.
"I loved it, and I taught there for four years while I obtained a teaching credential [from National University]," he said.
Gomez said he learned early on the difference between his time as a professor in the University of Mexico and his being an instructor in a high school classroom.
"When I was teaching in college, my students would just listen to everything I said, and I felt like I was their leader," he said. "[In a high school setting], you can't just stand up in front of the class and lecture the whole time because students get bored."
TIME FOR ANOTHER MOVE 
More than a year after the COVID-19 pandemic hit in March 2020, Gomez said he and his family moved again from the Central Valley to Southern California in June 2021. 
"My wife who is from Orange County wanted to move back to Orange County, and so we did, and I've been teaching in Orange County ever since, looking for the right school to commit to," he said.
Last school year, Gomez said he landed a position teaching Spanish at San Juan Hills High School in the Capistrano Unified School District.
Like with what happened here, he was the last Spanish instructor to be hired for that school year at San Juan Hills. He applied to teach at Sunny Hills last semester upon learning that his previous campus didn't have enough enrollment of Spanish students to warrant Gomez's keeping his position.
"I really like Sunny Hills a lot," Gomez said. "It's a lot different than the school I was at last year.
"I like the students [here], and I like the diversity." 
One main philosophy the new instructor aims to uphold is building students' success now and for their future. He especially does not see himself as the kind of person who just teaches and goes home after 3:30 p.m. when sixth period ends.
"If you want to be a high school teacher, you have to enjoy being around high school students," Gomez said. "I care about the students, and I care about the subject I teach."
"
If you want to be a high school teacher, you have to enjoy being around high school students. I care about the students, and I care about the subject I teach."
— Spanish teacher Luis Gomez
STUDENTS RESPONDING TO GOMEZ'S TEACHING STYLE
Sophomore Lauren Bromley said she has enjoyed her first semester with Gomez.
"I feel like he does a great job at teaching us because he's really funny, and overall, he just makes the learning fun," said Bromley, who's in Gomez's fourth-period Spanish two class. "Gomez knows how to control the class and teach well."
Junior Raelyn Corona said she has appreciated the new Spanish teacher's creativity in presenting Spanish lessons.
"Mr. Gomez speaks to me in a way that shows understanding of what I am not comfortable with, creating a more pleasant environment for each student," said Corona, who's in Gomez's sixth-period Spanish 2 class. "He has proved to be a charismatic teacher who is quite open to one on one interaction with students as well as sharing about himself."
Junior Eduardo Rojas said he has also noticed his teacher's relaxed style of teaching.
"I do feel like I have a good relationship with him," said Rojas, who's in Gomez's sixth-period Spanish 2 class. "Gomez is a good listener and he's a chill teacher."
Principal Craig Weinreich said he hired Gomez since he had experience teaching Spanish in the past along with bringing a different voice toward students.
"Part of the interview for a Spanish teacher was speaking Spanish, and he was very good at doing that," Weinreich said. "Gomez comes from outside of our area here from south [Orange] County and to be able to bring a different voice in for us and different background fits well with our [World Language] department." 
Outside of the classroom, Gomez said he enjoys cooking and playing various sports with his children, 11, 9, 7, 5 and 2 (two more were born after he and his family moved to California).
So far though, none of his children have had a chance to learn the language that their father teaches at school.
"I have not been teaching my kids to speak Spanish fluently," Gomez said. "This is quite a difficult thing for me as I work full time."
Although the Spanish teacher has a passion for the language, his efforts in teaching students at school have not been as successful at home. 
"My wife, who stays home with our five boys, is not a Spanish speaker, and studies show that children will speak their mother's language."
Nevertheless, Gomez said he hopes his students who are learning Spanish from him will appreciate the time they've spent with him in the classroom.
"I tell my students I hope that 20-30 years from now you think back to the Spanish class that you took at Sunny Hills and think of it at least fondly," he said. "I hear a lot of people now saying, 'Oh, I learned nothing in Spanish,' but I want my students to think back saying, 'I had a lot of fun in that class.'"