Following a first-time championship last year, the Lancer Regiment won second place in the final round of the California State Band Championships [CSBC] at Bolsa Grande High School in Garden Grove, earning a $1,000 check.
"I am very proud of the group, and I hope they are proud of themselves," band director Whitney Ting said. "I think them doing well at the end and being in the Top 3 is very reflective of how they acted and rehearsed the whole season."
Drum major senior Lana Luu also expressed her pride in how the regiment finished its season.
"It doesn't matter to me whether or not we won first place," Luu said. "But seeing our efforts being rewarded even with a silver medal was gratifying nonetheless."
For placing second in the state finals with an overall score of 90.875 on Saturday, Nov. 19, the CSBC awarded the Lancer Regiment with individual medals and a $1,000 check. The first-place team, Ontario's Colony High School Titan Regiment – also last year's second-place winner – earned a total of 93.6 points and a $1,500 check. 
Cesar E. Chavez High School Titan Band ranked third with a score of 90.120, winning $500.
A total of 16 bands represented schools from Divisions 1A through 3A – categories by the number of members in each group – in the state finals round, and the Lancer Regiment competed as one of the teams that advanced from Division 3A. Each was evaluated based on its music performance, music composition, visual performance, visual composition, color guard and percussion, Ting said.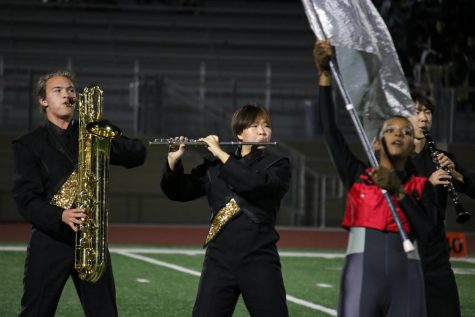 Luu had no concerns about this year's judging.
"Some things are out of control, such as external factors like weather, technological malfunctions, mental blocks and judging; what really matters is how we evaluate ourselves," the drum major said. "Overall, the group left the field after the performance feeling confident with our solid run."
Despite not repeating as champions, many said this would give them the incentive to have a goal to aim higher for next year.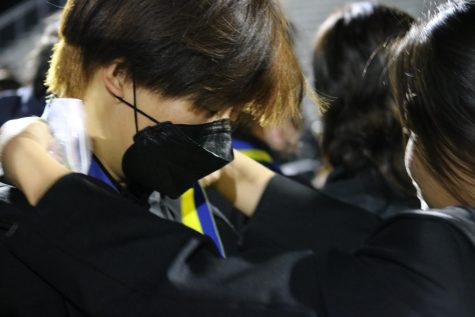 "It was a bittersweet moment when I got my medal put around my neck by our section's senior," baritone saxophonist junior Derek Thomson said. "It just reminded me of the year we had and how it was the last I would have with the seniors."
Thomson said he would strive for first place again and feels excited to bond with any returning and new members next year. 
"I want the connection to be better, not only between sections but between the whole group," he said. "To win first place next year, I want to improve my morale to the best of my ability."
Color Guard also competed in the event and scored 8.75 points for the Regiment.
"We worked so hard for this, and it felt like all our hard work paid off despite getting second place," Color Guard member sophomore Janessa Lima said. "My overall goal next year is to just grow and get better at Color Guard."