DANCING WITH THE STAFF (UNMASKED EDITION): For the first time since 2019, performers not required to wear face coverings during Thursday, Dec. 8, and Friday, Dec. 9, shows
For the first time since 2019 before the COVID-19 pandemic, those performing on stage for Dancing With the Staff [DWTS] this week will not be required to wear masks.
"Dancing without masks are the final connections to the audience that we were missing [before], so I'm so excited that performers can connect in that way," said Dance Department [DP] director Leiana Volen, who's organizing the Dec. 8-9 fundraiser for her program in the Performing Arts Center. "It's obviously the expression through movement and facial expressions that I'm excited for."
Those in the audience will also be able to enjoy watching each others' facial reactions to the performance as the COVID-19 pandemic forced everyone indoors to remain masked until earlier this March.
Nathan Le
The end of such indoor mask restrictions have also benefited the rehearsal times for performers.
"It's super fun seeing my students teaching other teachers how to dance," Volen said. "I love reversing roles and the opportunity for my Dance 3 and Dance Production [DP] students to teach [without masks], so it is a great experience." 
Dance students, teachers and administrators will perform a two-night show from 7-9:30 p.m., showcasing their talent outside the classroom in three-minute trios choreographed by DP and Dance 3 members.
In contrast with the eight staff participants last year, 13 will perform, including three returners from last year: math teachers Christian Bueno and Mariam Tan — both past DWTS trophy holders — and athletic director Paul Jones.
"I think [DWTS] is great, and I like it," said principal Craig Weinreich, who will be participating in this event for the first time. "[DWTS] is a great way to be part of the campus and show students another side of you."
DP member sophomore Lauren Bromley, who partnered with assistant cheer coach Jessica Espinoza, said her current biggest struggle involves discovering the adult's talents in dancing and finding out what skills she can emphasize in the choreography.
"It's definitely different being a teacher instead of a learner," Bromley said. "It's hard for us to make their dance moves suit their style."
Jones, who placed first as last year's fan favorite winner, said he's striving to win another title this year.
"Since my world is mostly full of athletics, I enjoy meeting and working with students who are involved in other areas on campus," said Jones, who chose to team up with the same student dancers as last year, DP co-captains senior Jaden Michel and junior Ashley Hong. "It was fun winning fan favorite and [being] runner-up [of the whole event] last year, so I am looking forward to working with our team to attempt to place again."
Last year, theater teacher Christian Penuelas won the first night of DWTS followed by Bueno the next day. 
"I will most likely be watching DWTS this year, and I am hoping they let me judge this year," Penuelas said. "To all the teachers who are participating: Good luck and remember to just have fun, practice and don't forget to stretch — trust me."
With a familiar background in cheer, Espinoza said she's excited about her first DWTS appearance since her life has been dedicated to dance up to this day.
"I'm really enjoying working with my assigned dancers, and they put a lot of hard work in their routines," she said. "Our whole purpose is to showcase all of our hard work and to have fun with it all."
Michel said she's looking forward to what Jones and Hong can bring to the stage again.
"It feels pretty great to have the roles reversed, and in all honesty, it's kind of satisfying just to have a voice over what the teachers do," she said. "It also is a wake-up call to myself that teaching is not the easiest thing in the world, and teachers actually have a pretty hard job."
(Before the event, DP students will sell tickets in front of Room 130 every day during lunch and break for $12 with an Associated Student Body Gold card and $15 without.)
Leave a Comment
Your donation will support the student journalists of Sunny Hills High School. Your contribution will allow us to purchase equipment and cover our annual website hosting costs.
About the Writer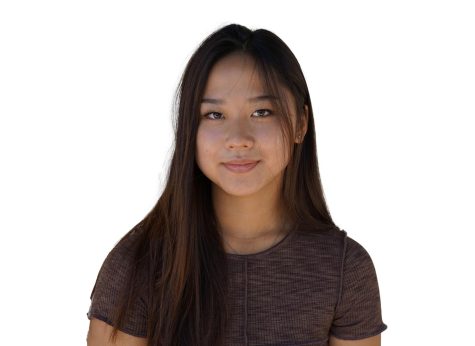 Euree Kim, Staff Reporter
Entering her first year as a staff reporter for The Accolade, sophomore Euree Kim hopes for a great start during the 2022-2023 school year. Kim experienced writing for The Accolade's cub issues twice and is working her way up to improve throughout her next three years of journalism in high school.
Aside from being an active journalist, Kim plays for the girls basketball team and is involved in volunteering for community service, such as tutoring for Young Leaders of Orange County. She enjoys hanging out with her friends and going on vacation.