Copy editor Seowon Han and cub reporter Kevin Lee contributed to this story.
After placing second in a divisional round last weekend, the marching band and Color Guard will advance to compete Saturday, Nov. 19, in Garden Grove for a chance to repeat as champions and take home a $1,500 top prize.
"I think it's just exciting because they've worked really hard for a long time — all the way since June," band director Whitney Ting said. "The first part of the year can be more tedious and hard for the students to see goals of where we're going, but now that we're at the end, they can see that their hard work paid off."
The 70-member band and five-member Color Guard, also known as the Lancer Regiment, placed second Saturday, Nov. 12, out of 29 bands in Division 3A at Capistrano Valley High School in Mission Viejo.
That made the Regiment eligible to take on 16 other high schools on Saturday, Nov. 19, for State Finals at 8:15 p.m. at Bolsa Grande High School in Garden Grove.
Ting said the top 3 schools will receive a monetary reward of $1,500 for first place, $1,000 for second and $500 for third. Each competitive round is part of the California State Band Championships competition.
Last year, the Lancer Regiment won first place at the Division Championship and advanced to State Finals, placing first out of 27 competitors.
Nevertheless, many in the Lancer Regiment remain surprised by their recent accomplishments, especially getting the chance to repeat as champs. 
"I think it was unexpected but definitely highly hoped for because we had a rough run, and the show has been really difficult to learn," first-year saxophonist freshman Gwyneth Morrell said. "But I feel like all of our hard work really paid off, so we're looking forward to going into State and having another chance to do well."
The show that Morrell was referring to centers on the first through fifth movements of "The Summit" by Rob Stein, which the Regiment performed last weekend and will do so again at the State Finals.
During part of the first through fifth movements of "The Summit," senior Jack Stewart will perform a solo with his trumpet at State Finals.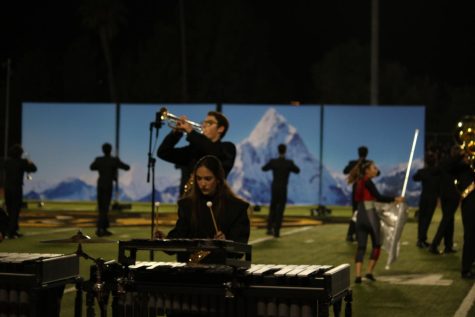 "I think it's an honor to be a part of such a group that is willing to put in all the effort that we do," Stewart said. "Making it to the State Finals has given our season closure because at Division finals, it felt like that might have been our last day. 
"I think giving the opportunity to perform at State Finals will give us a sense that the season is actually over and that we can put everything that we've worked for into Saturday."
Though it's a smaller group than in past years, members of this year's Color Guard said they are also looking forward to a chance to win first place again.
"On Saturday, I hope that everyone has a good mindset going into it because it's going to be emotional for everyone since it's our last performance [of the school year]," said sophomore Alyssa Brencius, who joined Color Guard last winter season after the Regiment had obtained their title. "But we are definitely looking forward to doing better and improving every week so we get better and better."
Those interested in watching the performances can purchase tickets online at calstatebandchamps.ticketleap.com: $20 for adults and $15 for students and seniors.
No matter what happens, drum major senior Lana Luu said she hopes her last year with the band will end on a high note, trusting that her bandmates will remain united during their performance on Saturday, Nov. 19.
"I feel super proud of them," Luu said. "I love being on that podium and seeing everyone working hard. I'm just guiding the band through it because the main thing that I do is help them keep time. 
"It's really all up to them — how they perform visually or how they play musically. I'm only there to support them."