While New Orleans usually celebrates the Mardis Gras season in the spring, the Conservatory of Fine Arts [COFA] wanted to create a carnival atmosphere for its annual Fall Festival last month.
"We chose a carnival theme because it's similar to the season of fall," COFA Fall Festival director sophomore Sienna Shah said. "We thought it was going to be a really fun and engaging theme that would make people want to come to the event."
The hour-long Wednesday, Oct. 26, after-school event included band, choir, Dance Production, Dance 3 and theater performances to keep the crowd entertained. Participants also had opportunities to check out carnival games like corn hole bean bag toss and an art exhibit.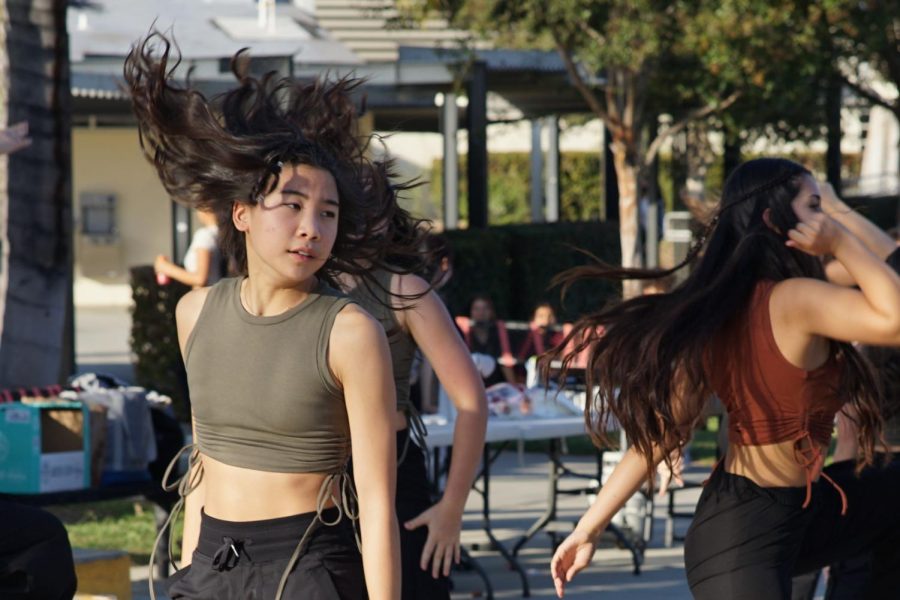 Sophomore Scarlett Chang and 15 others in Dance Production perform a set based on rapper Young Joc's song, "It's Goin' Down."
"It felt like a low pressure situation, so my team and I were able to just perform without stress," said Chang, who showed her dance moves at Fall Festival for the first time.
Caption contributed by staff writer Euree Kim. (All photos taken by Asaph Li / Accolade)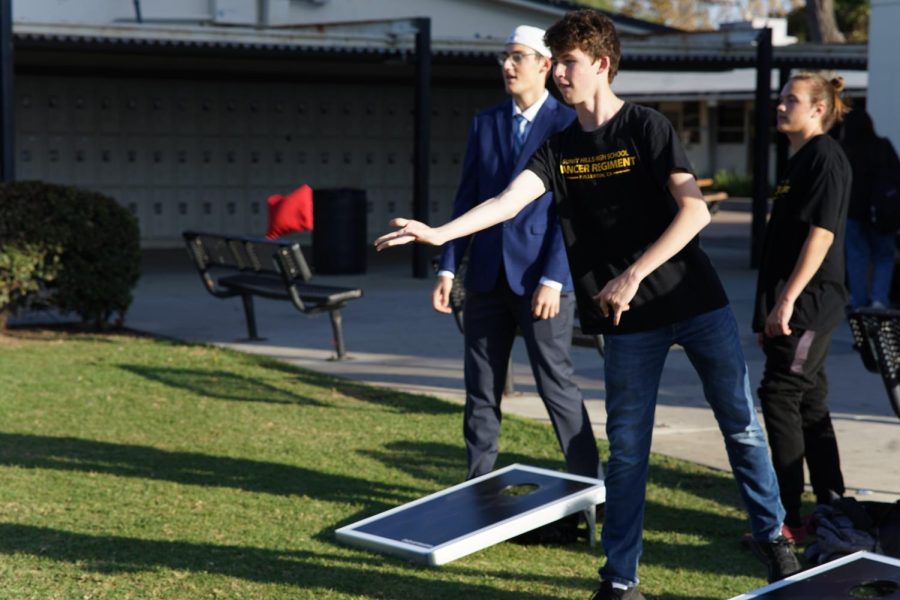 Freshman Benge Larson takes a break from his Lancer Regiment performance to join others in the marching band for some carnival game fun, trying to toss the bean bag onto the other side of the corn hole.
"I couldn't make it in, but I really enjoyed playing my favorite game with my friends from marching band," Larson said.
Caption contributed by copy editor Seowon Han.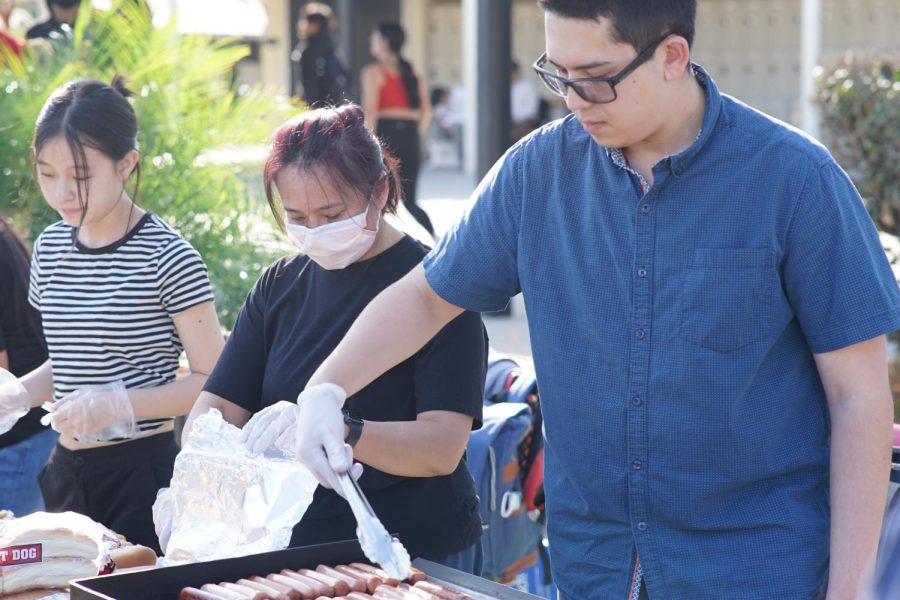 Alumnus Randall Alexander (right) cooks hot dogs that were given away for free to the first 200 people attending Fall Festival. Scooter's Sweet Shack food truck also charged $3-$7 for sweets such as ice cream and churros.
"We had a great turnout and my senses [tell me that] people had a good time there," COFA adviser Brian Wall said. "I thought the acts did a great job performing and the directors worked several weeks to put the event together, and I thought they really were on top of their game."
The food truck will donate a percentage of its profit from the event to COFA, Wall said. Overall, with the International Baccalaureate stand selling all its cupcakes, the festival made from $200-$300.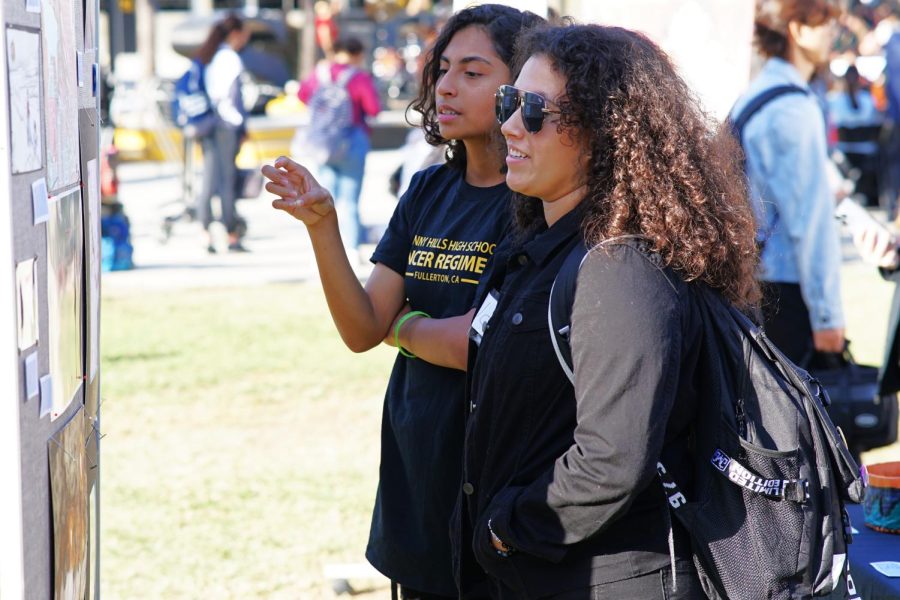 Sophomore Alejandra Calderon (left) and senior Chanel Merino look at drawings and paintings created by students of the Art Program displayed near the Lyceum. 
"I liked the art piece with the woman holding a skull of a tiger and next to it there was a tiger that was alive," Merino said. "The details that were applied added a profound meaning behind the idea of life and death. I am amazed by how someone could make such a beautiful piece."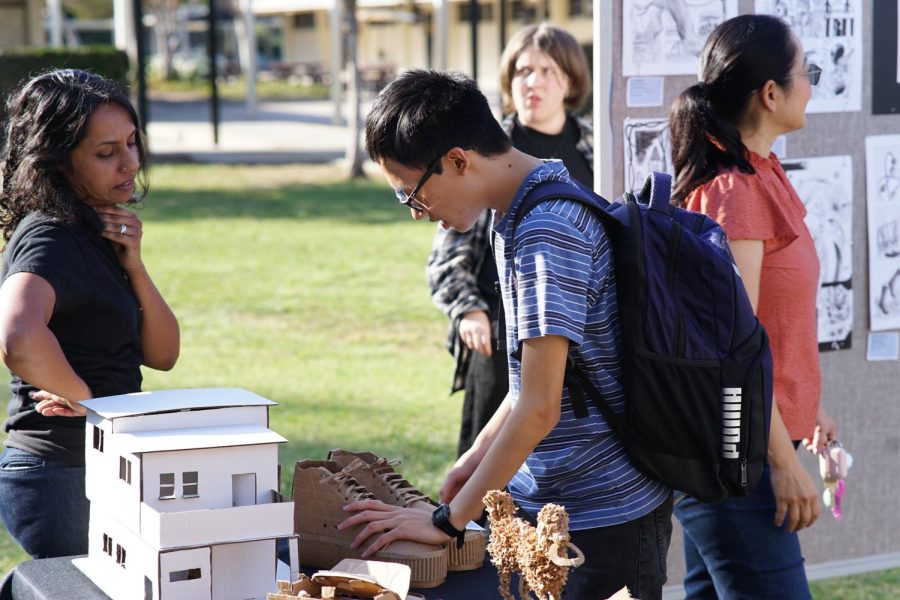 Art teacher Preetha Mathen (left) looks at one of her students' projects while junior Jaden Hom puts his left hand on top of a shoe made of cardboard. The projects are part of an exhibition produced by Mathen's 3-D Design classes.
"I was amazed by the size of the shoe that I saw at the Fall Festival since it was as large as a regular shoe that people wear," Hom said. "Yet it was handmade with cardboard. It had realistic laces that weave through holes within the shoe frame, which clearly showed that the artist who made the shoe has talent. I don't think that I could make something comparable."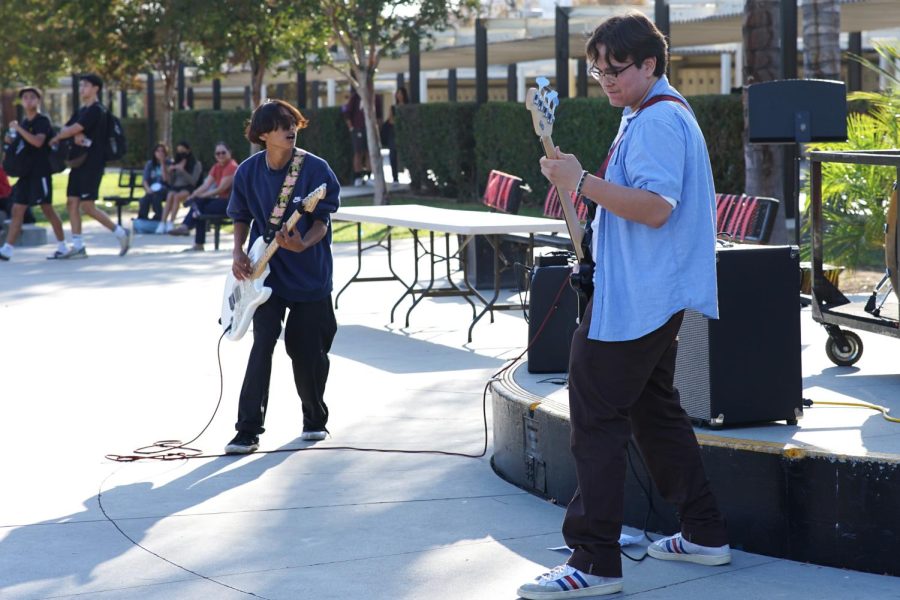 Other members of ROUNDHOUSE, sophomore Matthew Solio (left) and junior Max Soto, play electric guitars while performing a cover of "Breed" by Nirvana.
"This year I felt really good about the festival; it was really nice seeing all the different performances," said Soto, who mainly plays punk rock music. "I was really nervous at first about my performance to be honest, but eventually I warmed up."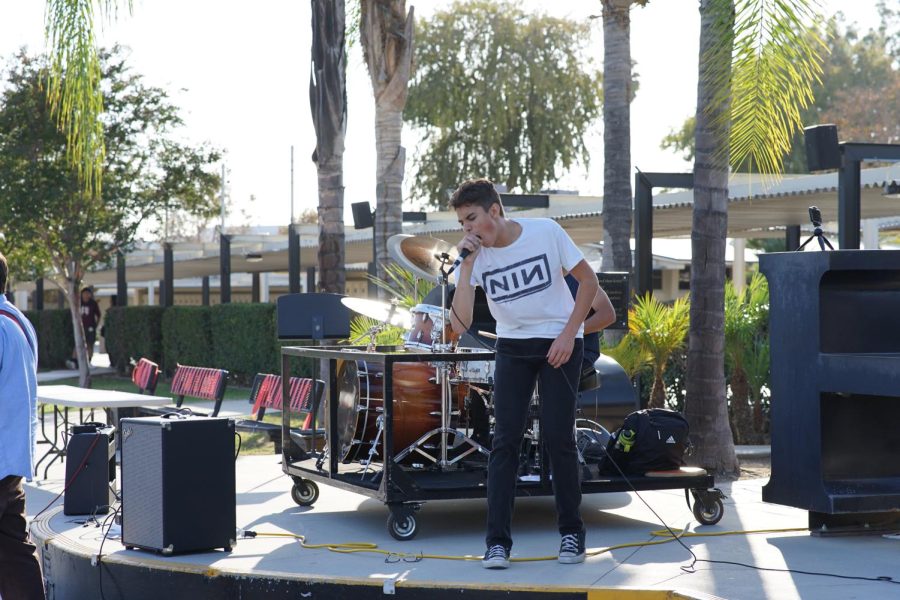 ROUNDHOUSE lead singer, senior Ricardo Gonzalez, shows his passion for the band's own song, "Hypocrisy," during the middle of the Fall Festival.
Shah said the group, which performs covers of songs as well, was asked to return to the Fall Festival for an encore performance based on positive feedback it received from last year's quad show.
Gonzalez said: "Having people actually remember us and look forward to us from last year's quad performance was really nice, and far more people were enjoying themselves during our set than I think any of us were expecting.
"When we started playing our final song of the set, 'Real Thing,' I looked out into the crowd and saw a big group of kids headbanging and dancing around to the song, which was just awesome to see from the stage. Real Thing is a heavier song, and seeing the group of kids really gave me an energy kick, which just led to a really fun performance of our final song. That's what I'll remember the most."
Freshman Yena Oh (left) and the rest of the school orchestra perform Antonio Vivaldi's "Concerto Grosso, Op. 3, No. 3, Mvt. 1," the last of the two musical composition pieces that audiences heard.  
"It was the first time performing for all the other students at the school, so it was a very memorable experience," Oh said. "I really enjoyed being able to help the students end the school day on a happy note through music."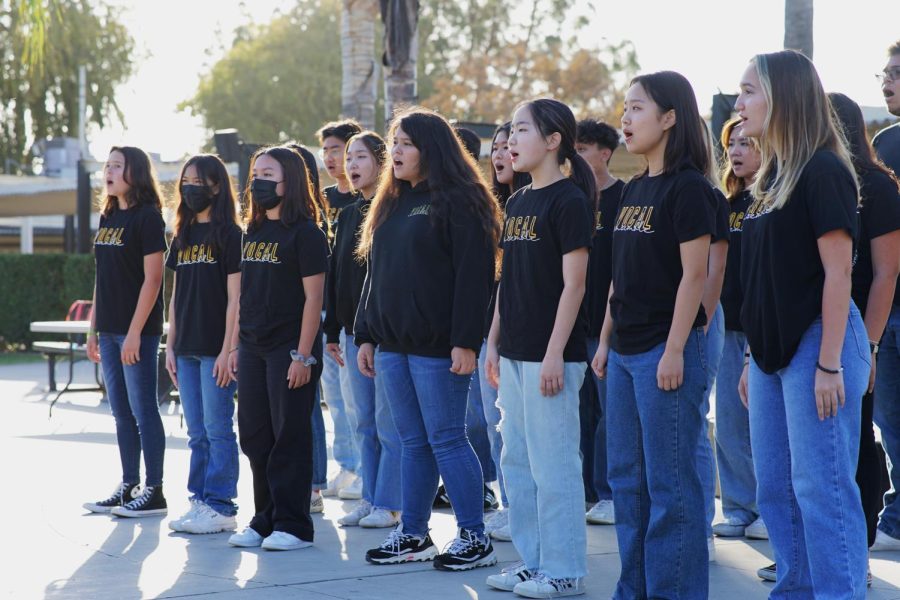 The choir vocal ensemble group performs its rendition of "Something Told the Wild Geese" by Greg Gilpin.
Afterward, the choir mixed chorus group closed the main part of the Fall Festival with "J'Entends Le Moulin" by Emily Crocker.
"I think the event was great, and we had some great students from COFA who were running everything," choir director Aaron Duncan-Schwartz said. "The choir performed really well; it's always tricky performing outside to a track that you can barely hear."
Shah believes the event was successful and learned a lot from organizing it.
"I think it went really well, and it was great to see all of the performances and have so many people come out to watch them," Shah said. "For next year's directors of the Fall Festival, the advice I would give would be to make sure to start early and to organize everything."