Trick-or-Threat? Parents, students react to rainbow fentanyl and its influence on Halloween festivities
Recognized as the trademark of the Walt Disney Company's first animated film — "Snow White and the Seven Dwarfs" — the poison apple is more than just a fictional idea, it's a generations-long Halloween legend that's been haunting the American public.
Better known as "Halloween sadism" — the distribution of drug-laced candy during trick-or-treat festivities — the Chicago Tylenol murders of 1982 triggered nationwide alarm over poisoned treats, according to CNN.
Although Joel Best, a University of Delaware professor and researcher on tainted candy indicated a lack of credible relationship between Halloween deaths and laced candy in an Oct. 2 online article by the Alabama Local News, United States Drug Enforcement Administration [DEA] officials encourage families to be cautious of a particular candy this Halloween season.
Taking the form of bright-colored candy, rainbow fentanyl has recently garnered much media attention and traction among US citizens. Initially used in the medical industry to treat severe pain, this synthetic opioid is now being mass-produced in the guise of sweet treats.
In fact, more than $172,000 worth of fentanyl tablets were found to be shipped from California, according to a Sunday online article from Fox News. 
In response to rising fentanyl-related deaths, the Fullerton Joint Union High School District noted in a safety update report sent on Tuesday that "although a frightening trend, over recent years, the District has implemented several initiatives, programs, and practices to raise awareness and communicate the dangers of drugs and illegal substances to both students and families." 
In light of such media surveillance and coverage over the widespread use of rainbow fentanyl, avid trick-or-treater senior Emily Zacarias said she feels unsafe partaking in any such activity this Halloween season. 
"[Like] my parents, I think many parents won't be taking their kids trick-or-treating this year, which sucks because COVID[-19] already put a whole pause on it," Zacarias said. "I heard about fentanyl through the school and then I started hearing about it on the news and through incidents around us.
"I am worried that some people or parents aren't aware of [fentanyl], and their kids may sadly interact with it."
Her mother, Marcia Zacarias, held similar concerns and unease over the risk rainbow fentanyl poses for younger children and their families. 
"I feel disgusted how this can be possible in our country and [to think] how children are being targeted now is devastating," Marcia Zacarias said. "I believe that parents shouldn't let their children go out until there are actions [taken] to stop the rise of fentanyl. 
"It's better to not be at risk than to be at risk."
Junior Tomi Arakaki, however, believes that the rise in fentanyl production shouldn't be a concern to those who trick-or-treat on Halloween.
"I am worried about how [the drug] will affect some children who do end up eating these candies, but I believe it will not be a major problem," Arakaki said. "I plan on enjoying my Halloween and trick-or-treating without any worries."
Although he advocates for fentanyl awareness, junior David Veyna agrees with Arakaki that the odds of these misfortunes for children are slim. 
"I usually spend Halloween trick-or-treating or just hanging out with my friends wherever," Veyna said. "I plan on staying safe by being with people and by being careful with taking candy, but I don't think this will affect trick-or-treating because it's probably happening on a very small scale."
Despite sharing similar sentiments with her son, Naomi Veyna continues to encourage safety precautions.
"It definitely is very scary to hear of this as a parent, but I don't think it will be an issue," she said. "However, parents should check their kids' candy after they've done trick-or-treating."
Leave a Comment
Your donation will support the student journalists of Sunny Hills High School. Your contribution will allow us to purchase equipment and cover our annual website hosting costs.
About the Writer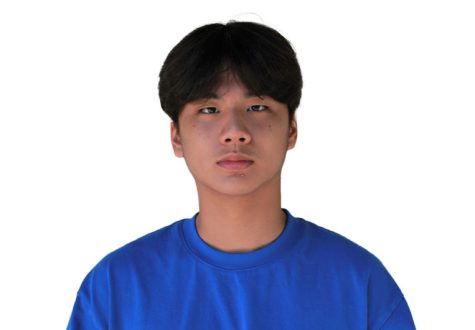 Jiwoo Han, Sports Editor
Previously a staff reporter, junior Jiwoo Han looks forward to serving in his third year of The Accolade as a co-sports editor alongside Grace Min. Han wrote many sports recap stories during the past 2021-2022 school year and aspires to continue writing stories for the sports section and incorporate new, more advanced journalism methods and writing techniques into his stories and layouts as an editor.

When Han is not writing for The Accolade, he enjoys listening to and playing music, watching TV shows and procrastinating.