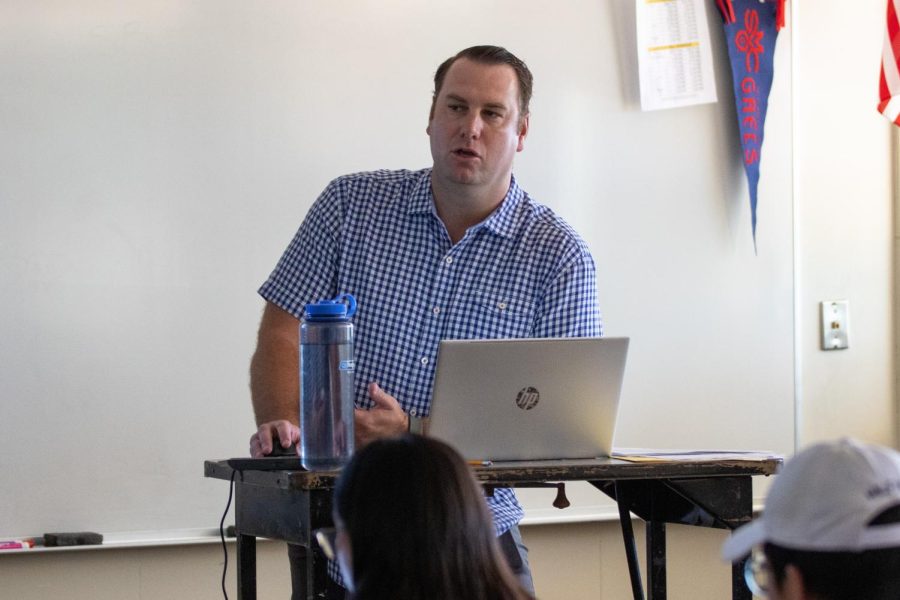 Former Ayala High School baseball coach joins Sunny Hills as new social science teacher
Fifteen years ago, Chris Vogt received his first introduction to teaching several buildings away from where he finds himself now.
Helping grade papers and leading history lectures 15 years ago under the guidance of current social science teacher Robert Bradburn, new Advanced Placement U.S. History [APUSH] teacher Vogt has made a full circle back to Sunny Hills.
"Sunny Hills has a great academic reputation," Vogt said. "When I was here a long time ago, the students and faculty and the school culture made a huge impact on me, and it's always stuck with me, so when I had the opportunity to come back, I jumped at it."
Vogt, who teaches APUSH Periods 0, 3, 4 and 5 and College Prep U.S. History Period 1, replaces the previous instructor, Arley Kearney, who moved to Sonora High School as its new athletic director.
"He's very outgoing, very level-headed, a nice guy and somebody that I think our students are going to really respond well to," principal Craig Weinreich said. "He's somebody that's going to be a real benefit to our social studies department."
Weinreich said many people still remember Vogt as a student teacher from back when Vogt worked with Bradburn and Tiburcio Garcia, who has since retired after accepting a transfer to teach at Troy High School.
"We know who he is. We know what he brings," the principal said. "We know we're getting a good teacher and someone who really wants to become part of the community again."
MAKING WAY TO STUDENT TEACHING
Since he was a high school student, Vogt said he loved history.
"I had a U.S. history teacher who was also the principal, and it was the greatest class I ever took," he said.
After attending St. Mary's College of California in Moraga as a history major and graduating with a bachelor's degree in the same subject, Vogt said he wanted to pursue a career in law and did not want to be in an office, so he decided to try teaching and see how it turned out.
Under the supervision of Bradburn and Garcia, Vogt ran the classes as part of his requirements, and eventually, this transitioned to his position as a district substitute — although he only subbed at Sunny Hills.
Coincidentally, Weinreich happened to be a social science teacher at that time as well, coaching girls basketball and baseball.
LEAVING AYALA AND BASEBALL
Before Vogt received a job offer at Ayala High School in the Chino Valley Unified School District, he first completed his student teaching program at Sunny Hills in the fall semester of 2007. Then, two years after, he joined Ayala's staff as a teacher.  
In his 12 years teaching at Ayala, Vogt said he got involved with the Advancement Via Individual Determination program and the baseball team.
He brought success to his players, who were Division 1 state runner-ups, Division 1 CIF-SS semifinalists and League champions last year. He consistently maintained his team throughout his years as Ayala's baseball program was Division 2 CIF semifinalists in 2018 and quarterfinalists three or four times. 
"We weren't very good when I first took over, but I think me and my staff did a really good job and it wasn't just us," the former head coach said. "The kids bought into it as you would see them wearing their gear around and were proud to be a member of the team.
Then, over the years, that pride started to reflect itself on the field and we started having some success."
However, Vogt said he decided to leave Ayala and continue his career closer to home.
"One of the reasons I came to Sunny Hills was because it's so time-consuming to be a head coach, and I'm really looking forward to spending some time with my kid," he said.
Vogt still wanted to be involved around campus, especially in sports, so he emailed the head baseball coach and asked if he could be the assistant coach for the varsity baseball team. He also received a request from girls basketball to take on the varsity assistant coach position as well.
"It's been really nice [at Sunny Hills] because if I'm working at a football game, I can pick up my child up from school, hang out for a couple hours and then go," Vogt said about his schedule. "Whereas when I was at Chino Hills, it was too far, and I wouldn't be able to come home."
Vogt said he missed half of his four-year-old son's T-ball games because his baseball team's practice ended when his son's matches did.
"There's stuff like that which was hard," he said.
NEW SCHOOL, NEW CAREER
Vogt said he was attracted to this school not only by his familiarity with Sunny Hills but because he noticed that the students were very proud to be here. 
"At my old school, baseball kids wore their baseball stuff, ate with their baseball kids, didn't go to other sports, and it was like their own baseball world," he said. "There was no interaction [between the different teams/people] and it doesn't seem like that here.
It seems that the staff is excited to come to work, and the kids are happy and proud to be here; if you're in an environment like that, it's contagious."
Junior Emily Abitria, who is in Vogt's fifth-period APUSH class, said she appreciates how understanding Vogt is when it comes to his assignment policy.
"He told my class that if anything ever happens that kept us from doing homework or just anything with his class, tell him and he will give us an extension," Abitria said. "I believe he is leading us down the right path and get us to a position to be successful during the AP tests."
As Vogt settles in with the culture at Sunny Hills, he said he hopes to involve himself with the school more.
"I want to get to know the traditions of the school, go to sporting events, and support them in their extracurriculars," he said.