GAME BALL: La Habra transfer, Division 1 commit makes her mark on the greens
As soon as senior Kelsey Kim picked up a golf club at 5 years old, the sport quickly became a crucial part of her life and her future.
Following her father who played golf and earned his teaching license at Temecula's Professional Golfers Career College [PGCC] as well as her 23-year-old sister who played professional golf straight out of high school, Kim said she plans to continue her family's legacy by playing Division 1 golf at Santa Clara University [SCU] next fall.
"I was really happy [about committing]," said the senior, who transferred from La Habra to Sunny Hills in the spring semester of the previous school year. "My mom was more excited that I got a full ride for college because of golf, so I feel proud because now my mom knows that I'm pretty good."
As much as Kim takes her sport seriously, her recent transfer to Sunny Hills relieved her of high-pressure travel tournaments and has allowed her to enjoy golf in a more casual setting.
"I feel like golf is way more competitive outside of school, so I like high school golf more," she said. "Most people [playing golf in high school] are out there to enjoy golf and maybe do it as a hobby, so to me, it's less pressure than playing travel golf."
Kim didn't take long to make her impact with her new teammates.
Not only did she contribute to her team's 9-1 Freeway League record, but she has added to her tournament success when she placed first at the Walnut Lady Mustang Invitational — a tournament with over 120 participants — on Oct. 3 at the California Country Club in Whittier.
"I couldn't believe it when I won," said Kim, who was surprised that she earned first place because a number of former American Junior Golf Association [AJGA] tournament champions had also competed in the invitational.
Girls golf head coach Scott Enrico said he was not surprised by Kim's tournament victory considering her outstanding performances in the Freeway League, especially since as a junior she advanced to the CIF-SS individual finals.
"As soon as [Kim] stepped on the course with us, there was an immediate impact, and we started [defeating] teams by a lot of strokes," said Enrico, who is in his fifth year of coaching the girls golf team. "She's just a great ball striker, and she knows how to manage a course."
Before finding her place at Sunny Hills, Kim moved to California from Texas in March 2021 and attended La Habra for the fall semester of her junior year.
While playing golf as a Highlander, she met and befriended her current teammate, junior Yurang Li, at a Freeway League tournament.
"[Kelsey and I] knew that we would have a lot of fun together on the same team, which is one of the reasons she wanted to come to Sunny," Li said. "She's one of the crucial players on our team, so I think she's part of the reason why our team is pretty good this year."
Coming to a new campus in the spring has also lessened the challenge of adjusting to Sunny Hills.
"I really like where I'm at right now because we have a really good team; we work hard and we want to motivate each other," said Kim, who has attended seven different high schools since her freshman year. "[The culture] wasn't like that at other schools, but at Sunny Hills we have really good teamwork, and our coach is really caring."
Kim said she hopes to help her team win another California Interscholastic Federation [CIF] title or qualify for CIF individuals.
"I think golf has taught me a lot over the years," she said. "It has made me a stronger person to overcome obstacles in life and keep doing what I have to do."
Leave a Comment
Your donation will support the student journalists of Sunny Hills High School. Your contribution will allow us to purchase equipment and cover our annual website hosting costs.
About the Writer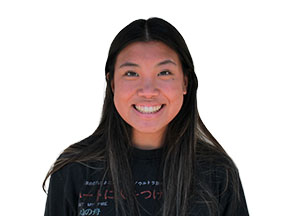 Grace Min, Sports Editor
After her first year on The Accolade, senior Grace Min serves as the co-sports editor for the 2022-2023 school year. She discovered her skill and passion for sports writing while covering multiple games during the winter and spring seasons as a staff reporter.
When she isn't recapping the Lancers' latest victories, Min also achieves them by playing on the girls varsity volleyball team. Aside from sports, she enjoys watching movies and hanging out with her friends.