NEW CHALLENGE: Ex-college professor, engineer aims to connect with EPIC students
Patrick Salem owes his interest in engineering to his father, who raised his family in the Midwest.
"He was an electrical [design] engineer and began teaching me electrical engineering when I was 5 years old through electronics kits and early computers like the Atari 800," Salem said.
The new engineering teacher eventually graduated from Sterling Heights High School in Sterling Heights, Michigan, in 1992, before enrolling as an electrical engineering major in Lawrence Technological University in Southfield, another city in Michigan.
Four years later in 1996, Salem said he earned a bachelor's degree in electrical engineering and two and a half years after that, he obtained a master's degree in computer science and information systems from the same university.
Following in his father's footsteps, he said he found engineering jobs at automobile manufacturing corporations such as Ford, Chrysler and General Motors, specializing in various designing roles.
Meanwhile, he also worked as an engineering professor at vocational schools and classes at the college level, such as at ITT Technical Institute in Plymouth-Canton, Michigan. 
But in 2010, Salem said it was time for a change of scenery.
"After many visits to my aunt's house [in Irvine] to visit with my cousins and relatives, I fell in love with Southern California and its great outdoors, especially the beaches and the weather," said Salem, who also met his wife when he moved to the West Coast. "When I moved here the biggest difference was the weather, the sunny weather all year round as well as all the incredible places and cities that California has to visit. 
"It's a great state to live in."
In 2014, he got hired to work as a computer networking systems professor at Irvine Valley College while also working as an engineer at Parker Aerospace in Irvine.
And then when the COVID-19 pandemic hit in March 2020, it was time for a career change again.
Salem said he first learned about the Regional Occupation Program's teaching position at Sunny Hills' Engineering Pathways to Innovations and Change [EPIC] program over the summer through LinkedIn, an app that provides employment-oriented online services; however, he hesitated before applying because of his minimal experience working with high school students. 
But his wife gave him confidence to apply.
"During COVID, I was at home with the kids," he said. "I was working for startups, and the startups I worked for went out of business. And this position [at Sunny Hills] became available, and my wife said that I'd be great at it. 
"So I applied on a whim and eventually ended up getting the job."
Salem said he recognizes the challenge he faces coming into this position here.
"The fact that I've taught engineering courses before and the fact that it was a new challenge – working at a high school, working with high school students that were highly motivated, very intelligent, very self-motivated to really learn something new. … That was why I decided to do that," he said.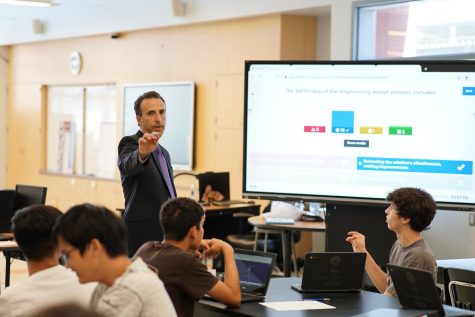 Besides being the new EPIC coordinator who promotes the program and aims to keep enrollment numbers steady, Salem teaches two periods of Principles of Engineering, two periods of Engineering Design and Development and one Intro to Engineering class. 
Coming in with goals as a high school teacher, he said he has adjusted and modified his curriculum in a format more relevant for teens.
"I hope that they learn to think like engineers and really be develop that self confidence in knowing that they can, in fact, not only learn the material here but then go out and apply it and that they have the capability to do that," Salem said.
After longtime EPIC coordinator Daniel Zanone left upon completion of the 2020-2021 school year, the program has undergone changes in staffing; last year's teacher who was hired to replace Zanone also left the position during the spring semester, and engineering students had a long-term substitute teacher the rest of the school year. 
Although Salem was hired before the start of this school year, principal Craig Weinreich hopes the new teacher will bring stability to the program.
"I think once he gets acclimated to being on campus full-time, he's going to really fit in well," Weinreich said. "He's going to work with all aspects of the EPIC program to build the program back up and continue to be a positive influence for the students in that class."  
The principal also touted Salem's extensive engineering background and enthusiasm for the EPIC program.
The engineering teacher said he's in line with Weinreich's vision for EPIC, adding, "[I] hope to get closer to students by establishing relationships [and] working with them and ensuring that they understand, comprehend and learn the material hopefully."
Sophomore Anthony Mitri, who is in Salem's Intro to Engineering sixth-period class, said he has already noticed the impact his teacher has had on his learning.
"His class has taught me skills such as organization of documentation. These are skills that I will use in the future career in engineering that I choose," Mitri said. "I would like to pursue a career in structural engineering, but I don't know where to start or how to get experience in the field."
Salem said he hopes his students will understand how machines are developed and utilized in real-life scenarios such as the balloon cable car assignment that he introduced to all of his students as the first major project of the semester.
"I hope that they learn to think like engineers and really develop that self-confidence in knowing that they can [do it]," he said. "In fact, [they should] not only learn the material here but then go out and apply it."
Salem said he also hopes to learn from his students.
"I consider myself a continual learner," he said. "I think all of us are continuous learners, and we just need to meet new challenges with rigor and excitement."
Outside of school, the married father of two said he enjoys doing activities with his wife and daughters, one in kindergarten and the other in second grade.
"I like to spend time with my daughters by hiking, going to the beach and stuff like that," Salem said. 
Meanwhile, the EPIC teacher said he's looking forward to seeing his effectiveness toward his students the rest of this school year.
"The joy of teaching students, seeing them progress in their learning and seeing them really enjoy the process and really become better students, better learners, better practitioners as a result of what they've learned is really exciting," Salem said.