After at least 16 rounds of playing musical chairs in the quad, the last student standing during lunch Sept. 8 was an 11th-grader, securing the first victory of the school year for the juniors as part of the Associated Student Body's [ASB] new activity to build school spirit.
"It was very intense, but I was glad I was able to win it for our junior class," said Anthony Aguiar-Casillas, who was among the four-member junior class team known as Kevin from the movie, "Despicable Me."
The victory gave the juniors 350 points with the seniors coming in second place with 150; no points were awarded to the underclassmen.
"It's fun. It's a little unnerving," ASB adviser David Fenstermaker said. "There were a lot of people there. I mean a lot of people saw it."
"It was overall a success, but there was some chaos in that success." 
Senior class president Sierra Chavez envisioned that such an activity would draw out a huge crowd as she was the one who originally suggested organizing a battle of the classes throughout the school year.
"I first saw this idea through a friend who attends El Dorado High School and immediately wanted to bring this new tradition to Sunny," Chavez said. "With all the hard work I put into this with my team, it was a great feeling to see so many students love this new tradition."
The ASB leader provided the following details about how future competitions will be set up:
Students can sign up to participate in competitions through clicking on the link posted on the ASB's Instagram, which will take them to a Google Form (posted a week prior to the game) that they will need to complete.

The participants are chosen by a random picker generator app which is spun four times 

Based on those responses, the ASB will then select four student representatives for each grade to participate in its monthly competitive games.

Over the summer, class presidents from each grade level agreed on the theme – from the movie, "Despicable Me" which was trending over the summer – colors and characters for underclassmen and upperclassmen.

Senior class as Gru (black), 

Junior class as the minion Kevin (blue)

Sophomore class as the minion Bob (yellow)

Freshman class as the evil minion (purple)

The classes may accumulate points by participating in the monthly games or dressing out in their assigned "Despicable Me" color on the day of the battle. 
By the end of the year, the ASB will sum the points of each class and award the victors with a surprise gift, Fenstermaker said.
"My main goal is for cross-class competition, inter-class collaboration and some connectivity to [the students'] class," he said. "We've never tried this, so we would have to pick a good game, advertise it, people have to show up to watch it and people have to participate in it."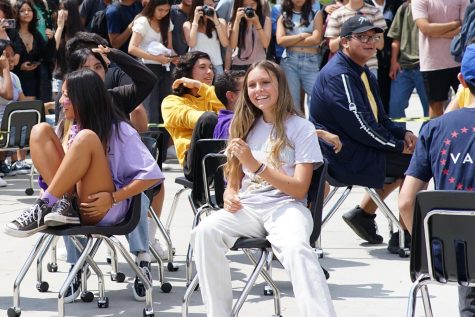 For the inaugural battle last week, Chavez said the ASB chose musical chairs because it was a fun game. 
Aguiar-Casillas beat out senior Chad Nguyen in the final round.
"My team let me down and we did not win," Nguyen said. "My advice would be to not be nervous and just go for it no matter how embarrassing it may be — nobody is going to really remember it anyways." 
With the points at high stakes and adrenaline rushing on what class may win, participants felt pressured.
"My heart was racing, and honestly, I was trying so hard to get a chair and not get eliminated, but it was still a pretty big bummer when I got out," said junior Phoenix Jarman, who was part of the four-member team. "I chose to participate since last year was pretty heavy with COVID-19.
"I decided to go ahead and do something fun this year."
Another of the junior class competitors, Seanna Arceo, said she felt really excited about participating because she loves playing musical chairs.
"I would definitely participate again in the future battle of the classes so that I can enjoy high school as much as I can," Arceo said. "My favorite part of the competition was seeing the freshmen [fight] over a chair." 
To participant freshman Rielynn Brimmer, she wouldn't mind doing this again.
"It was very exciting, and I got kind of nervous that people would pull my chair and stuff like that," Brimmer said. "I would participate again in the future just because it was really fun, and the people weren't mean or anything."
The next battle of classes will take place on Oct. 7 in the quad along with the same "Despicable Me" theme, Fenstermaker said.