The Sunny Hills agriculture program won 21 awards in various categories ranging from pig to rabbit showmanship at the annual Orange County Fair livestock competition over the summer.
"The students did an incredible job at the Orange County Fair," said agriculture teacher Brian Kim. "Beyond winning awards or ribbons, the students showcased a strong and positive work ethic with their fellow peers and competitors." 
Members of the Sunny Hills Future Farmers of America who competed as chapter groups won four awards – first place in market lamb, third place in market goat, fifth place in market pig and third in market cattle.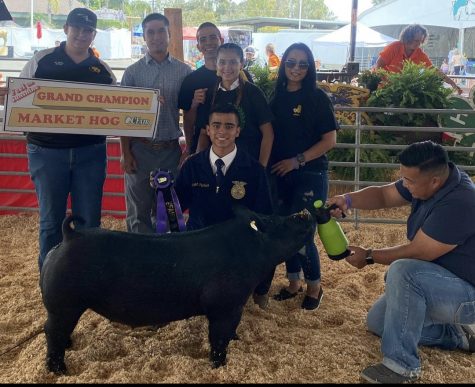 A total of 13 students, including those who were seniors last year, won a total of 17 awards for their year's knowledge and spring animals, agriculture teacher Sharon Deskin said.
Sophomore Victoria Acosta was among one of the big winners, taking the most ribbons out of all the remaining Sunny Hills students by placing first in pig novice showmanship, third in master showmanship and fifth in pig market competition.
"It was really exciting when I won because I've never done anything like [competing]; I've never expected anything like [winning]," Acosta said. "I just felt really proud of myself because I had my friends and family supporting me."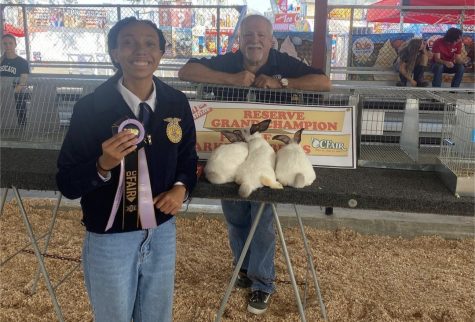 Sophomore Shenell Bible won the title of reserve grand champion pen of rabbits while placing second in rabbit showmanship.
"This was my first time competing anywhere, so I was pretty nervous about it," Bible said. "I was super honored and shocked to see I even won these awards."
Ranging from rabbits to cattle to pigs, agriculture students are given opportunities to sign up for the contest every fall.
"The students always do well, so I wasn't really worried about that," Deskin said. 
The OC Fair ran from July 23-August 4 and regularly draws over 100 competitors in over 100 different sections annually, although the number of entries was limited in the 2021 OC Fair because of the COVID-19 pandemic.
"Going into the contest was overcoming stage fright because when showing up in front of a lot of people, I get nervous," said junior Nathan Hahm, who won fifth in market showmanship and sixth in showmanship with his goats. "I had to have some confidence going into the show ring, as well as [winning] among the showers of my group."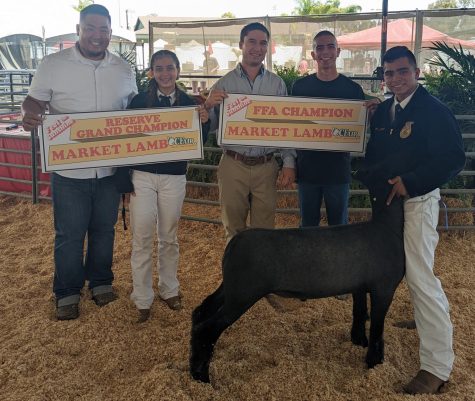 To ease nerves and get students used to competitve environments, the agriculture program hosts practice shows to prepare for the event throughout the year with practices increasing as the fair draws closer, Deskin said.
"Fall pig kids and steer kids have a show where they practice, then we have another practice show right before the Orange County Fair, and we invite other school districts to come," she said. "It's fun to give them a taste of what competing is like." 
Some agriculture students are already preparing for another round at the OC Fair livestock competition next summer.
"I'm aiming for first place," said Bible, showing off her plaque that she additionally received as an award for her rabbit showmanship at the OC Fair.