Despite declines in state, county and district enrollment in public schools, Sunny Hills has continued to increase its student population for a fifth straight year – a majority of students coming from the underclassmen, school officials said.
"We're still a destination school," principal Craig Weinreich said. "We're seeing consistency, and keeping our enrollment up."
According to school and California Department of Education data records, as of Monday, Aug. 29, Sunny Hills has an enrollment of 2,433, an increase of 11 from the previous year at 2,422.
The sophomore class has the most students at 634 followed by the incoming freshmen at 615, the second highest number since the 2018-2019 school year when 650 ninth-graders enrolled here – a number that was listed in a school enrollment article in the Aug. 31, 2018, print issue of The Accolade.
For the upperclassmen, 610 juniors and 574 seniors are enrolled on campus.
"People want to come to Sunny Hills," said assistant principal Peter Karavedas, who's in his first year overseeing student attendance after being a social science teacher here for the past nine years. "I love it. … We have big numbers in a lot of our programs; kids want to get involved in band, art, and I look at that as really important."
State and county student enrollment figures have been dropping since the COVID-19 pandemic in 2020. According to the California Department of Education, the state experienced a 1.8% dip in the number of students attending public schools at the start of the 2021-2022 school year compared with the same period the previous academic year.
In Orange County, students going to a public school declined to 448,729 in the previous school year compared with 456,572 the year before, according to an article in the Daily Pilot, a Los Angeles Times Community News publication.
The Fullerton Joint Union High School District's [FJUHSD] cumulative enrollment from its six campuses also fell by 510 students between 2016 and 2021, according to ed-data.org.  
Sunny Hills only trails Troy in student enrollment numbers for the start of this school year. However, Troy's student population has only increased after the pandemic starting with the 2021-2022 school year at 2,614, compared with the previous year's 2,577, according to state education department enrollment data.                                                  
Karavedas, who served as the head football coach for seven years, said his first-hand exposure to the athletic and on-campus programs led him to regard Sunny Hills' multifaceted academic culture as the primary cause for the schools' five straight years of increase in enrollment.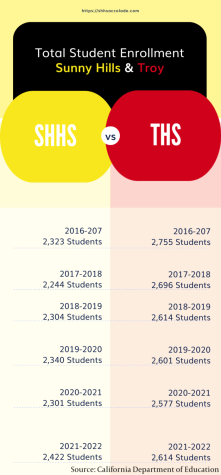 "Our teachers, coaches, program leaders and administrators have done a great job of marketing and giving students a full high school experience – one that is very strong academically, but then also balances that with strong athletics, an incredible COFA [Conservatory of the Fine Arts] program, wonderful activities in ASB [Associated Student Body] and all that cool stuff," the administrator said.
Senior Amanda Boupha similarly attributes the popularity of the school to recent triumphant athletic teams, like boys volleyball and girls golf, that brought home CIF titles.
"I think it has a lot to do with the sports teams that got to show off that Sunny Hills is a good school," said Boupha, also a Link Crew Leader. "The sports teams just practicing hard and winning their respective games served the school well."    
Junior Ben Blogett said he noticed an increase in the number of freshmen in his engineering class, as compared to what he initially expected. 
"I wouldn't say the larger group of freshmen affect the engineering class," Blogett said. "I'm just noticing that they take up most of the class."
As a Beechwood Middle School student, freshman Ayah Maaytah said he heard of the unparalleled educational and athletic opportunities Sunny Hills offered her older brother, junior Rakan Maaytah, prompting her to enroll here. 
"I heard that academically Sunny Hills was really good, and I heard that the basketball program is good, which appealed to me," said Maaytah, who plays for the freshman and JV teams. 
From the Link Crew Freshman Orientation to the first day of school, she took note of the difference between the population size of Beechwood Middle School and Sunny Hills. 
"I probably have only seen half of the freshman class, but it feels really cool especially because I come from a super small middle school, so it is a big upgrade," Maaytah said. "In a way I feel more grown up just by seeing the amount of people around me."
Unlike Maaytah, freshman Amber Hur enrolled as an SH student because of the convenient distance between the campus and her home.
"There wasn't much of a reason I came here except that I was assigned to this school because of my area of residence," Hur said. "Though, if I did choose any school in the district, it would be Sunny Hills because my friends are here."
To Karavedas, the Lancer spirit sets Sunny Hills apart from other sites in the district.
"People recognize that students are having a great time," he said. "You're not just a kid in a classroom; we have made it a priority that Sunny Hills is a holistic experience."