Eight SH students win prize money from 36th annual district art show
Eight Sunny Hills students were among the 31 who won cash prizes ranging from $10-100 as part of the 36th annual Fullerton Joint Union High School District [FJUHSD] Education Art Show. 
"I'm really proud of them," art teacher Brian Wall said. "We have so many amazing artists here at Sunny Hills."
FJUHSD students taking art classes had the opportunity to submit works in the painting, drawing, photography, 3D design or 2D design for consideration to win prizes; each school in the district could submit up to 20 pieces.
The FJUHSD awarded a total of $1,285 to the selected works that received first, second or third place or an honorable mention. 
The winners received the following prizes for their work:
First place: $100

Second place: $75

Third place: $50

Honorable mention: $10
Junior Da-hee Kim, a student in Wall's Advanced Placement [AP] Studio Art class, was the only one of the eight who took home a $100 award, for her oil painting titled "Star Stare."
"I didn't really expect much from the competition, … but I was really proud of myself and just [felt] really happy," said Kim, who had submitted her artwork to the show for the first time ever as an art student at Sunny Hills. "… I always liked combining my interest in science and electronics to paintings, so I was like 'hey I'm going to make this artwork. I later found out about the competition, so I just submitted it to it."
Each category had the following number of winners within the school district:
Painting: 9

Drawing: 9

Photography: 6

3D Design: 4

2D Design: 3
Wall submitted a total of 17 works from his special studies, Art HL 1, Art HL 2 and AP Studio Art classes while art teacher Preetha Mathen submitted three of her students' creations for the 3D design category to be placed in the gallery, which opened in person Jan. 26 and closed after two weeks.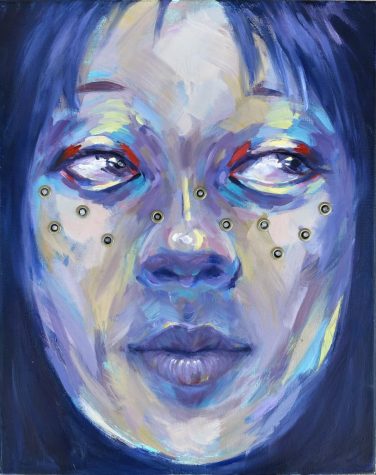 The 20 SH students found out about the show's results Jan. 27 after school through a Google Classroom posting from Wall. A week later, the FJUHSD publicized these results through an online gallery showcasing the winners' works, Wall said. 
Wall also said two professors from California State University, Fullerton teaching in the art education program judged the pieces based on the following AP criteria:
Overall artistic ability

Effective use of selected medium and techniques used to communicate the desired message and/or effect

Attention to detail, balance, symmetry and/or effect

The technical ability of craftsmanship/quality

Imaginative communication of ideas and emotion using clarity in technique
"My art was about COVID-19, its effects on society and how we behave," said Patrisha Hordista, a third-place winner in the drawing category sophomore Patrisha Hordista said. "I kind of used my own experience to create my artwork, [which made] it more personal to me."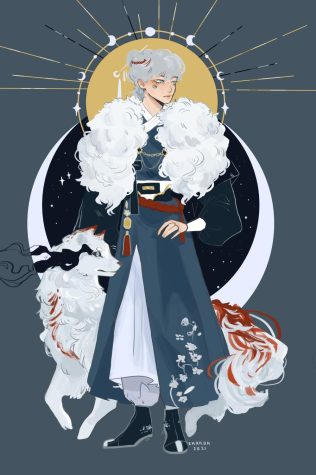 When Hordista read the PDF file shared by Wall, she could not believe she had made it on the list.
"I wasn't really expecting to see my name because of how small of a piece it was compared to other students' pieces and how good they were," said the sophomore, who is in Wall's class and submitted an ink drawing titled "Afflictions." "But when I saw my name there, I was pretty shocked and also really happy."
All 31 award recipients from the district will have their work displayed at the FJUHSD board room on March 18 after school, which is the day spring break begins. It will remain as an exhibit for the public to see until the end of spring break, Wall said.
"I feel honored to have my art hung up at the district office because it's a rare opportunity to be chosen out of all the entries that were in the show," Hordista said. "[Through my work], I just wanted to tell a story about COVID [and] give empathy to those who felt isolated and alone during the quarantine."
Likewise, junior Sharon Sung, who placed third in 2D design, shared the same reaction as Hordista and had to do a double-take after seeing her name.
Sung's work, titled "Bulgae," was based on a Korean folk tale about a mythical fire dog's mission to fetch the sun or moon from the sky. 
"I wanted to create a character design based off of that dog and how I imagined it as a kid as opposed to what I saw in the storybooks," she said.
While Wall said he was proud of the Sunny Hills students' positive results, he hopes those who did not win an award will remain motivated. 
"There was also a lot of great art there that didn't get awards," he said. "What I hope is that none of those people feel disappointed in themselves because it's not just about the awards."