UCI inducts SH alumna into 2021 Hall of Fame
At 4 years old, Tanya Taylor stepped onto the soccer field for the first time.
At 17 years old — and 13 years on the field — Taylor received 2007 CIF Player of the Year and 2007 OC Player of the Year.
Most student-athletes would eventually go on to college and focus on achieving their success on the academic front. But not so for Taylor, who accepted a full-ride scholarship to the University of California, Irvine, where she played for the Anteaters all four years.
And at 32 years old, Taylor, who now works as an attorney in Los Angeles, would receive an induction into the University of California, Irvine Athletics Hall of Fame of 2021.
"I think it's so cool, and I'm excited about it," Taylor said about the induction in an email interview. 
Leading her soccer teams — from high school onward — to championships and victories, Taylor will receive this honor Feb. 19 at a 9 a.m. in-person ceremony at the Pacific Ballroom located on the campus, said UCI athletics media relations Alex Roberts-Croteau in a Zoom interview. 
Usually, the induction ceremony would happen the year the inductees are announced; however, the coronavirus pandemic made it difficult for the event to happen in person in 2021, and the date was pushed back to 2022. 
"I would [like to] thank my parents; my dad was at every practice and every game," Sunny Hills Class of 2007 alumna Taylor said. "I would also thank the coaches and assistant coaches." 
The committee — which Roberts-Croteau said comprises about seven people — announced the accepted nominations in January 2021.
Those who closely watched Taylor succeed since she was a Sunny Hills student expressed excitement at the news. Her mother, English teacher Regina Broady, and her former girls soccer coach, Jeff Gordon, plan to attend the event.
"I was absolutely thrilled when I got the news that Tanya is to be inducted to the UCI Hall of Fame; it's so nice that she's being honored in this way," said Taylor's mom, who taught at Buena Park High School while Taylor was an SH student. "… I'm forever grateful to all the kind and supportive people in the form of team members, soccer parents, teachers, professors and coaches along the way."
Making it onto the select list of inductees means Tanya stood out as an athlete, Roberts-Croteau said. 
"There's not really a specific level that they have to hit," he said. "… [But] I know being an All-American is usually one of the few requirements, and usually they have been on successful teams or won a national championship on a team or individual level."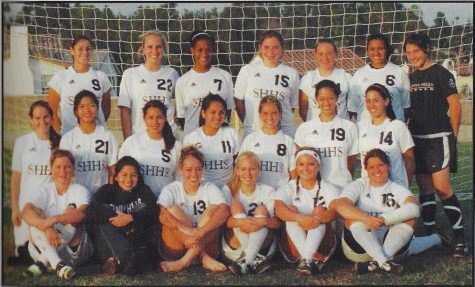 Roberts-Croteau gave this account as to how alumni are inducted into the Hall of Fame at UCI:
Receiving a nomination from fans or supporters during this time frame: Oct. 23, 2020-Nov. 20, 2020.

Those nominated could only be considered if they completed their UCI athletic eligibility five years before Sept. 1, 2020, made significant contributions in their sport at UCI, and completed their intercollegiate athletic career at UCI, according to

ucirvinesports.com

.
Playing varsity soccer from 2003-2007, Taylor is among the few whom Gordon recognized as holding several individual records in scoring goals (117) and assists (91), and is the first of his players to get inducted into a college hall of fame. 
The coach especially noted her "relentless mentality" and talent on the field. 
"When I heard the news, I was so proud of her," Gordon said. "I followed her college career and went to watch her play several times at UCI. 
"She had an amazing Division 1 college career and deserves Hall of Fame status. … We have had a lot of legendary great players in our program history, but Tanya is the greatest of all time."
While playing for the Lady Lancers, Taylor led the girls soccer team to win its first two CIF Division 3 championships in 2005 and 2007, respectively and helped secure the Lady Lancers' three Freeway League titles.
She was named first team All-League all four years and all CIF fours years in a row and took on the position as captain from 2006 to 2007. 
"Tanya was a generational talent, [and] when the team needed her the most, she always stepped up," Gordon said. "Tanya loved her teammates, trained very hard and led the way."
"
… We have had a lot of legendary great players in our program history, but Tanya is the greatest of all time."
— Jeff Gordon
After recruitment offers from several colleges in high school, Taylor committed to joining the UCI Class of 2011; there, she continued leading her team to victories and setting records, bringing the first All-American honors with team player CoCo Goodson in 2010 for the first time in UCI women's soccer history. 
Upon graduation, Taylor went on to play soccer professionally with the Boston Breakers until the team disbanded in 2018 from a dispersal draft and returned home to play semi-pro soccer with the Orange County Waves while pursuing a law degree at UCI Law School. 
Though she still plays soccer and exercises regularly, Taylor said her main focus is now on working as an attorney in Los Angeles. 
To celebrate her accomplishment, Gordon and Broady will be attending the ceremony with Taylor for free since each inductee is allotted four tickets to invite guests. 
Inductees and guests will be served a spread of food for breakfast, Broady said. 
"​​She's reduced me, once again, to that proud but ugly 'mama cry' behind shaded glasses," Broady said. "She's always pushed herself so hard and has managed to attain public recognition and soft landings because of it."
Gordon also commended his former player for her achievement.
"I am proud of the person she is and the success she has had after college," Gordon said. "She is a champion for life."