ADDRESSING THE CODE
SH officials take 'student-friendly' approach to enforcing attire policy
The opening descriptions of this story are not meant to show that the writer or The Accolade is endorsing such behavior among students. They are merely a factual report of what has been happening at a local and national level. In keeping with the Society of Professional Journalists "Code of Ethics," If you have any questions, comments or concerns about the content of this article, we strongly encourage you to contact us at [email protected].
A group of girls and a few boys walked throughout the hallways of Buena Park High School during lunch last month, some holding signs while others revealing their bellies in protest of the campus' dress code policy and how it was being enforced by administrators.
Images taken during the demonstration were posted on social media but taken down after 24 hours.
A few miles away at neighboring Fullerton Union High School, a junior created a change.org petition on Aug. 24 arguing that "the [district's] dress code is a gendered response to modern inequities of not holding boys accountable for their reactions to female bodies."
The digital complaint, which now has 963 signatures, isn't the only one that teenagers have posted on change.org. Another with nearly double the amount of signatures addresses similar concerns regarding the banning of midriffs at Webster Groves High School in Missouri. That situation has also led to some boys joining their opposite gender in wearing midriffs during an Aug. 27 demonstration before school outside the campus' main entrance.
Despite the growing controversy over what type of clothing is or isn't acceptable at a public school campus, student reactions are not as extreme at Sunny Hills High School. Campus security have issued only warnings to those in violation of the campus' dress code.
And though some of the offenders have told The Accolade that they got "dress coded," school officials want to assure them that more severe consequences would usually result like detention or a phone call home if any Sunny Hills student were to actually get "dress coded."
"I hope that students will see that we really are being flexible," said principal Allen Whitten, emphasizing that no students have been given detention or required to go home and change attire because of violations to the dress code. "There are a lot of gentle reminders. I think that there are some things we can all agree upon that just aren't appropriate [to wear to school].
"And so, you know if you have guns on your T-shirt or knives or something that displays violence, drugs or alcohol, some of those are low hanging fruit," Whitten said. "You know, we are addressing those. But anything we address is done in a student-friendly way."
Sophomore Jerika Mae Tabuada appreciates that approach and would hope more of her peers focus their attention on academics instead of their fashion trends."School is supposed to be a place to learn, but ever since fashion trends have changed, people dress more revealingly," Tabuada said. "School is supposed to be a place to learn so students should just go to school in regular clothes."
Though the first month into the school year some students have told The Accolade that they've had run-ins with campus security in which their class time was interrupted – meaning they got pulled out of their classes to talk about their attire – Whitten said his goal is to make sure that doesn't happen anymore, emphasizing again his administrative team's approach of addressing the issue in a "student-friendly way."
ORIGINS OF APPROPRIATE CAMPUS ATTIRE
California State University, Sacramento, professor Jaymie Lynn said it best when she was asked about the history of what was acceptable or not acceptable to wear to a public school.
"There is little to no research available on the history of school dress code policies," said Lynn, who wrote a 96-page master's thesis titled, "Undressing the dress codes: An Analysis of Gender in High School Dress Code Policies."
According to the American Civil Liberties Union, the idea of establishing dress codes at public schools first originated during the Vietnam war, when many students across America organized protests against it.
In one such incident, students at an Iowa public school planned to wear black armbands on campus as a silent protest against the Vietnam War. The principal, who heard what the students planned to do, declared that all students who participated in the protest would be suspended.
Ignoring the warning, some students followed through with the protest and faced the consequences.
After losing their case in both the U.S. District Court for the Southern District of Iowa and the U.S. Court of Appeals for the Eighth Circuit, the suspended students brought their case — known as Tinker v. Des Moines — to the Supreme Court.
There, the Supreme Court ruled that school officials could not restrict expression simply "on the suspicion that the speech might disrupt the learning environment," according to the official website of the Federal Judiciary.
However, according to FindLaw, schools can restrict free speech and expression if there is evidence that students are disturbing the learning environment or infringing on the rights of other students. This idea has been broadly interpreted by states in which public schools are permitted to have individualized dress code policies, influenced by the community's standards.
The Fullerton Joint Union High School District guidelines on the dress and appearance of students, approved as Administrative Regulation [AR[ 5650 in 1990, bans students from wearing gang-related articles of clothing, nonreligious head covering, and even jewelry that might pose a threat to the physical well-being of others.
AR 5650 also states that, since 1968, "… acceptable standards of cleanliness, safety, or decency [are] adjusted by the principal or his designee."
TIME TO REVISE OUTDATED DRESS POLICIES?
Some students advocate for the complete abolishment of any form of regulation for student attire, which they feel has no impact on the learning environment.
"I think that our dress code policy is outdated, has no effect on learning and is unnecessary." senior Jonah Alagao said. "Hot weather plays a big role in what students wear, and it's unnecessary to dress code clothes that are appropriate for the weather."
Another factor that comes into play besides the heat is that this is the first time in a year and a half that students have been on campus. A majority had chosen to stay home since March 2020, and so they never had to worry about what to wear until the start of this school year.
Nevertheless, several teachers shared the need for public educational institutions to regulate student clothing and how clothes deemed revealing will have a serious effect in the classroom learning environment.
"The problem is that while most people want to look good, most people simultaneously want to look at people who look good," English Department chairman Scott Rosenkranz said. "This is where the distraction comes into play. So, we must go back to having some common-sense standards.
"If the person's goal is to look good, that person needs to, again, go back to the purpose and context of an event and acknowledge that there are different ways to look good for different contexts: looking good at the beach vs. looking good at church vs. looking good at Coachella are different," Rosenkranz said. "A fair dress code will allow students to look good in a classroom while minimizing distractions and promoting an environment where students can focus on learning instead of what someone else is wearing."
English teacher Jennifer Kim reiterated Rosenkranz's view about proper attire based on the environment or event.
"I hope students can understand that dress codes are to maintain a level of professionalism and, yes, safety," Kim said. "Even we teachers adhere to a dress code.
"Work, school, places of worship, sporting events, even the beach all have a dress code in one way or another."
"
I think that our dress code policy is outdated, has no effect on learning and is unnecessary."
— senior Jonah Alagao
School officials said the Sunny Hills dress code policy was last updated in the early 2000s – more than two decades ago.
And according to an Accolade online survey of 158 respondents, 69% have never even read the policy found in the Lancer Handbook provided as a PDF file when students' parents are updating their Aeries information before the school year. Another 15% acknowledged that they did not even know that Sunny Hills had a dress code policy, while 16% said they are aware of what's in it.
Nevertheless, school officials side with those who want to see some form of change to what's been banned for decades.
"I think students have a fair point," Whitten said. "Our school leaders are hearing the community, and they're hearing our students and saying let's take a fresh look at this and put something in place that we can all agree on."
NEXT STEPS
Though no formal committee exists for all parties involved to study what can be revised in the dress code at Sunny Hills, discussions are beginning to take shape at the district level.
"At the meeting on Sept. 14, the Student Advisory Council discussed how the issue affects each school in the district and what the solution could be in preparation for the extended discussion during next month's meeting," student board member Grace Lee said.
Comprised of the top Associated Student Body [ASB] members from each school, the Student Advisory Council [SAC] will continue to discuss this issue before addressing its findings at the Oct. 12 school board meeting, Lee said.
Social science teacher and head football coach Peter Karavedas said he doesn't expect this process to be an easy one.
"That's the challenge for administration and for those in power or authority … to decide," Karavedas said. "What is ultimately something that's too much of a distraction and could take away from students' learning? And that's a difficult place, I know, for administration to be, but if that's what's taking place, then we certainly need to look at pursuing a policy that would establish a dress code."
Students who disagree with parts of the dress code emphasize that the process toward changing it will not be as simple as just holding one meeting.
"I believe that one meeting alone is not enough, but our school needs to actually take action on addressing these issues," junior Tazia Mohammad. "I believe our school should be looking at examples of other districts like Alameda Unified School District that have gotten rid of their dress codes excluding clothing depicting profanity, drugs and pornographic images."
WIN-WIN SOLUTION POSSIBLE FOR ALL?
So while many stakeholders will address this school year how to update attire and grooming policies at the high school and district levels, Whitten aims to foster progress in the school community.
"
I believe that one meeting alone is not enough, but our school needs to actually take action on addressing these issues"
— junior Tazia Mohammad
"We need to take a fresh look at and make sure our dress codes and policies are in line with what we can all agree should be the standard for progress and take into account the way the world is changing and different factors associated with how students dress," Whitten said. "I support this, … and I know the superintendent supports it, too."
The principal also acknowledges that this issue is incredibly nuanced and will unlikely have a solution that all parties are happy with.
"If you talk to our community, you would hear an overwhelming desire to have a certain standard of educationally appropriate dress," Whitten said. "We are also dealing with kids who really want to be able to express themselves.
"It's not an easy thing to take on, but … we are willing to do that kind of fresh look."
Leave a Comment
Your donation will support the student journalists of Sunny Hills High School. Your contribution will allow us to purchase equipment and cover our annual website hosting costs.
About the Writer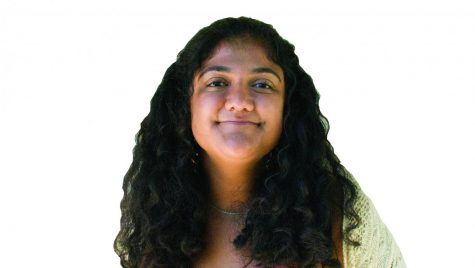 Krishna Thaker, Special Sections Editor
As the special sections editor, senior Krishna Thaker is incredibly excited to dive into important issues in both her school community and the world. Varying from simple, informative stories about upcoming school events to heavily-researched opinion stories on controversial issues, Thaker is proud of the work she has done so far as a writer for
The Accolade
. She cannot wait to contribute to
The Accolade'
s hardworking staff over the upcoming year.
When Thaker isn't writing stories and interviewing others, she is buried in homework, volunteering, interning for the New England Academy or focusing on club activities. In her free time, Thaker enjoys playing with her puppy, Arya, and reading dystopian fiction books.