Sunny Hills cultivates future generations of doctors, lawyers, teachers — and recently, influencers.
SH Class of 2020 alumna Stacy Kim, a fashion and travel influencer posting content on Instagram, TikTok and YouTube accounts with thousands of followers, has worked with over 40 different brands, including popular labels like Clinique, Neutrogena, NARS Cosmetics and even Samsung.
"I definitely enjoy being an influencer, and I think my favorite part about it is that I'm able to have conversations with people about products," said the current UCLA junior, who is pursuing a major in Business Economics. "I actually also have the opportunity to share sample products with people around me."
Even landing herself on the headline of an online Feb. 28 Business Insider article, Kim is en route to becoming an entrepreneur, planning to continue content creation as a hobby and side-hustle.
Contrary to popular belief, the role of an influencer goes far beyond uploading aesthetic photos on the internet.
"Aside from raising awareness about the products themselves, I've had a different impact in the community as well," Kim said. "I aim to influence others to pursue their passion, and I have also heard from many that they were inspired to pursue content creation or find a hobby while continuing their work." 
"
I aim to influence others to pursue their passion, and I have also heard from many that they were inspired to pursue content creation or find a hobby while continuing their work.
— 2020 alumna Stacy Kim
Under the username @gaeungrace on TikTok and Instagram, SH Class of 2021 alumna Grace Park also dedicates her content to the community, specifically revolving around storytime videos.
"I like uploading content that sparks an interesting conversation online," said Park, who has over 400,000 followers on her TikTok account and nearly 4,000 followers on her Instagram. 
Some of her videos include raising awareness of cleft lip and palate surgeries as well as the dangers of watching K-drama in North Korea.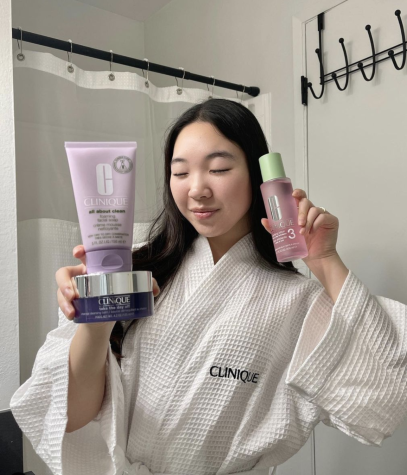 Like Kim, Park's extensive online platform has connected her to partner with numerous brands like Samsung, Bloom Nutrition and Tower 28 Beauty.
"I absolutely enjoy being a social media influencer as I get to connect with so many people around the world," Park said. "One of my proudest achievements was when I got 9.5 million views on a video where I reminded people how important and loved they were. I felt so proud that I could positively impact so many people."
Senior Julia De Leon, with more than 120,000 followers on TikTok, shares the same sentiment as Park.
"My favorite part of being an 'influencer' is how I can help some people across the world with whatever they're going through," said De Leon, who posts videos under the TikTok account @w.mochii. "I'm not really sure how I do that through my videos, but people have messaged me personally about how I help them, and it makes me feel good."
Receiving brand deals from colored eye contact companies, small businesses and clothing brands, De Leon uploads sponsored content, encouraging her followers to buy certain products.
"I really like having somewhat of a platform because I like being online, getting to talk to people and showing them what I'm like through a screen," she said.
But even with paid brand deals and positive messages from followers, influencers still struggle with the day-to-day downfalls of having such an extensive platform.
"The comments people say or just the things they do, sometimes it can get out of hand where they get physical or bother me," De Leon said. "People have definitely judged me based on my looks and what I post."
Class of 2020 alumnus Matthia Lee also acknowledges the same struggles as De Leon.
"I most definitely feel judged for being an influencer, but honestly, I really don't care," Lee said. "I'm just living my life and having fun."
Despite starting his TikTok account without any serious intentions in November 2019, Lee found himself quickly accumulating followers with currently 830,000 under the account @matthialee.
"My favorite part of being an influencer is definitely meeting new or popular people," Lee said. "Having celebrities and artists follow you back and have this connection really feels surreal."