LGBTQ+ LOVE: Queer couples come forth with their relationships
"Since we're both fruity, let me take your booty to HOCO."
Senior Clarissa Arteaga wrote this message in rainbow letters on a large cardstock poster last September. 
Arteaga was standing in the hallway next to the quad, holding up the sign and a bouquet of roses during lunch — eight days before homecoming as passing students stopped to watch the proposal. 
The message was for her girlfriend, senior Lola Orozco.
"I was really nervous and scared because so many people were watching, but I thought it was cute," Orozco said.
Though the two went to their first party together last year, Arteaga said she debated publicly proposing for a week before finally mustering up the courage for their last homecoming together. 
"Especially because we're two girls, it might be seen as weird, but then I don't really care what the other people hanging around think," Arteaga said.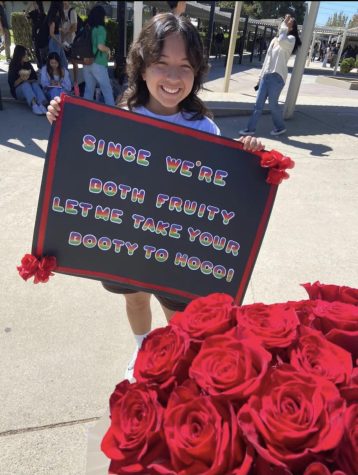 Principal Craig Weinreich said this was his first time seeing or hearing of a queer couple publicly proposing in his 24 years as a teacher and administrator. 
Though Arteaga's hoco asking remains a rare sight on campus, willingness to come forth with LGBTQ+ relationships has progressed — though openness still has its consequences.
LBGTQ+ identification has risen steeply in the last decade, with roughly 21% of Generation Z Americans coming out as queer — nearly double the proportion of millennials, according to Gallup. 
Amid the awakening of gender diversity, junior Alex Sobocinski met their partner, senior Delany Jackson, who identifies as non-binary (an umbrella term describing a person who does not identify as a man or a woman.)
"This is my first ever relationship that I've been in because I never quite knew who I was, but there are a good number of places where I feel comfortable being out," Sobocinski said. "I feel that, honestly, people shouldn't really care too much about who people love because it's not really their business."
A year into their relationship after meeting in theater class, the couple said they've felt safe out on campus and are looking forward to spending their first Valentine's day together.
"I'm not worried about any attention I may draw to myself by holding hands with Alex," Jackson said. "I'm aware of what my relationship may look like to others, but I can't say that that's stopped me from doing anything."
As part of the new Gender & Sexuality Alliance Club [GSA] Jackson said having the space to discuss LGBTQ+ topics, such as the influx of queer couples in media, has been empowering.
"Any conversation is always a good conversation," GSA adviser Thomas Butler said. "I like to see that people are feeling comfortable, and it's cool that we are able to have groups gather and discuss to be comfortable and identify who they are and how they are."
Video used with permission from Clarissa Arteaga
However, for junior Pierre Guerrero, his history with coming out about his sexuality and queer relationship with his former boyfriend last year resulted in backlash from family and friends.
"Me and my boyfriend were broken up by my parents," Guerrero said. "We still talk today and are good friends, and I've had a lot of romantic encounters since then."
Queer students are closeting their romantic relationships than not on campus, whether it's from fear of getting disowned by parents or getting ostracized by peers, said Guerrero, who's currently in the talking stages for a potential relationship.
"People against the LGBTQ community are quick to say that gay people are promiscuous and not as serious when it comes to romantic situations," he said. "Especially here, queer relationships are more secretive, and those that are public have to deal with the thought that they're going to be criticized or judged."
Despite the ongoing stigma around non-traditional gender relationships, Alexandra Gerdts, who's Sobocinski's cousin and identifies as bisexual, said she's seen progress with queer relationships growing to become as accepted as straight affairs compared to when she entered high school — not Sunny Hills — 17 years ago. 
Similar to Arteaga and Orozco, Gerdt's relationship with her then-partner was publicized. However, the similarities end there. When Gerdts started dating, she said she confided in a few of her close friends. In a matter of days, she started getting bullied for her queer relationship.
"Pretty soon everyone knew that we were dating, and we were the only out people in our whole school, even though we didn't really like publicly coming out, and instantly my whole life changed," Gerdts said. "All of a sudden, they wanted nothing to do with me."
From getting milk cartons and homophobic slurs thrown at her to getting cornered, she said the stigma of queer relationships would have made it impossible for her to publicly show affection as Arteaga and Orozco did.
"I know that our society has made a lot of progress since I was in eighth grade and I've been with my partner now, who's non-binary, for eight years, but I still struggle with PDA, the public displays of affection, because I'm convinced that we will be hate crimed," she said.
Almost two decades later, however, junior Sunny Jam, who identifies as transgender, said most of his friends are queer themselves or allies, so he isn't conscious of holding hands or walking to classes with his boyfriend. 
"I've struggled with feeling ashamed because people say stuff, but it's not something you should be ashamed of," Jam said. "I know people do see us differently than straight couples, but it's nice to be with someone who isn't ashamed of that."
That's also the message Arteaga and Orozco's open proposal has sent to other Sunny Hills students, who may be learning about their sexuality and gender identity. From the passing student who yelled "We love queer people" that day to receiving support on social media, the couple said they hope queer relationships continue to grow. 
"Just be yourself, honestly, even though it's hard and scary," Arteaga said.
Leave a Comment
Your donation will support the student journalists of Sunny Hills High School. Your contribution will allow us to purchase equipment and cover our annual website hosting costs.
About the Writer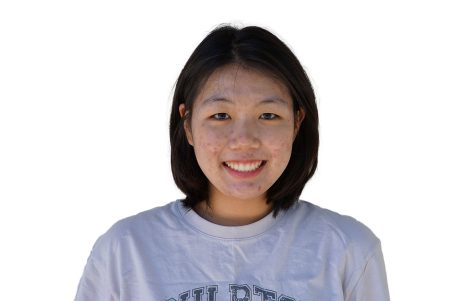 Jaimie Chun, Managing Editor
After an exciting first year on The Accolade staff, junior Jaimie Chun returns as the new managing editor. In addition to being one of the past year's copy editors, Chun was able to pursue her passion for writing by publishing stories for every section. She appreciates being able to speak to many people across campus and sharing their stories in The Accolade.

When not in the newsroom, Chun can be found on the softball field or participating in school clubs. A few of her hobbies include reading and hunting for music to add to her playlist.