Fentanyl-related deaths call for reform in the FJUHSD's drug education program
From drug prevention speakers advocating for student abstinence to spirited quad activities encouraging mental well-being, Sunny Hills once fueled efforts against the adolescent drug-abuse epidemic.  
As of recent years, however, efforts to spread drug abuse awareness seem to have diminished to red wristbands with white print of no interest to students. 
Now, schools across the nation are battling a deadly adversary that can't be overcome with solely fabric bracelets.  
Responsible for at least seven high school deaths in a month in the neighboring Los Angeles Unified School District, fentanyl — a deadly synthetic opioid 50 times more potent than heroin — poses a fatal problem for all high school students. 
While victims of drug abuse increase incessantly, school-based drug education programs remain an untapped method of prevention for putting an end to the overdose crisis. 
Despite topping the rates of substance-use disorder involving illegal drugs in a given year for individuals ages 12 and older, according to the Substance Abuse and Mental Health Services Administration, California still does not require schools to have drug education.
This is not to say Sunny Hills is on the verge of a fentanyl crisis. On the contrary, Sunny Hills' almost overwhelmingly well-behaved student body makes it hard to see one of us fall victim to this drug. However, this could pave way for naivety toward this issue.
In fact, with campus shootings and persisting mental health issues, we should avoid the notion that something as serious as this could never happen here. 
The severity is heightened by the fact that drug dealers take advantage of unsuspecting teens, who end up unwillingly ingesting fentanyl through counterfeit drugs that look like the more common painkillers Percocet or OxyContin.
Even the Los Angeles Times has stepped in to address drug education to as young as elementary school age. In an Oct. 1 issue, the Times published a three-column from letters editor Paul Thornton.
"Right now, though, the threat posed by fentanyl is immediate, grave and pervasive, and emergency measures need to be taken," Thornton wrote. "[Family therapist Maribeth] put the talks we need to have with our children in the context of a longer-term consent — the idea that you have control with what happens to your body."
Though this advice was intended for parents, schools can easily apply the same approach. 
In light of this, state legislators should draft a yet non-existent bill requiring public schools to update their health education curriculum to include information about fentanyl and how to avoid future accidental overdoses of it. 
While educators await government action, the Fullerton Joint Union High School District can do something on its end.
The district's response to holding a parent education and safety meeting on Oct. 18 at the SH theater and local police departments alongside its emphasis of the "One Pill Can Kill" campaign is reassuring. However, efforts should not stop here.
For one, the summer health courses required for graduation stands as the only drug education method, principal Craig Weinreich said. With the spike in fentanyl-related deaths, however, this no longer suffices; these drug-use lessons are outdated and the other topics covered simultaneously in the health course smothers the importance of fentanyl awareness. 
As a result, district officials can appoint their newly appointed director of safety and risk management, Carl Erickson, to revamp the delivery of drug education by allowing live presentations to take place annually in each classroom over the course of 1-2 weeks.
At an age particularly susceptible to peer pressure and the misconception that drugs are "cool," teens need a cohesive plan that annually explores the complex social factors that make them feel the need to seek a pill in the first place.
Utilizing the assembly schedule, students could stay in their classes while small groups consisting of drug experts, police officers or victims' parents rotate between second period classes to lead proactive conversations about fentanyl awareness.
Of course, students should also be required to get their parent's consent to participate in these presentations.
Though teachers may not be onboard with their class time taken away, taking the time to spread this information is a necessary sacrifice to educate instructors and students on identifying signs of overdose, such as rapid breathing or agitation among others.
Meanwhile, fentanyl education outreach should inform teachers how to properly administer naloxone, medication designed to reverse the effects of an opioid overdose, as more schools, such as those in the LAUSD, are rightly stocking up on this aid.
Arguments against drug education also fall short. In this day and age when people can find information about anything on the internet, some may argue that teens can learn just as much about fentanyl online as they would at school without taking away teachers' class time.
However, social media apps, such as TikTok and Snapchat, are the main platforms where drug dealers sell fentanyl-laced drugs to unaware teens, becoming but the main source perpetuating a majority of the danger.
Leaving students in the abyss of misleading information, a school system without an extensive drug education fails to protect its students. By swiftly implementing a mandatory drug education course, the district will show that it takes drug abuse seriously and therefore students, families and staff should too.
Leave a Comment
Your donation will support the student journalists of Sunny Hills High School. Your contribution will allow us to purchase equipment and cover our annual website hosting costs.
About the Writer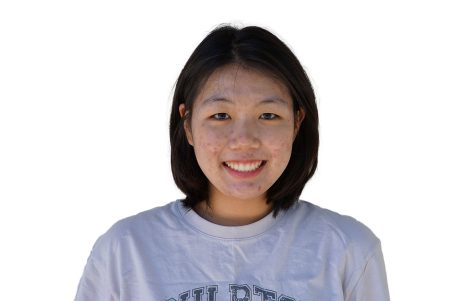 Jaimie Chun, Managing Editor
After an exciting first year on The Accolade staff, junior Jaimie Chun returns as the new managing editor. In addition to being one of the past year's copy editors, Chun was able to pursue her passion for writing by publishing stories for every section. She appreciates being able to speak to many people across campus and sharing their stories in The Accolade.

When not in the newsroom, Chun can be found on the softball field or participating in school clubs. A few of her hobbies include reading and hunting for music to add to her playlist.