Safety comes with cautious, mindful law enforcement
Despite a pledge to integrally serve and protect its people, the Uvalde Police Department has failed to do exactly that.
The officers at the Uvalde, Texas school shooting on May 24 might as well have been statues, letting what could have been stopped in three minutes escalate to a 77-minute long wait before any action was taken. 
Over the past two decades, guns have killed more school-aged children than on-duty police officers and military combined, as said by President Biden in a June 2 speech. If a police officer lets children take the bullets for him, he is disgustingly unworthy of his badge. Seeing the Uvalde police act so cowardly, the past 121 school shootings since 2018 seems to have meant nothing for the police department.
I expect more from these men sauntering around with fully-loaded guns and thick bulletproof vests. Especially with newly released video footage showing Uvalde law enforcement officers on their phones at the scene without any sufficient urgency to take down the shooter, my blood boils at the prospect of similar "miscommunication" and "poor decision-making" in the future that prevents the saving of young student lives.
In the future, I highly anticipate proactive solutions to prevent such errors in the future, whether it be more regular active shooter trainings, both at police departments and schools, or developing and amending law enforcement active shooter response policies.
Though the statistics doubt that something along the lines of what happened at Robb Elementary will ever happen on Sunny Hills grounds, I still urge our local law enforcement to consider previous school shootings to have the basic foundations of leadership, preparation and urgency in order to keep our students and staff safe.
The hiring of SH school resource officer [SRO] Gene Valencia, as well as other SROs across the district, is one proactive decision that I — and other students alike — appreciate to make us feel safer on campus. School administrators and local law enforcement should work hand-in-hand with the best interest of the students in mind.
At first, I was intimidated and skeptical: having a fully-armed officer carrying loaded guns on campus was, at first impression, not very visually pleasing nor welcoming to the school environment. However, conversing with Officer Valencia has made me think otherwise, and I am relieved and convinced that he seems fully capable of executing his job perfectly if a dangerous situation ever arises, contrary to Uvalde officers.
Alas, more can always be done. The U.S. Secret Service found in its report that a majority of school attackers have had a history of being bullied, and this data is no exception to the Uvalde school shooter either. 
It is important for schools to support the social and emotional needs of all students, and to make sure that kids feel respected, connected and like they belong, said Odis Johnson Jr., a Bloomberg Distinguished professor and executive director of Johns Hopkins Center for Safe and Healthy Schools.
A great place to start would be the implementation of co-responder programs in which trained officers can work alongside mental health professionals to combat behavioral crises that affected individuals may be facing.
Experts also suggest that the implementation of anti-bullying trainings for staff members as well as procedures to anonymously report aggressive, hostile behaviors can all be indirect mitigations of school shootings.
An extensive consensus, as well as input from professor Matthew Mayers of the Rutgers Graduate School of Education, furthers the idea that arming teachers is not an ideal policy. Essentially, there's only so much that schools can do. To fully reduce, or even eradicate, the recent surge in gun violence at schools, solutions must be created by the state or even federal law.
A 2018 Gallup poll titled "Most U.S. Teachers Want Gun Control, Not Guns To Carry" shows that a majority of educators favor universal background checks as well as bans on specific types of guns, such as semi-automatic weapons — the ones used in the 2018 Parkland, Florida and the 2022 Buffalo, New York and Uvalde, Texas shootings.
Whatever it takes, police departments all over the United States need to do better and take immediate action to achieve their purpose: protect our people.
Leave a Comment
Your donation will support the student journalists of Sunny Hills High School. Your contribution will allow us to purchase equipment and cover our annual website hosting costs.
About the Writer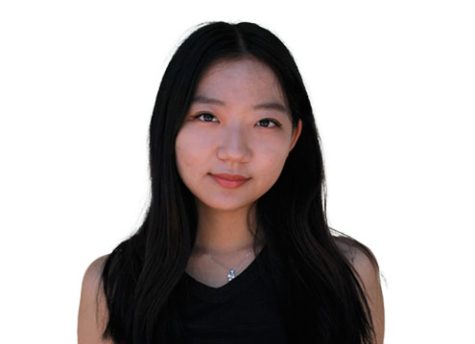 Hannah Lee, Opinion Editor
Now entering her second year on staff, junior Hannah Lee is excited to be The Accolade's opinion editor for the 2022-2023 school year. Lee contributed to the newspaper last year as a copy editor and now looks forward to broadening her experiences in writing and newspaper layout as a section editor.

Outside of The Accolade, Lee is involved with school clubs such as UNICEF and Science Olympiad. In her free time, she enjoys watching sad movies and going out with her friends.