New school resource officer aims to bring an active presence among students, staff
First one here, last to leave.
This is the new School Resource Officer [SRO] Gene Valencia's motto based on his main duty. 
"I want to be here first before [students] get here because I want to make sure the campus is safe; I want to make sure there's no strangers or threats," said Valencia, a Fullerton police officer who patrols the campus before, after school and between passing periods, break and lunch. "It's not always going to happen, but I will try."
During his college years at Mount San Antonio College, the SRO said his former professor, who was also part of law enforcement, influenced him to get involved in serving and protecting his community. 
Coincidentally, Valencia said he later realized he fulfilled his father's dream, which went unachieved because of his low income and having to help family members. 
After working as a patrol officer for the past five years in the Fullerton Police Department, Valencia replaces the school's former SRO, Rob Watson.
Besides his efforts to ensure campus safety, the new SRO said he oversees any criminal matter on campus or related to campus. In the case of an active shooter, he said he holds responsibility for neutralizing the threat and providing aid to victims.
"I really enjoy helping people and making a difference," Valencia said. "I want [students] to get a better understanding of law enforcement and have safety beyond the campus for the staff, administration and any other Lancer and their families because when you're going through something at home, it usually affects you here."
For the first time, Valencia has sent an email during the first week of school to all faculty and coaches, offering his availability to speak to students and athletes.
"Although I am an enforcer first, I will also be a mentor and educator," he wrote in the email. "I am eager to assist coaches with athletes out on the field and teachers with students in the classroom. With that being said, I have a goal of getting into each and every classroom by the end of year one. … Lastly, I want to STRONGLY encourage everyone to come by my office at any time and to remind our students that they are always welcome in my office for any reason, or for no reason at all."
It may appear as if Valencia's outreach efforts could be related to the events of the Uvalde school shooting in Texas earlier in June – to improve the impression that people have of law enforcement since the officers in Uvalde didn't act as quickly as they should have.
But the new SRO said his superiors in the Fullerton Police Department weren't the ones who advised him to establish such an active presence on campus. That's just part of his duty.
With such an approach to be transparent, Valencia said he grew up in Santa Fe Springs with two alcoholic parents who constructed a household of struggle and hardship: his past threads through his approaches to the duties of an SRO.
"I want to be that counselor I didn't have that growing up," he said. "Since I can relate to some people going through hard stuff, it makes me want to do my job better. … I want to be able to help them because I would hate to see them ruin themselves."
After a customary application and interview, Valencia said he was assigned to Sunny Hills for the next three to five years. 
In addition to his five years of experience working at the Fullerton Police Department, Valencia said he went through an 80-hour-long training course over the span of two weeks in July to prepare for this position. 
Since the start of the school year last month, more students are beginning to recognize the new SRO's presence around campus.
"With recent unfortunate events [in Texas], I feel like the security has been enhanced,"  junior Micheal Amescua said. "When I see the new police officer around, I feel less anxiety about any harmful things like school shootings."
Sophomore Erin Baek has also noticed Valencia's outreach efforts. 
"Unlike most cops who intimidate me, officer Valencia is very friendly and approachable," said Baek, who didn't know Sunny Hills had an SRO before Valencia started working here. "He seemed really nice because he gave stickers to students walking by [including Baek] and [her] talking to him."
Principal Craig Weinreich said he appreciates Valencia's efforts.
"We want our SRO being out in the classroom, being visible and getting to know our students more and being part of the campus," Weinreich said. "[He's] part of our staff, part of our campus, so we want our students and teachers to know that as well."
For the years he spends as the new SRO, Valencia said he strives to build personal bonds with students and educate the student body about safety regulations.
"The better I can prepare you guys and teach you guys, the less crime or less opportunity for crime," he said. "The more people I teach about how not to do things or to do things, the less victims or suspects I have."
Valencia also has a personal mantra to live by – "stay humble, stay hungry." With that, he said he hopes to become a mentor before the police cap is put on as he wants to do all he can for students.
"The more comfortable you are with me, the more trustworthy I am," he said. "And the safer the campus is because of it."
Leave a Comment
Your donation will support the student journalists of Sunny Hills High School. Your contribution will allow us to purchase equipment and cover our annual website hosting costs.
About the Writer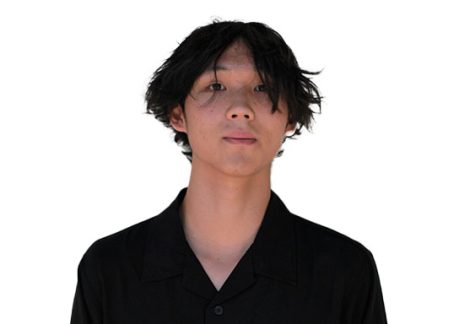 Aiden Park, Arts & Entertainment Editor
With this year being his first on The Accolade staff, junior Aiden Park plans to make great contributions as the arts & entertainment editor by bringing bright new ideas into the newspaper. He hopes to make supportive friends and strengthen his writing skills during his next two years on staff.

Outside The Accolade, Park participates in community service, works part-time or studies. During his free time, he enjoys exercising, gaming with friends or watching anime to relieve stress.