RESPONSE TO UVALDE SHOOTING: Fullerton Joint Union High School District creates new school safety position, SH seeks to hire a fourth campus supervisor
Sunny Hills underwent an uncommon lockdown in 2019 — its most recent — when Fullerton Police Dispatch received a call regarding two armed males roaming near the campus with  "long rifles" or "BB guns." 
In 2021, the Fullerton Joint Union High School District [FJUHSD] experienced its latest lockdown at Buena Park High School when an employee found a student with a firearm, leading to the high schooler's arrest.
The police detained both incidents and the schools properly implemented lockdown protocols, resulting in no injuries.
"We have a very secure and safe campus and a lot of that's because our kids are really good and really good at reporting things that they see," principal Craig Weinreich said. "The more we continue to work together as a campus, I think these kinds of things can hopefully be avoided."
"
We have a very secure and safe campus and a lot of that's because our kids are really good and really good at reporting things that they see. The more we continue to work together as a campus, I think these kinds of things can hopefully be avoided."
— principal Craig Weinreich
However, in response to the nation-shaking May 2022 Uvalde school massacre in Texas that occurred almost 1,300 miles away, Sunny Hills alongside the FJUHSD are making a conscious effort to prevent such violence from ever happening here, Weinreich said.
"There's definitely been a lot of conversations about school safety [since the Uvalde incident]," the principal said. "We're in a concerted effort to review our safety procedures — school safety is a priority."
The FJUHSD appointed Carl Erickson as director of safety and risk management on Sept. 2 as part of the early steps toward enhanced safety measures.
Over several months, Erickson will assess the district's current safety measures and reconnect with the community to design "a comprehensive plan to provide additional training, district resources and improve the overall coordination with our various city police and fire departments," according to the Sept. 2 FJUHSD news release emailed to staff.
"I've known [Erickson] for a while; he knows our district, facilities and sites well, so it's going to be a good fit," Weinreich said. "He's a former law enforcement officer prior to taking this position, so he'll do a great job."
These efforts are ongoing as the SH Safety Committee met for its first meeting on Aug. 25 and plans to convene more frequently, the principal said. The committee, for example, raised the question of strengthening security at athletic events.
"We've been working on making sure that when we're having events, that security is provided and seeing what are potential issues that need to be taken care of," he said. "We talked about improving communication at these events and using outside security as well as internal security for different events." 
Administrators, teachers and supervisors also participated in mandatory annual active shooter training during the August staff development days when they watched the "Run, Hide, Fight: Armed Intruder Training for Schools." However, Weinreich said no additional content was added to the training agenda from previous years. 
"We've already had a lot of these precautions in place," he said. "There didn't seem to be a big need for additional things. There's definitely a need to review what we do have, but we've already had a lot of things in place as to precautions, tools and technology."
The district also wants to employ four full-time campus supervisors though as of Sept. 16, only three have been hired — the third was added last school year. Sunny Hills also got a new school resource officer [SRO], Gene Valencia, from the Fullerton Police Department.
Valencia replaces former SRO Rob Watson after Watson fulfilled his two-year cycle being assigned to this school.
"I want to be the first one [on campus] and the last one to leave," Valencia said. "I want to make sure there's no strangers or threats."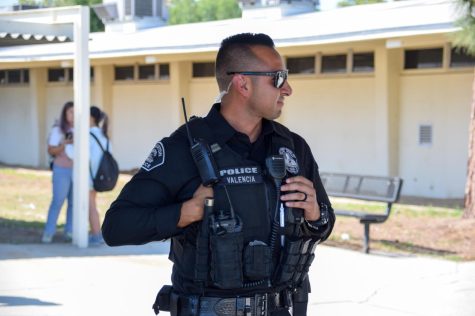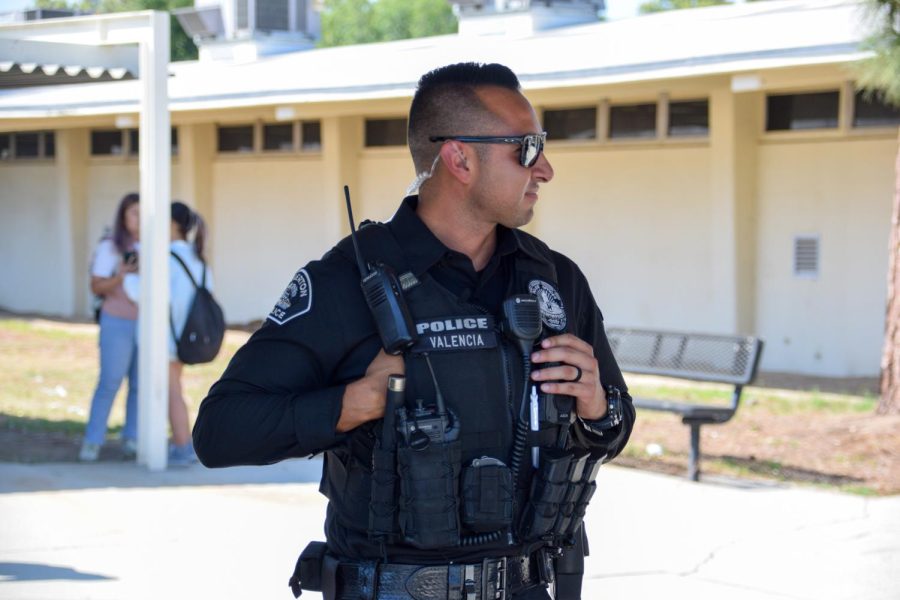 In response to the Texas school shooting, Fullerton police augmented the level of supervision around schools, the officer said. However, only three schools in the FJUHSD — Sunny Hills, Troy and Fullerton Union High School — have SROs on their campuses. 
"After Uvalde, for the most part, we've been sending extra patrols [around Fisler Junior High School, Sunny Hills and Parks Junior High School]," he said. "They'll send out what we call patrol checks, so they would have officers just driving around for more presence.
"I'm not gonna say [security was weaker] though because we probably have the best training as officers here in the state of California."
In light of what happened at the Robb Elementary School shooting in Uvalde, Texas that resulted in 21 victims, what should schools nationwide do to advance their efforts to keep campuses safe?
Sorry, there was an error loading this poll.
Sunny Hills' most recent large-scale drill was in 2009 when police and the North County SWAT team drove into campus with semi-automatic weapons drawn in a simulated lockdown.
Similarly, Valencia said he hopes for future faculty training to more realistically represent an active shooter situation, though he realizes the challenges of conducting such a drill.
"I would love to have the school do active shooter training and something that's almost like very close to being real," the SRO said. "We run it [realistically] so that we can see how the school, the students, the teachers, administrators and I respond. … That's the only way we're going to get to know how we can get better."
Weinreich said he is aware of these suggestions, but it would be something Erickson will assess at the district rather than at the site level.
BEHIND LOCKED DOORS
Robb Elementary School houses all its classrooms within one building. According to Associated Press News, the main entrance door can only be locked from the outside, however, was unbolted the day of the shooting — the 18-year-old gunman entered the only classroom with a busted lock.
During active shooter drills at Sunny Hills, campus supervisors and several administrators go to each classroom to confirm that teachers have properly locked their doors. In case of an actual gunman on campus, however, faculty members will run, hide or fight, campus supervision liaison Leslie Rains said. 
Sunny Hills does not require locked doors; however, unlike Robb Elementary School, SH classes are fanned out throughout the campus rather than having students and staff concentrated in one building as in the victim school.
As a result, Weinreich said that Sunny Hills and the district do not have any plans to enforce a locked door policy.
"I can't recall anything that's been discussed; I know some teachers do some, teachers don't do that," he said. "I'm not sure — there's never been a particular slant on that or way to say it."
Though teachers won't be required to bolt doors any time soon, the principal said that covering windows was brought up during discussions.
"There's been conversations that kind of fluctuated over time about covering them, blocking them, having something to cover if you needed," Weinreich said. "But there's never been a mandate to do this."
DRILLING IN THE PRACTICE
Sunny Hills' first drill of the school year was on Aug. 25 when students and staff practiced a combined lockdown and fire incident during second period.
"I think the first drill was relatively successful," sophomore Sloane O'Connor said. "It seemed like everything ran smoothly."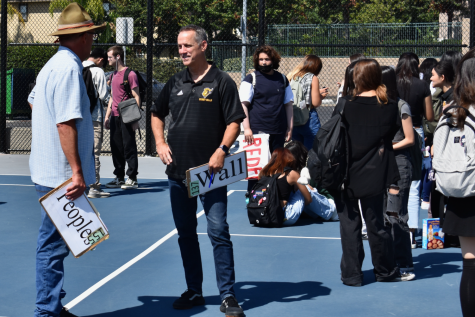 However, O'Conner, who started Sunny Hills' March for Our Lives Club that advocates for ending gun violence in light of the Texas school shooting, said he couldn't help recalling the gut-wrenching grief when he first learned about the murder of students 8-9 years younger than himself. 
"I definitely thought about the Uvalde incident, and in regards to the other lockdowns, it seems like there's always an incident that my mind wanders back to — whether it's Sandy Hook or Parkland," he said. 
During the drill, chemistry teacher Andrew Colomac said he reviewed the active shooter protocols during his second period Advanced Placement Environmental Science class before his students hid underneath their desks and he locked doors and turned off the lights.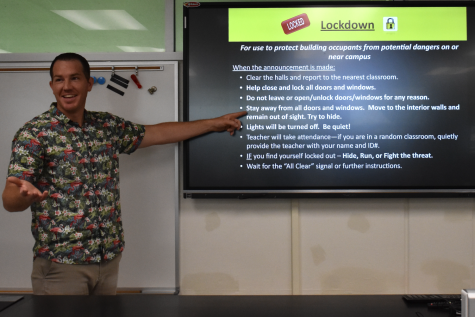 "I want to make it as realistic as possible where I want them to experience lights off, doors locked and then talk about what would happen if somebody was actually on campus," Colomac said. "…I'm a father of three kids, so I think as a parent, [school shootings] are concerning — just disappointing and sad that this continues to happen."
Some students said that they would prefer to participate in more than the three drills currently scheduled for this school year. The second drill will be the Great Shake Out Drill on Oct. 20.
"I think the number of drills we have is sufficient, but maybe an additional one or two a month would be beneficial, purely to refresh students' minds on what to do in a scenario," O'Connor said.
Though Colomac supports more realistic drills with the police force involved, he said he doesn't think adding more drills to the current schedule is necessary.
"I'm pretty sure everyone knows well enough where to go and then if they don't know, they get to connect with somebody," he said. "A lot of people have been exposed to drills their whole school life."
FIRST ACTION: PREVENTION
Starting this year, students can spot a poster with "Don't be a bystander" printed below a golden eye and QR codes that allow students to download the STOPit app directly linked with Sunny Hills in every classroom. 
The reinforcement of the STOPit app, which Sunny Hills first started using six years ago, is one of the ways the school put an emphasis on prevention as one of the primary methods to securing the campus, Weinreich said. 
In addition to promoting the "see something, say something" campaign, staff members, including the SRO, advocate for counseling as a way to improve mental health and create a supportive environment for students.
"I want to be that counselor, that mentor before I put on the police cap — if I could, I'll do all I can," said Valencia, who was the first SRO in decades to choose to visit classes in August to introduce himself to students and faculty.
Meanwhile, Weinreich said active dialogue among everyone on campus will be key to keep the campus safe and secure. 
"We want our teachers to be open and have good conversations with our students so that they're aware of what to do," he said. "We've got plans in place, got everything right there, and we want to make sure that people are following that and aware of those."
Leave a Comment
Your donation will support the student journalists of Sunny Hills High School. Your contribution will allow us to purchase equipment and cover our annual website hosting costs.
About the Writer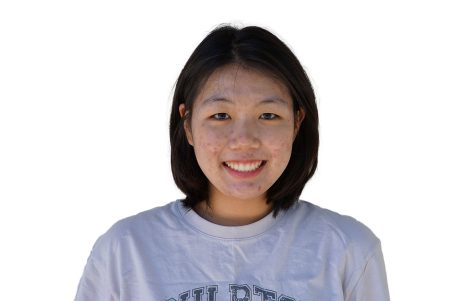 Jaimie Chun, Managing Editor
After an exciting first year on The Accolade staff, junior Jaimie Chun returns as the new managing editor. In addition to being one of the past year's copy editors, Chun was able to pursue her passion for writing by publishing stories for every section. She appreciates being able to speak to many people across campus and sharing their stories in The Accolade.

When not in the newsroom, Chun can be found on the softball field or participating in school clubs. A few of her hobbies include reading and hunting for music to add to her playlist.