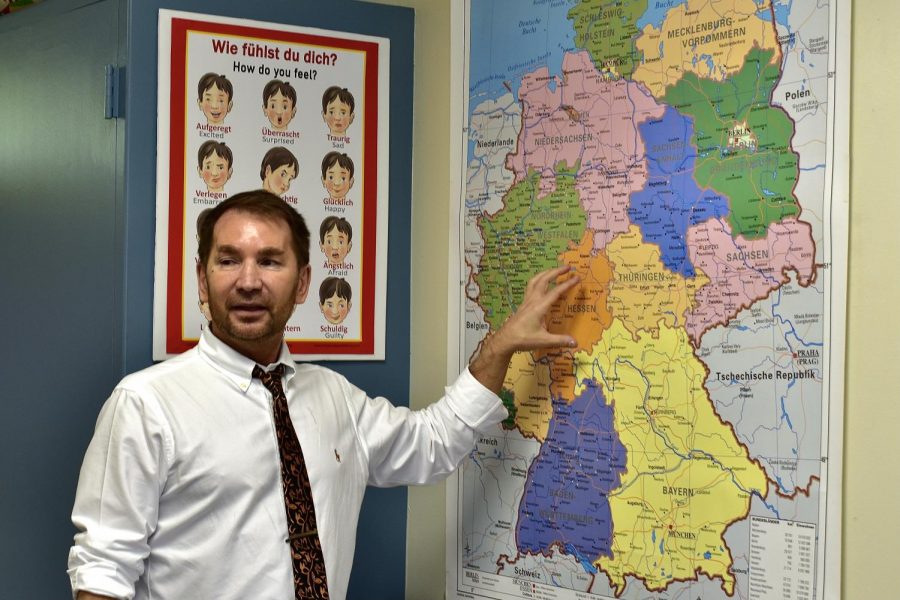 Rebekah Kim
For Sergey Artemyev, the process of finding a career was a long and tedious one.
Although Artemyev knew he wanted to be a teacher, his love for exploration made it hard for him to dedicate himself to one subject. 
Eventually, after exploring numerous careers including mass media, journalism, public administration, an elected official, translator and cross cultural consulting, the Russian native finally decided to pursue his lifelong passion — German.  
He cited his seventh-grade German teacher as an inspiration to him.
"She was wonderful, amazing," Artemyev said. 
Such an avid interest in the language led him to attend Moscow State Linguistic University in Russia and Otto von Guericke University in Germany. 
By 2000, he said he decided to move to the United States, where Artemyev eventually took additional courses at UCLA and Stanford University to fulfill his teaching credential in California. 
He worked his first job in the United States as a translator and interpreter, but started teaching English as a second language soon after. In 2002, Artemyev said he landed his first position teaching the subject he loves at Golden Sierra High School in Garden Valley, Calif.
After leaving Golden Sierra High School, Artemyev was hired to work in the Fullerton Joint Union High School District, teaching all levels of German and a World History class at La Habra High School.
The instructor said he worked there for six years before accepting a position at Sunny Hills, where he now teaches the same classes, replacing former German teacher Rick Schuelke, who retired at the end of the previous school year.
He plans to spread German culture and create a passion for his German classes, just like his former German teacher did for him.
"I am interested in a school that considers foreign languages to be an important part of general education," said Artemyev, who currently teaches German periods one through four and World History period 5. "Sunny Hills is the only school in the district that offers German despite the fact that German is seen as a difficult language to learn."
He looks forward to sharing the same love for the subject like his teacher did while continuing the German Club and starting a National German Honor Society Chapter for students pursuing this language. 
"[I want], in a year or so, [to travel] to a country where German is spoken," he said. "[It] would be one of the most amazing events for my upper-level students."
Senior Aidan Wong, who is taking international Baccalaureate [IB] German Standard Level, looks forward to the activities Artemyev has planned for the year as well as the IB exam next May. 
"I think it will take some getting used to, but so far, he seems like a fair teacher and wants us to understand grammar rules and expand our vocabulary," Wong said. "On our first day, he said we'll be celebrating Oktoberfest and having a gingerbread making competition in December, so those seem fun."
Artemyev said he hopes to incorporate Sunny Hills' positive environment in his classroom and to instill a proactive academic mindset in his students.
"I will try to encourage my students to take ownership of their own learning," Artemyev said. "If you believe you have the ability to do something, you will be successful."