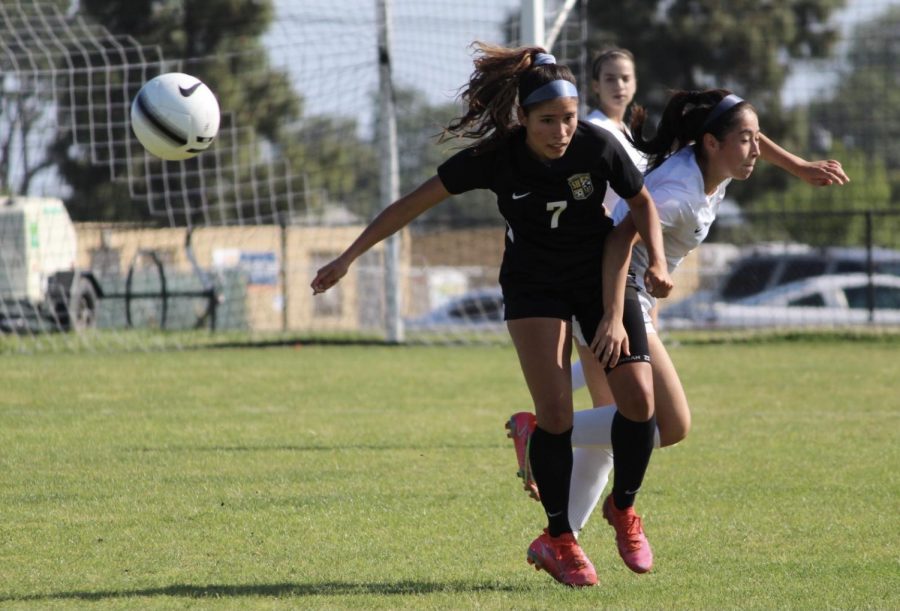 Aliyah Ahmad
Senior Jazmin Montalvo is the fifth – and last – in her family to graduate from Sunny Hills. 
While not everyone played soccer, Montalvo said she felt the need to bring the determination of her older sister, Isabelie Montalvo, to the field. 
"My sister always gave her heart out on the field, and I wanted to come to Sunny Hills and give nothing but my best effort all four years that I would be here," Montalvo said. 
Her father, Antonio Montalvo, introduced her to soccer when she was 4 years old, and she also participated in dance, gymnastics and track. But Montalvo said she gave up dance when she was 7 and gymnastics when she was 12 to focus on soccer but continued track until her junior year.   
"I always watched my brother playing soccer, and he's been one of the biggest influences in my soccer career," Montalvo said. "My mom says that I didn't like soccer at first and would pick daisies on the field, but my dad always pushed me to be the best player possible on and off the field, and after a short time, I loved the sport." 
While she played for the Cerritos United Soccer Club team [CUSC] team when she was 8 years old, Jazmin Montalvo began to take soccer seriously because of her weekly games and numerous tournaments. Her father was her club coach for eight years before she moved to Slammers FC after advancing out of CUSC. 
"If I hadn't played club, I guarantee I would not be the same player I am today," the four year-varsity starter said. 
She won numerous tournaments and league titles while on her club team. 
Along with her club team, Jazmin Montalvo played girls soccer all four years of high school at Sunny Hills and contributed to the girls soccer California Interscholastic Federation [CIF]-Southern Selection title win in her sophomore year as a forward – the same position she has played throughout her time on the team. 
"To be able to compete at the CIF level for all four years is something I'm proud to do because it's not an opportunity that everyone gets," Jazmin Montalvo said. "It takes persistence and determination because you are competing with the best teams in the region."   
She said she is most proud of all the awards she has received throughout her high school career, such as being named all-league for the past three years, All-CIF as a freshman, she said.
"To be able to compete at the CIF level for all four years is something that I'm proud to do because it's not an opportunity that everyone gets," Jazmin Montalvo said. "It takes persistence and determination because you are competing with the best teams in the region." 
Head coach Jeff Gordon describes her as a fast, skillful and determined player. 
"Jazmin has improved each year, getting stronger, more confident and more dangerous," Gordon said. 
This year, the girls soccer team won the Freeway League, which was one of Montalvo's goals throughout high school, especially because it had not been done in six years. 
"I'm really happy we won because I truly believe we deserve it," Jazmin Montalvo said. 
She is proud of the way she played because of her ability to be there for her team and help win, especially because she thought this was the clinching game. Jazmin Montalvo scored the first goal and assisted on the second.
The pandemic increased her work ethic because of the effort she put in once practice started again. She developed her skills and became a better player after months of practice on her own, but is glad to play real games again.
"I was getting extremely unmotivated at one point, and I felt as if there was nothing to look forward to because COVID had taken away so much," she said. "After hearing [that we would have a season] I was instantly excited and motivated since this is my last season before graduating." 
Goalie senior Pricilla Avila has known Jazmin Montalvo for four years and is very proud of her for committing to Biola, where she can continue to play at a high level. 
"Jazmin shows great leadership and high energy to the team," Avila said. "She is a very talented player and can adjust very quickly when she is asked to." 
Jazmin Montalvo looks forward to the connections she can make while playing at a higher level of soccer, as well as following in her family's path, she said. 
Biola University has been scouting her since she was in eighth grade. Although she kept her options open and considered other universities, she decided to follow in her family's footsteps, Jazmin Montalvo said.
"I wasn't set on Biola at first because my brother and so much of my family went there, and I wanted to have my own path and my own story," she said. 
The athlete had offers from multiple schools, such as the University of Illinois at Chicago, San Francisco State, Concordia University, California Polytechnic State University, Pomona, and California State University, Long Beach.
"Biola was one of the most persistent schools in the recruiting process and after looking at all of my options, Biola truly was the best fit overall," said Jazmin Montalvo, who plans on majoring in kinesiology.
"In a way, I am scared for a big university team because I tend to get very shy around people I don't know too well yet," she said. "But one of the reasons I committed to Biola was because the team is so closely knit." 
This season, the Biola women's soccer team (2-2, 1-2) will play its 2020 season in the spring of 2021 because of COVID-19. While the school's squad has not won any championships at the NCAA Division II level, the team won the National Christian College Athletic Association Championship in 2017. The program is currently seeking its first PacWest Championship and first qualifications to the NCAA Division II tournament, head coach Erin Brunelle said. 
As she advances to the college level, the athlete reflects on the team's motto and the bond it created with her team at Sunny Hills.
"Through soccer, I've been on great teams with traditions that have stuck with every team," Jazmin Montalvo said. "The phrase, 'Tradition never graduates,' truly means that even as players leave over the years, the tradition and heart of the team stays the same."