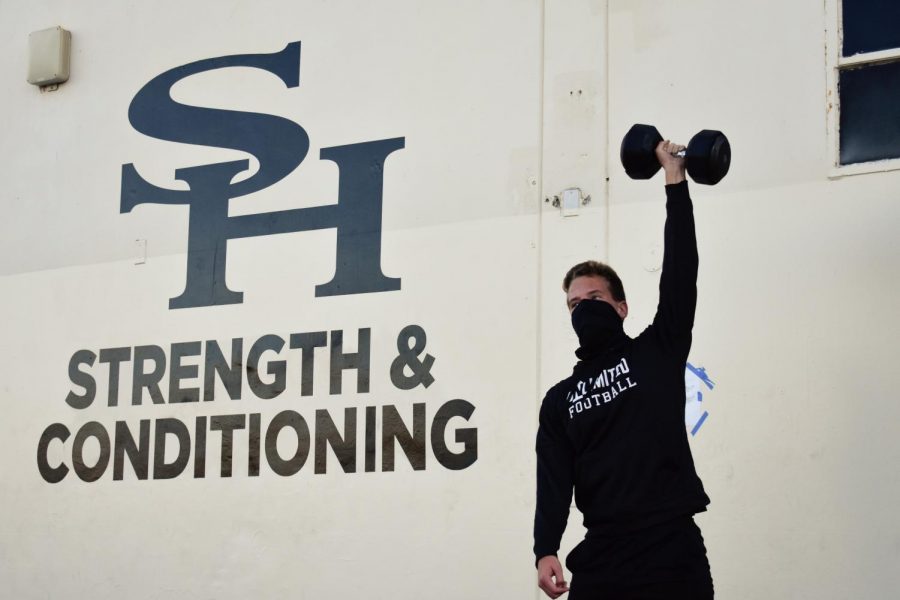 Kristel Laceste
They were supposed to begin their title defense against Canyon on Aug. 21.
Canceled because of the coronavirus pandemic.
They were supposed to take a trip to South Orange County for a showdown at Capistrano Valley on Jan. 8.
Also canceled because of the coronavirus pandemic.
And so 15 months after the 2019 cardiac kids last walked off the Bakersfield Christian High School football field in the CIF State Division 3-A playoffs on Dec. 7, the California Interscholastic Federation – Southern Section [CIF-SS] Division 8 football champion Lancers will make their return to the gridiron in a home game at Buena Park High School's stadium against Fountain Valley at 7:00 on Friday — the first of six games that will end with the team's only title chance being the Freeway League champion since CIF officials have axed all football playoffs this season because of the coronavirus pandemic.
This one isn't canceled.
"We're just thrilled that we get to play," head coach Peter Karavedas said. "That's No. 1."
A SEASON UNLIKE ANY OTHER IN THE 21ST CENTURY
It's been a long yet unprecedented journey for Karavedas and his athletes: 
an abrupt cancellation of spring practices in March when the coronavirus crisis first struck and campuses closed down for classroom instruction
a canceled banquet prompting the head coach and his assistants to come up with an impromptu delivery of the 2019 CIF-SS Division 8 championship rings to each of his players at their homes
a glimmer of hope with practices resuming over the summer — only to be shut down two weeks later after a spike in coronavirus cases. (The announcement came just before the football players found out that their season wouldn't begin until January.)
practices restarting in August, but in what was becoming a trend, yet another stoppage of practices when a football player came into contact with someone who tested positive for COVID-19
worsening coronavirus conditions pushing back the Jan. 8 start date vs. Capistrano Valley while the CIF-Southern Section [CIF-SS] officials canceled the football playoffs, removing any chance for those returning to play for Sunny Hills to defend its 2019 title.
But then February rolled around — and things started to look up when on Feb. 19, the California Department of Public Health updated its guidelines to allow football to be played when its respective counties reached a daily positive COVID-19 case rate of below 14 per 100,000 population. Four days later, Orange County achieved a daily case rate of 11.9 per 100,000 and just like that, football practices and games were back on.
"Our whole team was really excited to hear the news," wide receiver and linebacker junior Dylan Lawson said. "This is all just good vibes having a season to play now."
HOPING NOTHING WILL HAPPEN TO FUMBLE THE SEASON AWAY
But even though the Lancers have a six-game slate ready, not everything will be smooth sailing because of the new coronavirus-related measures in place, including contact tracing and mask-wearing on the sidelines. If the Orange County daily case rate rises above 7.0 again, all athletes will be required to be tested before games, as the water polo teams did in previous weeks.
"If one person gets COVID, they're shut down, and then maybe other people who come into contact with you are shut down," Karavedas said. "So there's certainly a heightened concern among the entire program, no question."
And with only just a few weeks of full-contact practices, Karavedas has had to be cautious during practices to ensure that his starters don't suffer any injuries.
"We do not want anybody to work this hard for this long and get hurt because we're doing a drill that maybe we didn't need to do," he said. "Safety has been the priority."
CAN THE LANCERS WIN THE FREEWAY LEAGUE TITLE?
This year's schedule will be unlike anything played before: a six-game schedule made up of one non-league matchup against Fountain Valley followed by five Freeway League matchups in consecutive weeks starting from March 19 to April 16 with no bye weeks.
With CIF-SS playoffs out of the equation, though, the Lancers have their eyes trained on the Freeway League title — and that means going through perennial champion La Habra.
"The La Habra game is the last game of the year, so our goal is to get better every week and become the best version of this team that we can be," Karavedas said. "And if there was ever a year when we're really thrilled about that game, it's this year."
Karavedas identified several players who will be key in a successful Freeway League title run, one of them being returning Freeway League Defensive Player of the Year, linebacker senior Carson Irons. 
"Obviously without a possibility of a championship game, we are focused on winning the league," said Irons, who was also tabbed as the CIF-SS Division 8 Defensive Player of the Year last year. "Our last and toughest game will be La Habra, but we are fired up for the opportunity before us."
ONE GAME AT A TIME
But before the Lancers can think about La Habra, they've got a date against Fountain Valley, which finished with a 3-7 record last year in Division 7. It will be the first time the Lancers have played the Barons during Karavedas' tenure as head coach. 
"Fountain Valley is definitely a solid team who plays a highly competitive schedule each year in the Sunset League, so we are looking to have a good game," Irons said. "Overall, if we can keep them from getting big plays on us, we should be in a good position to win."
As for Lawson, he's simply looking forward to suiting up under the lights again.
"We're just excited to have the opportunity to hit somebody else in a different jersey," Lawson said. "It's good to get back in the groove again."
The Accolade will be providing live coverage from the sidelines on Instagram and Twitter. You can find The Accolade at instagram.com/sunnyhillsaccolade and twitter.com/AccoladeSports.