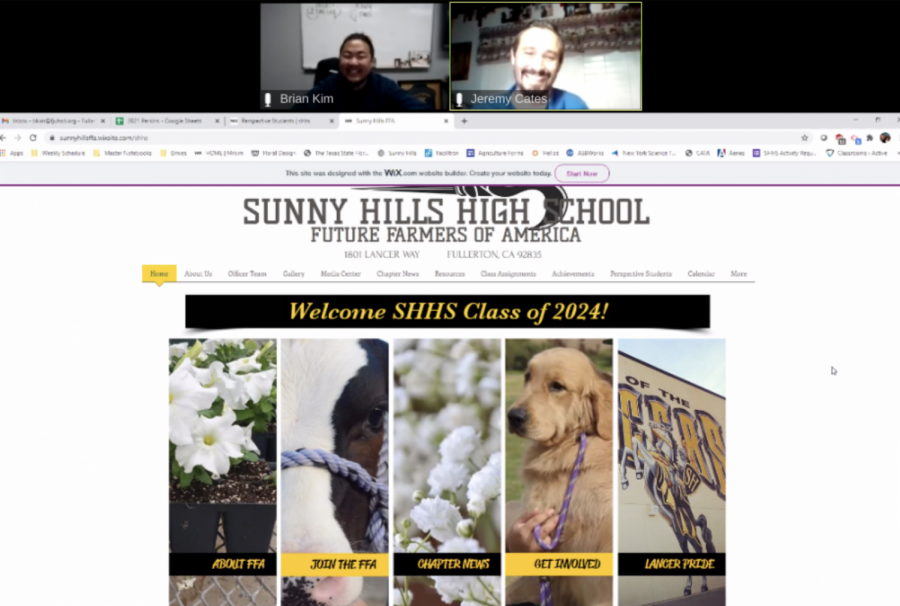 Nevya Patel
During the school years prior to the COVID-19 pandemic, the annual Open House gave the Sunny Hills programs and pathways a chance to attract prospective students to their booths with their unique displays.
The Agriculture Department created a makeshift petting zoo outside the Roundhouse to feature its lambs and other farm animals. 
Some teachers in the Science Department conducted live experiments inside the school gymnasium. 
The Korean Culture Club members banged their drums to attract visitors to their information table.
However, with the rising positive COVID-19 cases in Orange County, the administration opted for a virtual Open House on Jan. 7 for eighth-graders and their parents to access drop-in Zoom links to meet with staff and ask questions and watch multiple videos about the various programs that the campus offers.
"We had a positive turnout to our Virtual Open House event," assistant principal Melissa Stinson said. "Hosting a Virtual Open House allowed us to showcase our various departments and programs to give our current and future students and their families an opportunity to discover all that makes Sunny Hills a destination high school."
Since the coronavirus pandemic leaves no room for physical connection, Stinson said the virtual Open House lacked the fast pace and energy associated with the in-person event.
"We have such a positive and energetic school culture and that always shines so bright at our Open House," she said. "However, the feedback we have been receiving confirms that families still felt that energy despite not being physically here on campus together."
Stinson said that virtual Open House events were held district-wide for the safety of staff, students and the community. 
Although the administration did not develop a way to document the specific number of attendees, the Open House Welcome Message video on YouTube gained almost 400 views as of Jan. 26. 
"Bottom line, we wanted to provide all of the information that our eighth-grade families are looking for, and I believe we accomplished that," principal Allen Whitten said.
Junior Samantha Galang, a member of the Conservatory of Fine Arts [COFA], took on a 30-minute shift with five other students in the various live question sessions.
"Overall, it was underwhelming to say the least because not a lot of people dropped in," Galang said. "But, what I liked most were my peers that were in my Zoom meeting because we talked and told stories while waiting for people to come."
Despite her disappointment at the event's outcome, she said that it was pleasant to have a virtual alternative. 
"I think it was a good idea because it gave me a sense that we could still do these events or these big things even though we are in a tough spot socially," Galang said.
However, a virtual Open House caused a disadvantage for speciality programs, such as agriculture.
"We are so heavily reliant on recruitment and being able to have our hands-on display, [such as the petting zoo]," agriculture teacher Brian Kim said. "Our huge event is Open House. Having our huge display is what attracts students to even know about the farm."
As a result, Kim and his agriculture colleague, Jeremy Cates, screen shared the official Agriculture Department website for students and parents to view.
"Taking animals out there and seeing all the eighth-graders petting everything and asking questions about the animals, it is terrible that we could not have that," Cates said. 
Teachers who represented more than one program and subject at Sunny Hills attended only one of the meetings for the two hours. Cristian Bueno, a math and Advancement Via Individual Determination teacher, stayed in the Math Department session. 
While being on Zoom prevents any live displays or experiments, some programs took advantage of Zoom features such as screen sharing and breakout rooms.
The English Department sent visitors and a teacher who could best answer their questions into a breakout room a few times, though they spent most of the two hours answering questions as a group, English Department chairman Scott Rosenkranz said.
"There were not that many questions that were particular enough to use breakout rooms often," Rosenkranz said. "We did not have so much traffic that we could not just answer the questions as a group."
He said the questions pertain to the International Baccalaureate entrance exam and the freshman English curriculum. 
As for the Science Department, the teachers used the Zoom screen share option to present a digital brochure, one that they used to hand out to parents, and answered questions.
"In my opinion, there is no great alternative to being in person," Science Department chairman Andrew Gartner said. "Showing a digital brochure is not as fun as a live experiment/demonstration. Normally, the majority of students and parents are drawn over to our booth by the many demonstrations."
Parks Junior High School eighth-grader Morgan Quan said he checked out the Engineering Pathways to Innovation & Change videos.
"They were useful; however, I still had questions," Quan said. "The Zoom meetings were very helpful, and the teachers answered all of my questions."
The one question that the eighth-grader still couldn't answer for himself was which high school he envisions himself attending in the fall.
"The Open House did not necessarily persuade me to enroll in Sunny Hills as I am waiting for results on the entrance exams I took," said Quan, who is also considering enrolling at Troy High School.
Despite the different format, Whitten said the event accomplished its overall objective, resulting in good reactions from the SH community as well. 
"Everything about it was new, but we received a lot of positive feedback from the community," he said. "We received a lot of very complimentary emails and a lot of thank yous. SH families are great like that."