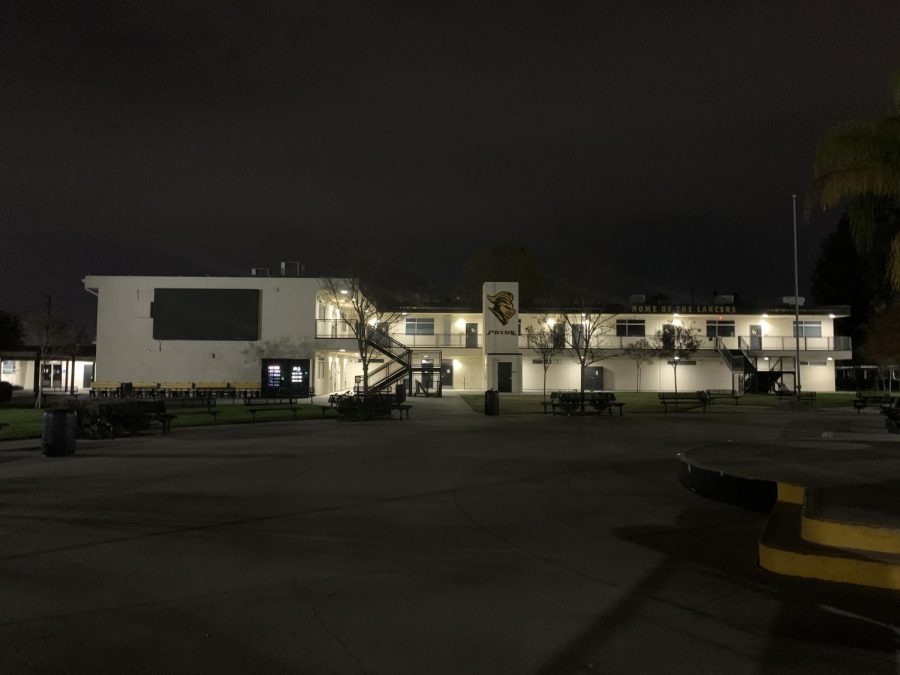 Andrew Ngo
With the spike in COVID-19 cases in Orange County over the past two months, more parents whose children were attending school in cohorts A or B have decided to keep them home, decreasing the number of students in the classroom.
"My mother felt uneasy that coronavirus cases were going up," said freshman Graham Chun, who's in Cohort B and was coming to campus on Tuesdays and Fridays. "My mother said she was going to switch [me] to cohort C online."
Freshman Kayla Taylor, who's in Cohort A and was coming to school on Mondays and Thursdays, said she needed to self-quarantine the week of Dec. 10.
"I did stay home both days last week because I was potentially exposed to COVID — I tested negative, though," Taylor said. 
As of Dec. 13, Orange County has 102,514 positive coronavirus cases, according to the Orange County Health Care Agency. The county is among the 54 in the state that are in the purple tier — the state's most restrictive tier. 
Social science teacher Hera Kwon said she doesn't ask any of her Cohort A or B students why they decide to stay home instead of coming to her U.S. History and Government classes.
In the meantime, Kwon said she makes an effort to teach to each student no matter how many are in her class or on a Zoom screen.
"Every student in my classroom (online or in person) is worth my time and is important," she said. "The way I teach hasn't changed that much from remote to hybrid."
And even before the positive COVID-19 cases in the county began to spike, some students coming to campus soon after hybrid learning started last month quickly decided to switch cohorts to stay home.
"In-person [classes were] uncomfortable because my glasses fog up when I wear a mask, so it's hard to see, and it's difficult to breathe in them," said sophomore Ishan Patel, who switched to Cohort C after the first two weeks of live instruction. "And I thought the social distancing guidelines weren't really followed at school.
"I would see around eight people at a time really closely huddled together, and there would be a lot of empty space in the hallways," Patel said. "It was kind of concerning seeing everyone like that because they could potentially risk getting the virus."
Freshman Henry Martindale said he transferred from Cohort B to C after one week of hybrid learning for the same reason as Ishan's. 
"I think the main reason I went to school was to try and have a semi-normal experience," Martindale said "But I switched back because I was concerned that people weren't following the social distancing guidelines."
Martindale said he had to adjust to the new schedule and waking up 13 minutes earlier, as well as the shortened break, after-school lunch and student support period.
"Since first period starts at 7:47 a.m. now, we do have to wake up a little earlier for school," Martindale said. "I'd rather have lunch during school, but I understand they did this so Cohort A/B students don't have to eat on campus; they can just get their meals and leave."
Kwon also hopes to see some behavioral changes among students who opt to come to campus.
"My concern is that everyone (including all on campus staff and students) are really social distancing and wearing masks at all times and being responsible when they are not at school or in the classroom," she said. "It is our behavior that is spreading this virus. It is our behavior that is causing the shutdowns.  It is our behavior that will slow it's spread."  
In spite of the inconveniences with the new class hours, Martindale said he maintains a positive outlook on the situations at hand.
"The new hybrid format has been as good as it can be with this whole situation, but I'm really looking forward to when COVID-19 goes away and we actually get to go back to school the way we used to," he said.
This story originally appeared in the Dec. 14 print issue, which can be read here.