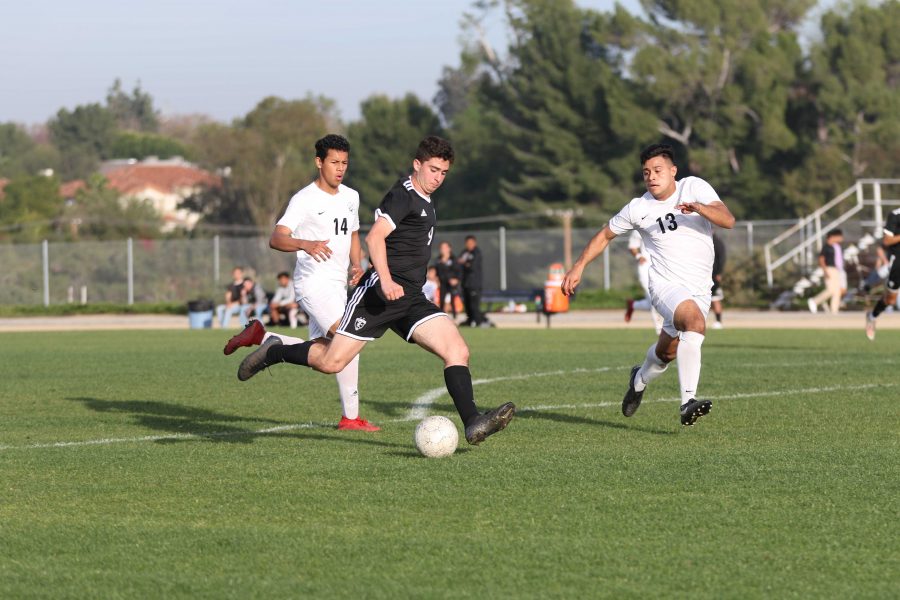 With three games left before CIF playoffs, the Sunny Hills boys soccer team narrowly defeated Buena Park 2-1 in a Jan. 24 home game.
"[The win] wouldn't have happened without the great performances by everybody, and today is one of those days where so many players played well," head coach Mike Schade said of his 10-4-4 (5-2 in the Freeway League) team.
Midfielder sophomore Kevin Meza, who had joined the team as a freshman, scored the first goal off a corner kick six minutes into the game.
"I felt really happy after I scored, knowing that I was helping my team," Meza said. "I wasn't sure if I could make [the goal] because it was a weird angle to kick from, but I'm just happy I made it in."
Midfielder junior Donovan Fichtelberg scored another goal after a team play that started from the midfield, which put the Lancers up 2-0 just 10 minutes into the game, widening the gap between the scores and making it harder for the Coyotes to catch up.
"It was really nice because it involved combination play," Schade said.
The Sunny Hills defense conceded a goal in the 76th minute during the second half of the game but was able to hold on for the win.
"We started with great intensity, and I feel proud of the boys," goalkeeper senior Jonathan Pena said. "Our [next] goal is to beat La Habra, but our main goal is to win league and on to CIF."
Currently in second place in the Freeway League standings, the Lancers will next travel Wednesday, Jan. 29, to La Habra (3-5-6, 2-4-1) for a 3 p.m. game as they chase first-place Fullerton for a league title.
"We always expect to win as long as we've done our preparations for the games," Schade said.