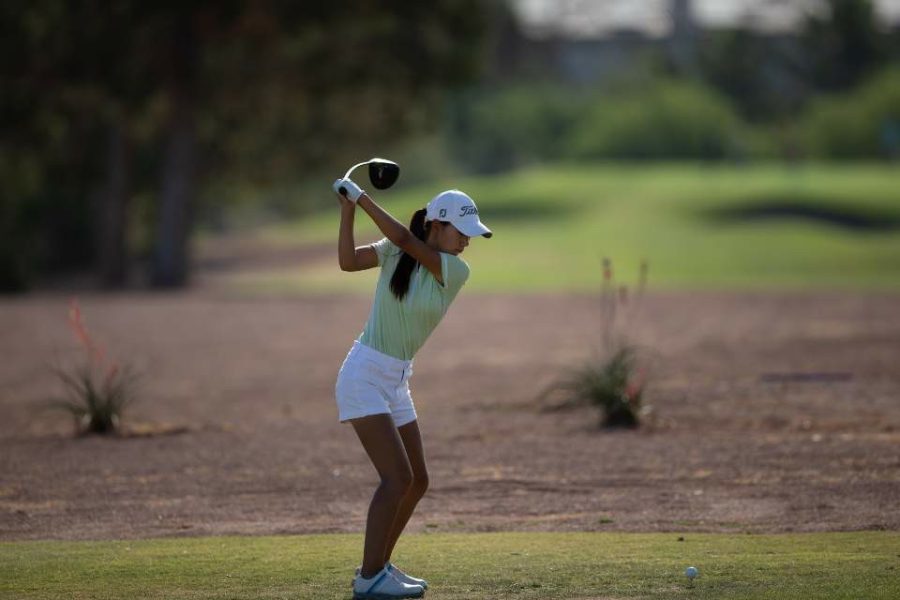 Image used with permission from Kelsey Kim
Coaches: Scott Enrico (head coach)
Top Returning Players: Oliviah Chavez (10), Angelina Jeong (10), Lauren Lee (11), Yurang Li (11)
Top Newcomers: Kelsey Kim (12), Taylor Kim (11)
Last Season: The Lady Lancers finished with an overall 12-4 record, earning the program's first CIF Division 3 championship and placing second in the Freeway League.
"Our team just gelled at the right time, and the girls played their best in the CIF championship," Enrico said.
Outlook: Aspiring to repeat as champions, the girls golf team focuses on keeping its No. 1 spot in the Freeway League and competing head-to-head with rival Troy High School. The Lady Lancers also hope to qualify to compete at the state level as a team and individually. 
"Last season, we were pretty close to winning the match against Troy, so I am hoping that this year, we are able to show our improvements and win," team captain Jeong said. "Even if we lose, I don't think that proves our team to be bad, but it just enables us to learn and realize what we have to improve on when practicing."
Li, reigning Freeway League individual champion and 2021-2022 season's league MVP, also qualified for the CIF/Southern California Golf Association [SCGA] Individual Championships held at River Ridge Golf Course in November 2021. This season, she strives to advance further in the CIF playoffs. 
"If we can't make it as a team and individually, I want to make it to state," said Li, who placed Top 10 in the preliminaries for state CIF. "I really want to win [CIF] state this year, and I know that it's something that I'm capable of."
Despite the loss of a few key players, including Katie Pyo who transferred to an online academy, the Lady Lancers hope to reach par with their past accomplishments. 
"We lost two of our top players from last year, so trying to find those next two players to step up and take their spots is still a work in progress," Enrico said. "We have a couple girls who are showing they have what it takes."
Of those players, Kelsey Kim aims to advance the team's goals by encouraging team chemistry as the sole senior. Before she joined the team this season, she was a top player at La Habra High School, placing first in the Northern regional tournament and 42nd at CIF State. 
"I met the Sunny Hills golf team at a high school tournament, and I really liked the team and school — academically and everything culturally," Kelsey Kim said. "As a senior, I want to make a last good experience playing with this team."
In preparation for this season, the Lady Lancers split their time between practicing at the driving range and playing nine holes at Brea Creek Golf Course. Outside team workouts, several players participated in tournaments, including the Southern California PGA Junior Tours and the Rolex Tournament of Champions. 
"Having played harder courses and tougher fields helps in high school golf," Li said. "I think even though it is really tiring and takes up a lot of time outside of school, as a team, we all have to do that. But I am excited to build better connections with my teammates, especially once team CIF comes around."
Starting this school year, boys and girls golf can practice at the $50,000 on-campus driving range that was completed just before the summer break. However, the team opted to practice off campus, such as at La Mirada Golf Course, to work comprehensively on putting, chipping and bunker shots, Enrico said.
The Lady Lancers plan to utilize the SH driving range after their CIF run in the summer as a way to continue preparing for the next school year, Jeong said.
"Taking turns to hit, talking and actually practicing in the same range is going to be really helpful for not only the skill work, but also bonding — especially since golf is such an individual sport in the first place," the team captain said. 
The team won its first home Freeway League game against Fullerton High School Thursday, Sept. 15 at La Mirada Golf Course with a score of 172-279; Li placed first individually with a score of 28. The Lady Lancers will next face Troy Thursday, Sept. 22 at 4 p.m. at Hacienda Golf Club.
"Our girls love the game of golf. It's their passion; it's their thing," Enrico said. "Everything is about getting better and practicing."